We will today talk about the video editing process. Video editing is one is a part of the post-production process after creation. Video editing mainly comprises:
Rearranging, adding, and removing sections of a video clip.
Color enhancements, filters, and other aspect enhancements.
Creating transitions between clips.
By editing a video, you can remove unwanted footage and add effects, graphics, and music to alter the style, pace, or mood of a video. There are multiple video editing tools with the help of which, you can transform a complete video into a creative piece from the original simple featured video.
Skilled designers are seamlessly working to develop innovative versions of video editing software. I have brought to you some of these video editors with awesome features, which may be useful for your passion for video editing. Take a tour.
Best 11 video editors for pc / online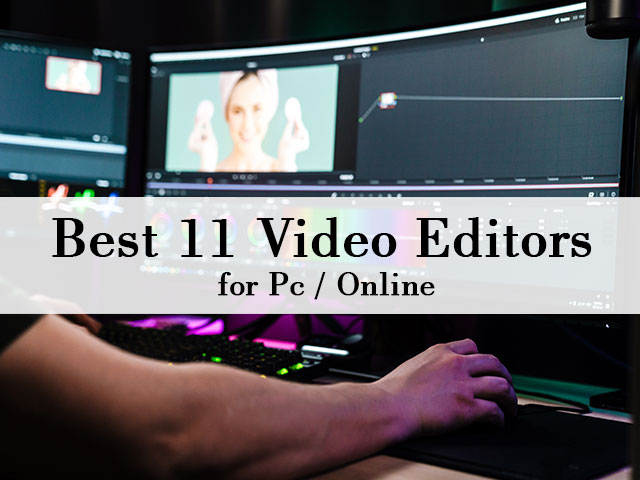 Windows Video Editor:
For beginner video editors, Windows has brought its free Video Editor cum Moviemaker. See the features below :
Using Windows video editor, you can cut/crop/rotate/split/trim/join videos.
You can add effects, text, animations, watermarks, subtitles, and music into the video and can also make picture-in-picture videos.
You can adjust video speed, brightness, contrast, and saturation. You can adjust the settings and properties of the video.
The outstanding feature of this software is it is integrated with Moviemaker so that you can edit videos and make a movie with one software.
OpenShot (Windows, MAC, Linux)
Pros :
Openshot is a free video editing software applicable for Windows, Mac, and Linux systems. This software offers good features like drag-and-drop, image and audio support, curve-based keyframe animations, unlimited tracks and layers, and 3D animated titles and effects.
For clip resizing, scaling, trimming, snapping, and rotation this user can find this software very easily. Moreover, users can do motion picture scrolling, frame-stepping, time-mapping, audio mixing, and real-time previews.
Cons :
The software requires multiple layers for setup.
Sometimes the software gets hanged.
VideoPad (Windows/Mac)
Pros :
Supports a wide range of video formats.
Easy to install and operate.
VideoPad is a useful video editing software that supports Windows and Mac. This software is developed for non-commercial use.
Speaking about the features of VideoPad, we can tell that it supports drag-and-drop effects, transitions, 3D video editing, text and caption overlay, video stabilization, easy narration, free built-in sound effects, and color control.
With the use of VideoPad users can change the speed of the video, reverse the video, burn DVDs, import music, export movies to YouTube and other sites, and can give the video various resolutions including 2k and 4k.
Pros :
Unbeaten features.
Exports video into multiple formats.
It comes with an optional screen recorder.
VSDC is a rich-featured, free video editing software available to work with Windows. Because of its features and menus, the program can become hard to work for beginners. In order to make its operations easy, the company has provided a wizard.
The wizard is useful for adding lines, text, and shapes as well as charts, animations, images, audio, and subtitles. VSDC is capable to export videos to multiple file formats. The video capture program and screen recorder tool of VSDC is very easy to install.
Cons :
It is not easy to use for beginners.
While using the free version some video lag.
iMovie (Mac)
Easy-to-use interface.
Multiple tool options to improve audio and video quality.
Support 4K video format.
The video editing software on this list is iMovie (Mac). The title itself suggests that the software is compatible with Mac operating system. This software offers many operational tools for editing video and audio files, photos, and narration to your videos.
What makes this software outstanding is its feature, which can create movies in 4K resolution. You can start making a movie on your iPhone or iPad and complete the ending process on your Mac.
Cons :
Video editing features are limited.
Output controls are not sturdy.
Here is another free video editor that offers simple tasks like cutting, filtering, and encoding video. The application is compatible with Windows 7, 8, and 10 versions. Avidemux supports multiple video file formats like AVI, DVD, MPEG, MP4, and ASF using a variety of codecs.
If we analyze on negative sides of this software, we see that it lacks a timeline, therefore you cannot add filters and transitions. Some functions of this software are only applicable for practical use, but not for style formations. That means it is useful for beginner-level editors.
But beginners can quickly learn video editing and can operate the software smoothly. Avidemux runs with input formats like AVI, MPEG, MOV, and MP4 and gives output files in AVI, MPEG, DIVX, XVID, and MP4.
VidoPad Video Editor
This video editor software is a cross-platform tool for beginner-level editors. But in the free version, video exporting can be done in only two formats. The interface of the VideoPad is very easy for beginners to get used to. It also meets the needs of inexperienced video editors.
The total program of this software is really inherent, reach-in-feature, and easy to steer. With the drop and drag feature, users can enjoy easy editing techniques. Loads of transitions, video effects, and speed adjustment settings make customization easier.
VideoPad comprises more than 50 transition effects with which users can adjust video speed to make it slow or fast. Users can also record audio narrations for giving subtitles to video.
Video Editor Paid Versions for PC
Adobe Premiere Pro – Video Editing and Production Software
Because of the manufacturer's restrictions, this product is for sale only in North America.
The Adobe Premiere Pro is a video editing and production program developed by Adobe Systems. With Adobe Premiere Pro users can edit video footage in any modern format right from 8K to virtual reality.
Simple prosy workflow and broad native file support make it easy to work with media, moreover on mobile workstations. With the help of this software delivering video compatible with any screen and platform is faster than ever before.
With its brilliant tools for color, audio, and graphics, the software copes up seamlessly with other apps and services including after effects, audition, and Adobe Stock.
Movavi Video Editor
Movavi is a robust yet easy-to-use video editor compatible with Windows. Movavi allows you to cut and join video clips with zero quality loss, apply effects and filters, add music, titles, and much more.
With Movavi Video Editor, it can be very easy to generate your creativity. With Filters, captions, and transitions, Movavi has everything to make your video memorable and awesome. Users can make the movie look like a flashback from the 80s.
Features :
Upload video and audio files in any popular format: AVI, MOV, MPR, MPE WMA, etc.
Rotate and crop videos, and delete unwanted segments.
Join individual frames or video clips with over 100 stylish transitions.
Improve brightness, contrast, and color settings.
Automatically improve video quality with Magic Enhance.
Free Video Editors for Android, iPhone, and iPad
ActionDirector Video Editor
ActionDirector is one of the video editor software available on Android. With this software, you can import clips, edit the clips and render videos. You can add your own music, trim and cut video, add text, and employ slow motion.
ActionDirector is one of the most popular video editing apps on PC. It's also available on Android. It does the basics. You can import clips, edit them, and render the video. You can do things like add your own music, trim and cut video, add text, employ slow motion, and more.
It's one of the few video editor apps that also supports 4K video. You'll have to check and see if your device supports it though. The developers have a nifty tool linked to the Google Play Store to see if yours can. It also gets frequent updates.
FilmoraGo
FilmoraGo is a free video editing application available for Android devices. With the awesome features of this software, you can convert your casual video into something creative. For people who want to edit their videos and media files on smartphones, FilmoraGo can be the best video editor.
It qualifies most of the editing program features which are compatible with PC. Users can create a slideshow of phone media files such as images and soundtracks. Not only this, Flimora has something more like trimming/merging/cropping/rotating videos and applying background music or voiceovers to videos.
Other effects like overlay and filter effects, animated text and title effects, motion elements, etc. add to the list of features of this application. The inherent interface lets users easily edit video and make it more creative than the original.
AndroidVid
In the list of Android video editors, the next name is AndroidVid. This cost-free video editor is compatible with Android-3 or advanced versions of smartphones. It comes with many video editing tools like cutting, trimming, editing, and adding music to any video file.
Video files that you think to be improved can be transformed into a totally new appearance. You can cut and trim the videos and can remove any part of the video, which you do not wish to continue with.
Adding effects like fade in and fade out, swapping, increasing or decreasing video speed, and adding subtitles and frames are really cool features of this application. Users can also create charming videos with special music effects using this app. The special feature of this application converts any video file into an Mp3 audio file.
Kinemaster
Here is another video editor application that runs on the iPhone and iPad. The features of this video editor are quite sturdy but still easy to use. These features enlist multiple video layers, blending modes, voiceovers, chroma-key, speed controls, transitions, subtitles, and special effects.
Download KineMaster to create, edit and share your own creative videos. Even if it is a free application, some premium tools are watermarked as not available. You can purchase this premium featured KineMaster by paying a monthly or annual subscription. You can activate the KineMaster Premium version by in-app purchases.
YouTube, TikTok, and Instagram users fascinate this KineMaster for its features; while Journalists, Educators, Marketers, and bloggers purchase this program for professional use.
Adobe Premiere Rush
Operatable on iPhone, iPad, or Android devices Adobe Premiere Rush is a free video editing program developed by Adobe. But this application needs recent versions of mobile phones like Google Pixel 2/3, Samsung Galaxy S9 and S10, Galaxy Note 8 and 9, OnePlus6T, etc.
You can trim clips, adjust audio, enhance color and give video effects, titles, transitions, voiceovers, and a lot more things in Adobe Premiere Rush. Directly from within this app, you can share your videos to different platforms.
The free version of this application offers 3 exports and after that, you can upgrade it for unlimited sharing and 100G of cloud storage. Motion graphics and audio mixing features make this software an all-in-one video editor on the internet web.
PowerDirector Video Editor
Our next application in this list is PowerDirector, which comes to us packed with features and is easy to operate. For beginners, it will take some time to cope with control functions. This application is developed for android phones and comes with 30 different editing and transition effects.
PowerDirector also provides a video tutorial for its beginner-level editors. Almost many important functions are available in the free version. When you are fully trained with the basic version, you will be eager to unlock its upgraded version. All the watermarks and ads faint away as you access the upgraded version.
The app allows you to extract videos with 1080 and 4K resolution. This application supports Android 4.3 and higher versions. See the feature list to know more about this application.
Export video in 4K resolution.
Edit video in slow motion to create slow-motion video FX.
Inbuilt Chroma key for adding transparency and layer effect.
Conclusion :
In the world of entertainment, spectators always look for something new and creative factor in the video section. Video factors like colors, effects, transitions, and resolutions can be edited using some smart tools on PC or smartphones. A skilled editor always pursues innovative tools to fulfill his ideas. If you are a passionate video editor, then the above video editors must be useful for you.