PDF Drive Alternatives
PDFdrive is one of the most used websites (Actually PDFdrive is a PDF search engine) to search and download many files such as Books, Practicals, research papers, notes, etc, and that too for free. According to PDFdrive, there are over 75 million eBooks, magazines, journals, articles, etc.
However, sometimes, what we need is not present as it is on PDFdrive. This can be due to many reasons like due to no requests for that file, they may have removed the file or due to some copyright issues, you may not find exactly what you need, or due to several other reasons.
So here are some websites that you can use as an alternative to PDFdrive –
10 Best Similar Websites like PDFdrive & Alternatives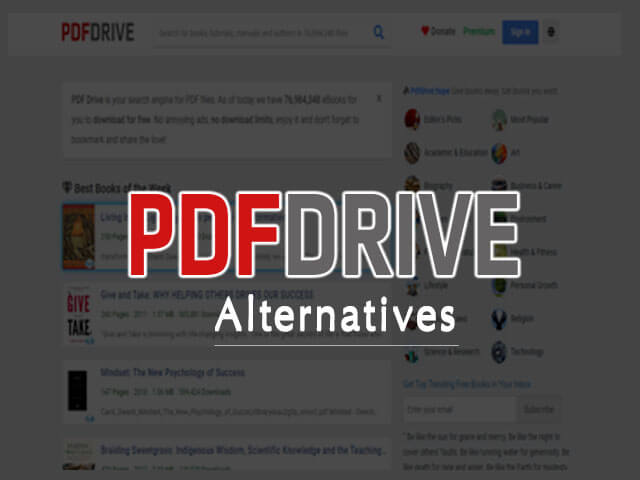 Note: PDFdrive and many other PDF searching websites and PDF search engines do allow to download only those books which are free to be downloaded and read. You should download the book only if it is available in the public domain without any copyright issues.
Many books have been removed and many are being removed from public domains due to copyright issues. It is illegal to download the eBook if it is published online without prior permission from the owner or author. We do not recommend downloading any eBook from any search engine. This is just an informative article.
Best Sites to Download pdf Books:
Library Genesis
Internet Archive Books
Free-Ebooks.net
PDF search engine
Bookboon
ScienceDirect
BookSC
ManyBooks
Project Gutenberg
Open library
1. Library Genesis:
Library Genesis called as LibGen or Genesis Library is a PDF search engine for Books, Scientific papers, articles on various topics. LibGen has a very huge database of books, articles, magazines, etc.
It allows access to papers, books, and articles that are not even digitally publicized anywhere. While most of the files here are scientific, it also includes fiction books and comic books.
You can find almost any book or paper or magazine on Library Genesis and can easily download them in PDF, Docx, etc formats. You do not need to pay anything here for downloading an eBook.
To download a book from LibGen, just do the following –
Search for the desired book on the Library Genesis website.
Click on the book title
you will be redirected to a page with more information about the book.
There are multiple downloading options available.
You can click on the name of the book present on the top of the page, which will redirect you to a page with a book front page preview. Clicking the GET button will download the eBook for you.
You can also use the mirror links present on the information page. They can also download the free eBook for you.
The mirror links can be used as an alternative for the main link failure.
2.Internet Archive Books:
Internet Archive Books is an online nonprofit library containing millions of free books, music, software, movies, and much more. Some books are available for free reading and download while other books can be borrowed or read in an online books reader. This is the best place for finding academic and historical books and even some books which are out of print.
In order to download a book for free from Internet Archive Books, do the following –
Search for the book on Internet Archive Books.
Open the book and find the "Download Option" section on the webpage.
If the book is available for free download, the option will show up for downloads in various formats like PDF, KINDLE, TXT, etc. else, you will have to borrow the book or read it in the online book reader. You do not need to pay anything to download a book from Internet Archive Books.
Some selected books from their collection are available to borrow. They can be borrowed by one patron at a time. The borrowed books can be read from adobe digital editions or directly from the online book reader.
3.Free-Ebooks.net:
Free-Ebooks.net is a website that provides a wide range of popular books in various categories for free. You can download eBooks in different formats like PDF, ePub, Mobipocket, etc. You have to create an account for free on the website and you will be able to download up to 5 Books for free every month.
While you sign up, there is a check box that says "I'm an author". If you tick the box, it lets you publish your own books on the website, and also one can have an access to books and can download them.
However, as stated earlier, one can download up to 5 books every month for free, to access and download them, you have to upgrade to the VIP plan.
The monthly access plan costs $7.95 and lets you access and download unlimited books for a month.
The yearly plan costs $39.95 for the same privileges.
The lifetime access for the same privileges on the website costs $49.95.
Remember that you can download the 5 free eBooks in PDF and TXT format for free. If you want to download the eBook in any other format like Kindle, you have to upgrade to some VIP plan.
4.PDF search engine:
Similar to Library Genesis, the PDG search engine is a search engine where you can search for free eBooks and other files. This search engine is as simple as any other search engine like Bing, Google, etc. all you have to do is to type your required book or paper title, and hit "Enter" and the PDF search engine will present a list of search results within no time.
You can also submit or upload your PDFs. You can just scan the papers and create a PDF and upload it on the site so that other people can view and download it too.
The search engine is completely free to use. with no restrictions and supports multiple download platforms like PDF, RTF, TXT DOCX, etc.
5.Bookboon:
Bookboon is a collection of millions of eBooks from various categories like Business, Information Technology, Marketing, etc. It emphasizes more on providing business and Educational eBooks and it continuously works with leading academic experts and publishers to provide high-quality books.
Bookboon is a very popular website for downloading eBooks with over 75 million downloads annually.
Bookboon allows access to such a big database with just one subscription. It provides a 30-day free trial and charges an amount after the time period ends.
To download the eBooks, you will have to either subscribe or have to pay the price of that particular eBook to directly download it.
You can download over 1700 business books at $5.99 per month without any ads.
6.ScienceDirect:
ScienceDirect is operated by the Anglo-Dutch publisher Elsevier. The platform contains peer-reviewed scholarly literature.
ScienceDirect has access to communities of researchers from Universities and Institutions.
With ScienceDirect, you can improve your research with access to a wide database consisting of millions of publications from journals, articles to books, and a wide range of categories to search for books, articles, journals, etc.
as of now, there are thousands of eBooks and journals, and millions of articles posted on their database.
Remember that not all books, journals, articles, etc are available for free download in PDF format. You have to purchase a legal copy from ScienceDirect. However, some books, articles, and journals are available for free download in PDF format.
7.BookSC:
BookSC is one of the world's largest eBooks and scientific article stores. It consists of over 70 million articles and more than 2.5 million eBooks available for download literally for everyone. It lets you download and the book without any sign-up and without any cost. You may sign up or create a free account for more features like saving a book for reading later.
Users can also upload their own eBooks and share them with people across the globe.
There are books available for numerous and trendy categories.
To download a book from BookSC, just do the following –
Open the BookSC website.
Search for the book, author, or article with help of the provided search box and hit enter.
Within no time, it will display all the search results. You just have to click on the desired option.
Then you will be redirected to a page where you will see the download or save for later option.
Just click on the download button to download the free eBook, and the download will start.
If you want to save it for later, you can click the save for later button(you need to log in or sign up in order to use this feature. But don't worry, it's free!)
8. ManyBooks:
Manybooks is an extensive library of digital books for free on the internet. Now, it has also become one of the platforms where self-publishing authors can publish and showcase their works in front of millions of readers.
Most of the books are free to read and download as PDF and some other platforms, but some eBooks are paid and can be purchased from platforms like amazon, apple, google, etc.
As mentioned earlier, you can download many books for free, but you have to become a member by creating an account. You can avail of a discount on many books as a member if you wish to purchase some.
To download free eBooks from Manybooks, just do the following-
Go to Manybooks website.
Search for the desired book and open it.
You will be redirected to a page where you can see the download option(if it is available for download).
Click on the download button. You will be prompted to create an account or sign in to start the download. Sign in if you already have an account, else create an account and the download should start.
9.Project Gutenberg:
Project Gutenberg allows users to download eBooks literally for free. Neither registration is required, nor any fees are charged for downloading any eBook. However, one can consider donating some amount to help Gutenberg grow, improve and digitize more and more books. You can also help Gutenberg by finding bugs, or errors or giving suggestions.
Similar to Library Genesis, Gutenberg also contains the Mirror links to download eBooks.
It is so easy to download eBooks from Gutenberg.
Just search the book from the available search box and hit enter. It will show the search results.
Click the result which you want to download.
You will be redirected to a page with different links with download options in different formats.
10.Open library:
Open Library is an open platform for downloading and uploading books and that too for free. It contains over a million eBooks that are always available to download for free.
Open Library is an initiative of the Internet Archive to build a non-profit digital library. Internet archive is a digital library for sites on the Internet.
To borrow an eBook from Open library, just do the following –
Open the open library website.
If you already have an account on the open library, then log in. Else, you will have to create a free new account. (you should not skip this step because if not here, you will have to log in before you borrow the book.)
Search for the book from the given search box and hit enter.
From the shown search results, open the desired eBook.
If a copy of that book is available for borrowing, it will have the borrow button and also the duration for which the book can be borrowed.
Just click on the Borrow button and the book will be added to your collection.
You can read the borrowed book directly from the online reader or from the adobe digital edition.
Open Library is completely free to use.
Conclusion:
Above are some alternatives to PDFdrive that you can consider using. However, it is illegal to download an eBook that is uploaded without any permission from the reader or owner. Many legal actions have been taken on these websites but none of them ever shut down due to these issues. You can use these websites at your convenience, need, etc. We do not recommend or promote any website for downloading or accessing eBooks. This is just an informational article.
Frequently asked questions –
1.Is PDF drive legal?
Ans: PDFdrive is used for downloading eBooks and other files from the public web using its servers. However, many books have been removed from download due to copyright issues. So if the file is available for free download on the public web without any copyright issue, then it is totally fine to use pdf drive.
2. How to download a book from PDFdrive?
Ans: To download any file from PDFdrive, just do the following –
Open pdf drive on your browser, and search for the desired file.
From the displayed search results, select the desired search result.
You will be redirected to a page where you can download the file. Just click on the download button.
It will check the availability and will let you open the pdf. Once the PDF opens, you can download it.