What is Trail Mail
You may have heard of the term Trail Mail while replying to lots of emails and forwarding the emails. But do you know what does trail mail means?
We are here to help you. In this article, we are going to see what is a trail mail –
What is Trail Mail?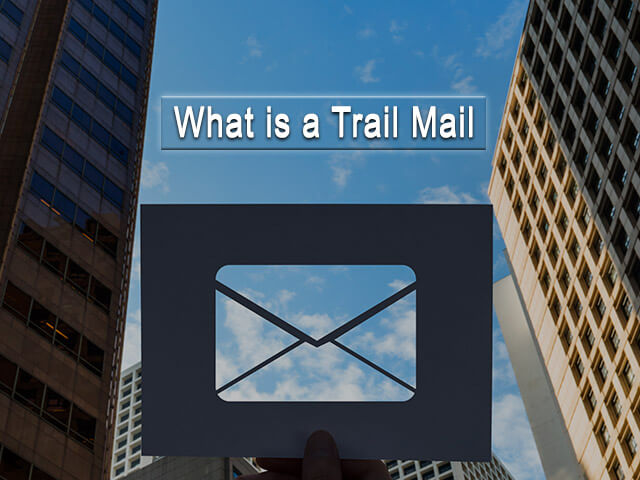 Trail Mail Meaning:
The trail mail gives you the details of all the emails with their related email addresses with date and time.
It is a detailed mail or chain of emails which contains all the relevant information about the email conversation which has taken place between the users, like who had sent the first mail and who was the recipient and how many people replied to that mail, and on which date and it also contains the whole conversation that has taken place.
It is also often referred to as an email message and the active list of running conversations that had started from a reply to the original mail.
The earlier content or earlier emails are taken as part of the running conversation for reference. All the relevant information like the email conversations, date, time, other replies, etc are stored for reference.
Benefits of Trail Mail:
Most of the time various kinds of business-related mail going to exchange between various business persons. In this scenario, if you are getting the help of trail mail then you will not need to create new mail if you want to contact that person whose mail is already available in your mailbox you can simply write whatever you want then reply and forward to that previous conversation.
While the specialties of the trail mail system are you both can see the last date of earlier mail, also that mail will be sent to same person with whom you wish to contact, as already there is conversation happened between you and them.s
The basic benefit of sending trail mail is every time you don't need to type and enter an email address. The main reason behind this is there is already conversation happened between you and next person, if it is done many times and you are sending trail mail then mail system will automatically detect email address for that mail, we can say it is excellent benefits of trail mail.
If you are a business person then in a whole day you are exchanging multiples of mails, then that time trail mail can best option for you for business-related conversation
You may have seen that business email account and email address are always specific, which means if you are using trail mail facility then every time you no need to remember about specific business email address and about the business account. So easily you can reply on previous mail conversation with next business person.
Optimum Email – As we all know whenever we need to compose a new email that time we need to enter specific sender and receiver ID details, here optimum is the first part of your email address (username which comes before @ syntax). If you are sending trail mail then every time you don't need to mention sender and receiver details, because the mail system will automatically get that all details about one or multiple persons whoever the part of previous mail conversation.
Professional Email address:
Professional email addresses are always specific like business email addresses as we discussed earlier. Trail mail helps to send mail to that specific person who belongs to any specific profession with the reference of their email address, mail subject, date, etc. It's all possible, if there was a conversation, happened between you and the next person and now you wish to send trail mail.
Every time when we want to send an email, first we need to compose an email by entering essential details like receiver mail address, mail subject, in case if there are multiple receivers of mail then we need to enter all of their email address. This is not only a time-consuming process but also we need to enter all mail-related essential details. Here trail mail overcome all of this kind of effort, while anyone can send direct mail to the next person if there is already mail conversation happened between such persons.
Trail mail is a chain of emails or detailed mail conversations which happened on the same topic. In other words, we can say it is a series or list of email exchanges, which help us to reply directly on the previous email.
Every time you can send trail mail to the next person with whom mail through conversation already happened. Here trail mail is somewhere concerned with a mailing list, it means if there is many time of conversation that happened on the same topic then one user can send trail mail to the next user/users. So one kind of mailing chain or list going to create between them.
Conclusion:
Trail mail is one kind of copy of previous mail on which receiver can give there reply and send it. Anyone can send trail mail only the condition for this is there should be previous conversation available between two or more person, while as a reply on that same mail will be called as a trail mail.
The above given is the meaning of trail mail. If you find any corrections or suggestions or want to know more  about mail services, you can connect with us.
Frequently asked quiz questions about Trail Mail
Q. How are trail mails formed?
Ans: When you reply to a mail again and again, or there is an established conversation where you are replying to the related emails, it forms a chain which we call a trail mail.
Q. How to send trail mail?
Ans:
1. Click any conversation in your inbox. (The one which was replied to more times)
2. Click the More button in the toolbar above the conversation.
3. Select Forward all from the menu
4. Add any comments (optional) to the email and address the message.
Click Send.
Q. Can I send trail mail as a free business email?
Ans: Yes.
Q. Can we use trail mail as a reply to email marketing conversations?
Ans: Yes.
Q. To whom can send Trail Mail?
Ans: Trail mail can be sent to all of that person with whom already many time mail conversation has done on the same topic.
Q. Is it beneficial to use trail mail for work-related emails?
Ans: Ofcourse Yes.
Q. In brief, Tell me the benefits of Trail Mail?
Ans: Trail mail is one kind of direct mail which is a reply to previous mail, here during reply no need to write the receiver's email address, mail subject, in case receivers are multiple then no need to enter their mail address details. Also, the date of the previous mail conversation is already available in such kind of mail. Replying through trail mail is not only a time-saving process but also the mailing system automatically detects all the details of sender and receiver in trail mail. We can say all of these are benefits of trail mail.