Switch To External Monitor On Mac Through Shortcut Key
At times, we are required to mirror our screen, so as to get a broad working area and work efficiently. Mirroring the screen on another external device can be really amazing thing, while you can get the same display experience on the alternatively connected device. If you are a Mac user and want to switch to an external monitor for mirroring purposes then it is so easy thing for you.
Here, in order to perform the screen mirroring, we need to do some settings on your Mac device… But honestly, it is not that hard a task, and following some simple steps, you can achieve your goal. With the help of a few shortcut keys, you can do that task easily. Here in this article, you will get detailed information about Mac shortcuts, to mirror Mac displays by switching to an external monitor.
It doesn't matter which type of external device you have connected with Mac, in every case you will get success to mirror your display on the alternative device. Here you can connect the alternative device to Mac for screen mirroring purposes like Monitor, TV, Projector, Apple TV Airplay, etc.
If you have to mirror your screen, you can simply visit the system preferences and then find the option there, but there can be some other ways as well, and some shortcuts to save your time. So, let's discuss how can we switch to an external display.
Switch To External Monitor Mac Shortcut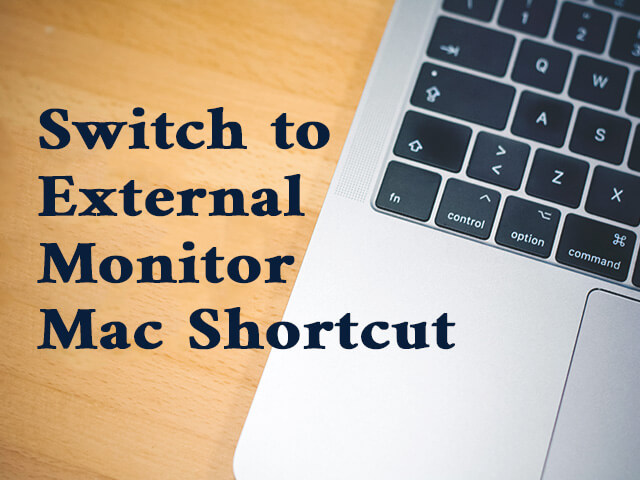 Main Content:
Duplicate Screen Shortcut On Mac.
How to Extend Display on Mac.
Conclusion.
FAQ.
Duplicate Screen Shortcut On Mac
If you want to extend the display on Mac by connecting external devices with it, then usually this is possible here. As an external device, you may connect a monitor, TV, or projector to your Mac PC. While with the help of a specific shortcut key combination you can mirror display on an external device
The shortcut key combination that we need to use here is "Command + F1". This keyboard combination works on most Mac keyboards and with the help of that, you can mirror the mac display on many devices. In other words, we can say it is a duplicate screen shortcut for Mac.
It seems like to be screencasting where with the low effort you can mirror your Mac display, while an alternative screen works smoothly and hassle-free where users can enjoy the same program on multiple devices.
Note: For some Mac devices, to mirror display on another device, you need to use the shortcut key "Alt + Command + F1". So, if the shortcut "Command + F1" does not work for all Macs and their keyboard. So you can try to use either of the shortcut keys and check for the one which works
How to Extend Display on Mac.
It can be sometimes necessary for us to extend the display of our device on some external screen. So now, we are going to have a look at how can we extend the screen on mac. It is a very easy task, and through here as well, you can go for screen mirroring, or can also extend your mac display. Have a look at the below steps, which guide you to extend your screen.
At first, you should decide which external device you want to connect with your MacBook. Here if you want to connect an external monitor to MacBook, then you will need to check the ports of both of the devices. Also, try to find a suitable connection cable with the help of which you will be able to establish a connection between the monitor and your MacBook.
Next, you will need to connect your MacBook and external monitor through a suitable cable. Check whether the connection is tight and correct or not.
After doing the above task, go to check the 'System Preference option.
Through system preferences, choose the 'Display' option. Here you will need to find the 'Arrangement Tab'.
Now you will get to see two screens where the existing MacBook display will be available there with a white bar at the top.
You will need to drag another display as per your wish like on the left or right side you can arrange that another display.
Now you will get to see mirror display options there at the bottom. If you want to extend Mac displays then keep that option unchecked, while if you want to continue the same task on both displays then check for the mirror display option.
In this way, you can extend the display on Your MacBook, while you get the option there to get connect various types of devices with your MacBook like Monitor, Projector, Tv, etc.
Conclusion
You can mirror mac display on various types of devices to do that action you can use a shortcut key combination. Apart from that with the help of some display setting your MacBook will enable you to extend your display over there.
In this way, you have read about some helpful techniques to extend external devices on Mac, while you got a basic idea about how to mirror Mac display on another external device. Hope you have well understood all of this information, try to share this helpful information with other people. Thanks for being with us.
Frequently asked a question about to switch external monitor with Mac shortcut- FAQ.
Q. Can we mirror the Mac display on an external device?
Ans: Yes.
Q. What is the shortcut key to mirror the Mac display on an external device like on Monitor?
Ans: Command + F1 or Alter + Command + F1.
Q. Can we extend the display on MacBook?
Ans: Yes. It is possible to extend the display on a MacBook.
Q. Which type of devices we can connect with Mac as an external device?
Ans: We can connect our mac with many external devices, like external monitors, LED monitors, LCD monitors and HDTVs, and many others.
Q. Can we continue the same program on multiple devices by the extension of display on Mac?
Ans: Yes.