Through email say thank you – How To Say Thank You In Email
In our personal and professional life we are doing different kinds of activity, Among those acts some are memorable and that gives chance to show gratitude about someone. As a human we have emotions and understanding ability about to behave in to society and family. Moreover we knows how to deal with situation and express our feelings with peoples around us.
Gratitude is best quality which always making our personality more expressive and transparent. Thank you, are the words which everyone's like to hear or we can say it comes automatically, when someone helping us or giving appreciation.
Their is no protocol to show your gratitude in fact this act is so essential when someone is dedicated towards you by helping hand or emotions.
Officially also you are saying thank you to either your colleagues or senior person. But if you have never been said thanks to anyone via email, then this article will be so much important and helpful for you.
With some examples you will introduce with how to say thank you in email, So that you can get understand this concept deeply and vividly.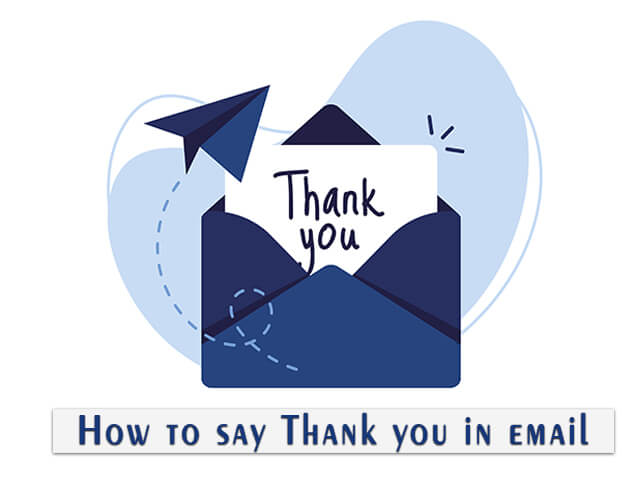 1.Thank You Email For Support
If you are connected with any social organization or doing any kind of job where works going through team work. Then some time either you are achieving success in to any important task/project or your work is going up to the mark by fabulous results. That time surly you are receiving appreciation form colleagues  or society persons.
Such appreciation comes through email too, Where peoples are happy about your work. And they want to congratulate to you, In this time you can say them thank you by following way.
Received Mail Message :- "Hello, Suresh I am so glad about your work, It was really not that much easy task. But the efforts and dedication you have shown that was tremendously appreciable."
You can express your gratitude by reply to this mail like as;
"Firstly heartiest Thanks to you, It was my pleasure that I could be part of this team, Which has given me chance to prove myself"
2. Professional Thank You Email.
If you have a employee of any organization and also you are the part of team. then some time may be you are not well by health or you are on leave that time your work can be pending.
In this scenario if your any colleague is handling your work responsibility with their own work. And that thing if you are going to know by email from office, Then you can show your gratitude by below given way;
Email Message received by office:-
" Hello William, Hope your health is going to recover very well, You don't worry about official work as merry is handling your work responsibility. You just take care, And come back at office with good health"
In the reply of this email, You can express gratitude by email like as;
" I feel so much lucky that i got such kind of helpful and co-operative colleagues, Also i am thankful about official management and higher authority who has shown deepest understanding about my situation. Truly thankful about all of you and specially thanks to merry"
3.Gratitude Email After Interview.
Sometime you are going to attend interview, that time in some corporate offices they have a standard policy about recruitment.
Such companies are handling recruitment procedure by time to time get and give confirmation to the candidate. Like before and after interview they are contacting with interested candidates via email.
Also they provides all the essential information related to job profile via mail including venue, Profile structure, salary etc.
If you have faced recently any interview and you are receiving mail from that company then you can say thank you via email, as per following given;
Thank you email after interview
Message via email by company:-
" This is confirmation regarding mail by Glenmark web development and Information technology ltd. That Mr. Sujit Nalawade has been selected in to our company for the position Junior web developer.
So further formalities shall be completed through our office, Come along with all your original documents with attested Xerox copy. Reach tomorrow sharply at our office on 10:30 am"
You can give reply this mail to show gratitude like as;
"Dreams comes true, I am so much happy by reading this mail. Thank you so much to recruitment department and management, It would be my pleasure to work with you.
As per your requirement, Tomorrow i will be reach on 10:30 am at your office along with all mentioned documents in the email"
4. Gratitude Expression via Email After Meeting
Most of the time we can see that in to many offices monthly or weekly meeting schedule is going to arranged. In this scenario it is necessary to attend such meetings for all employees. If sometimes you have given any best suggestion during this kind of meeting, which is really appreciable. Then you can get email from higher authority or senior level person, Like as;
Received email message:-
" Dear Rajesh, We have so much glad and proud about you, That in today's meeting you have given so valuable suggestion. This strategy will surely give a lot of benefits to our company. Be a strong pillar like support for our company by this way and we really appreciate for your work"
Your gratitude reply can be for this email like as;
" First of all thanks so much to all of my seniors and management, Who always keeps going to believe on me and giving me chance to express my point of view. I promise in future i will try to give my best more than this. Once again Thanks to all of you."
5. To Show Gratitude After Resignation Via Mail
For long time period you are working in to any company or organization where you are getting almost every kind of essential things including support, love and respect.
Money was not the only one achievement for you, apart from that you have earned a lot of skills and professional manners from this company. But sometime situation going to be like that you need to switch this job, And moved on in to another company.
Reason behind switch the job may be vary, but your attachment with such kind of company can be unique thing for you. If you have resigned from job and you are receiving mail by company for your till date service and contribution, then you can show gratitude by below given way;
Email message from company can be like as;
" Dear John M Smith, It was a nice service period of you with our company, Your work efforts and contribution were always beneficial and appreciable. Kindly note that, All the resignation formalities have been done by our side, And all the best for your bright future"
You can show your gratitude through mail like as;
"Thank you so much to all my co-workers, Seniors and higher authority, Without all of your support i couldn't do anything. Your appreciation is quite big achievement for me in to my life, The time i have spent in your company will be lifetime memorable span in my professional history"
These all are the the some example by which you can express gratitude via mail. Hope you have well understood and like all of this information.
Frequently asked questions on this topic
To whom you can send 'Thank you' message via email?
Answer :- To work/Job place or Company, To recruitment firm, Recruitment management in company, To Colleagues, Educational Institutions, E-commerce company for on time stuff delivery etc….
Can I send 'Thank You" message through email to university?
Answer:- Yes.
What are the some examples about 'Thank You' message via email?
Answer :- Sending 'Thank you' message via email to previous company, 'Thank you' message via email to colleague, 'Thank you' message through email to university or educational institutions etc. For more details check above article.
Is it safe to send 'Thank you' message by email?
Answer :- Yes.
Can I send 'Thank you' message by email to courier company for appropriate time service and stuff delivery?
Answer :- Yes.
Editor Note:- Check whole article, If any kind of corrections are essential then do it correct as per need.