SketchUp
SketchUp is an efficient tool recognized in the world of architecture and the free version is a real gem allowing in particular to very easily create models for Google Earth, for architecture and animation. A success!
It was launched in 2000 by an American software company @Last Software. Aware of the software's potential, Google bought SketchUp from @Last Software in 2006. Later it was sold to Trimble Inc. in 2012.
The software is composed of simple tools allowing to work on surfaces with principles of division, extrusion, and cutting off the faces. The user also has the functionality to rotate, move, and modify camera effects as desired.
What is SketchUp?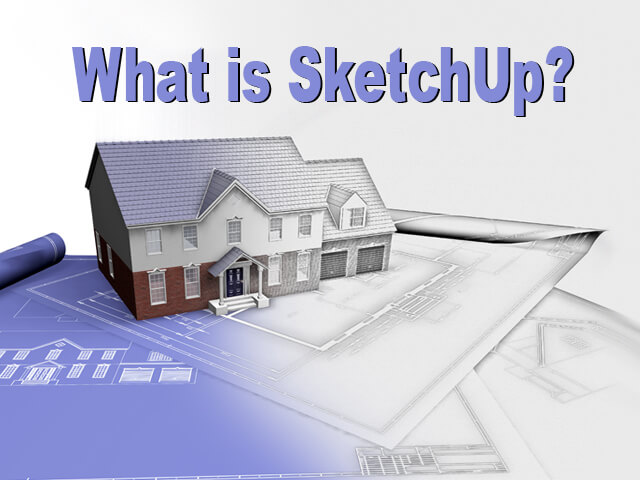 The program has an online library of free model assemblies like doors, windows, automobiles, etc. A user can also add his own models to the library. The program has different types of drawing layout functions.
Extension Warehouse is the site where third party plugin programs are hosted to enable users with other functioning such as near photo-realistic rendering. Placement of models within Google Earth is enabled.
SketchUp Versions
The SketchUp software is available in two editions: SketchUp Make is the free version for personal and/or educational use. Note that this version starts with a 30-day trial version of the full version SketchUp Pro.
The latter includes all the advanced functionalities as well as access to Style Builder tools for creating drawings from 3D models and Layout, ideal for designing documentation of 2D drawings and models.
What is SketchUp Used for
SketchUp Make is architecture-based 3D modeling and animation software.
Regularly used in the educational context, in town planning or cartography, this solution is distinguished by these tools which are both complete and easy to use. It is also preferred for the creation of 3D buildings on Google Earth and Google Maps.
the SketchUp interface is intuitive, responsive, and adapts well to modest configurations thanks to its low use of system resources. The interface is so easy and user-friendly that a new user can be familiar and get expertise within a couple of days.
It doesn't have many buttons and functionalities to master in the free SketchUp version. Though paid version SketchUp Pro has much much more to discover and experiment with, the free version is not disappointing, too.
SketchUp Pro
In the Pro version, you will get LayOut. It is a tool to present 2D creations for permit drawings and construction drawings or full-screen digital presentations.
SketchUp Functionalities:
One of SketchUp's main strengths is the impressive online 3D model database called 3D Warehouse. It is made up of several thousand models of vehicles, buildings, or 3D objects. You can create 3D models from scratch or by using the database.
You can also import drawings, photos, aerial imagery, CAD plans, and other such data and use the modeling tools in the Pro version. Shape up your ideas and mold them into 3D models.
Your creativity is saved locally as a native 'SKP' file or it can be exported as an 'STL' file. The files can be saved to the cloud, too.
SketchUp Interface
Entirely in French, the SketchUp interface is intuitive, responsive, and adapts well to modest configurations thanks to its low use of system resources.