Must Get To Know – Everything About 'Sketchup'
SketchUp is an efficient tool recognized in the world of architecture and the free version is a real gem allowing in particular to very easily create models for Google Earth, for architecture and animation. A success! It was launched in 2000 by an American software company @Last Software. Aware of the software's potential, Google bought SketchUp from @Last Software in 2006. Later it was sold to Trimble Inc.
in 2012. Guess, every user is not aware of all the aspects of Sketchup like in actual What is Sketchup? and how to use this program, about that you will get to know from this article information.
The software is composed of simple tools allowing it to work on surfaces with principles of division, extrusion, and cutting off the faces. The user also has the functionality to rotate, move, and modify camera effects as desired. For those individuals who belong to Architecture and interior designing as a profession for them, it is essential to get to know about Sketchup.
This software is dedicated to 3D-based modeling designs with efficient other applications, so if you are one who is curious to get know about Sketchup then stay with us, this article can provide you with vital information about Sketchup.
You can get plenty of applications into Sketchup with the use of them you can create project base designing models while it can be the best program to, later on, demonstrate them. The best example of Sketchup productivity is Google Map and Google Earth, their uses and importance all of you, are well aware of.
What is SketchUp?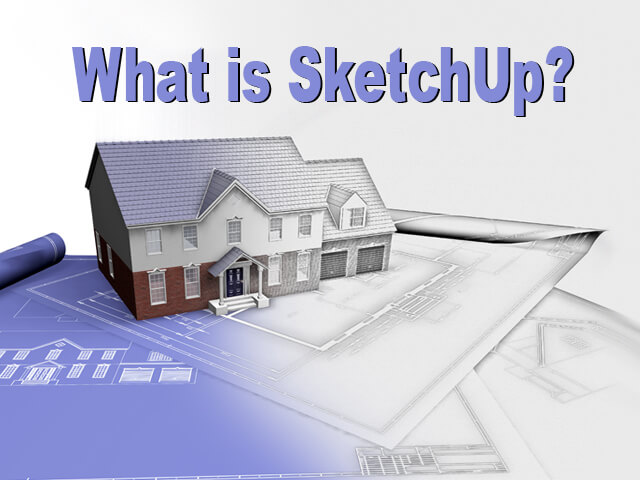 Main Content Of This Article:
What is a SketchUp Software?
SketchUp Versions.
What is SketchUp Pro
What is a Google SketchUp?
SketchUp Used For What?
SketchUp Functionalities.
How is SketchUp Interface?
Conclusion.
FAQ.
What is SketchUp Software?
SketchUp is a well-known and most used 3D modeling software that contains a wide range of design and drawing applications. Here in this software, you can get landscape architecture, Interior design, Industrial product and design, theatre, video game, film development relevant applications.
SketchUp program enables various types of features like drawing, different styles of surface rendering, and layout functionality, and this program allows you to place your models within Google Earth.
The program has an online library of free model assemblies like doors, windows, automobiles, etc. A user can also add his own models to the library. The program has different types of drawing layout functions.
Extension Warehouse is the site where third-party plugin programs are hosted to enable users with other functions such as near photo-realistic rendering. The placement of models within Google Earth is enabled.
SketchUp Versions
The SketchUp software is available in two editions: SketchUp Make is the free version for personal and/or educational use. Note that this version starts with a 30-day trial version of the full version of SketchUp Pro.
The latter includes all the advanced functionalities as well as access to Style Builder tools for creating drawings from 3D models and Layout, ideal for designing documentation of 2D drawings and models.
What is SketchUp Pro?
Generally SketchUp Pro is the premium version of SketchUp software, which is available on a paid basis. Here you can get added functionality with this software like you can access 2D documentation software, the ability to import and export various types of file format, Advanced layout tools, custom edge styles for models with the help of style builder, etc.
In short, you can do many more modeling-related tasks through SketchUp, Pro with the help of extra added functionality. In the Pro version, you will get a Layout. It is a tool to present 2D creations for permit drawings and construction drawings or full-screen digital presentations.
What is a Google SketchUp?
First time when SketchUp was founded by the named company @Last Software, while the purpose behind developing this software was for the designs professionals. Later on in the year 2006, this company was acquired by Google and they owns it till the year 2012.
Google has released around three versions of Sketchup as like SketchUp 6, 7 & 8. Google has used SketchUp to design their famous platform models like Google Earth and Google Map. While due to SketchUp and Google's fabulous geolocation service nowadays Google Map is very much famous worldwide.
Though Google has no longer acquired SketchUp while nowadays Trimble owns SketchUp, now also you can place SketchUp modeling on the Google Earth program for professional purposes. When you need to create 3D modeling for the professional perspective, the google earth program gives you access to do that.
Google has added beneficiary features to SketchUp among them some are like 2D vector tools, page layout tools, 3D warehouse, scaling related dynamic components, etc. That's all about Google SketchUp, which is a widely used program nowadays for 3D Modelling.
What is SketchUp Used for
SketchUp Make is architecture-based 3D modeling and animation software.
Regularly used in the educational context, in town planning or cartography, this solution is distinguished by these tools which are both complete and easy to use. It is also preferred for the creation of 3D buildings on Google Earth and Google Maps.
the SketchUp interface is intuitive, responsive, and adapts well to modest configurations thanks to its low use of system resources. The interface is so easy and user-friendly that a new user can be familiar and get expertise within a couple of days.
It doesn't have many buttons and functionalities to master in the free SketchUp version. Though paid version SketchUp Pro has much much more to discover and experiment with, the free version is not disappointing, too.
SketchUp Functionalities.
One of SketchUp's main strengths is the impressive online 3D model database called 3D Warehouse. It is made up of several thousand models of vehicles, buildings, or 3D objects. You can create 3D models from scratch or by using the database.
You can also import drawings, photos, aerial imagery, CAD plans, and other such data and use the modeling tools in the Pro version. Shape up your ideas and mold them into 3D models.
Your creativity is saved locally as a native 'SKP' file or it can be exported as an 'STL' file. The files can be saved to the cloud, too.
How it SketchUp Interface?
Entirely in French, the SketchUp interface is intuitive, responsive, and adapts well to modest configurations thanks to its low use of system resources. One thing is sure, this software is so much easy to use and helps to create 3D modeling than other software available in the market. You will not need to do extra efforts during the operations about applications available in SketchUp, in short, it is not very tricky and complicated software.
SketchUp layout, Vray-like applications make this program more beautiful while it is enough to expand your creativity in you in terms of architectural and interior designing tasks.
Conclusion:
SketchUp is the famous software that goes to used for 3D modeling by design professionals. Since its development, this program is used to create design models like Google Map and Google earth while it was acquired by Google also for some years. If you want to know more about SketchUp then this article information can be the best source and reference for you.
In this way, you have read vital information about SketchUp, like what is SketchUp and how any individual can use this software. Hope you have well understood all of this information, try to share this information with other people. Thanks for being with us.
Frequently asked Quiz questions about SketchUp
Q. What is SketchUp layout?
Ans: It is the functional feature of SketchUp, Basically the SketchUp layout was designed to take the solid model from Google SketchUp pro while converting that into presentation view, orthographic views, etc. Apart from that, it has the functionality for the other working drawings.
Q. What is Vray for SketchUp?
Ans: This feature of Sketchup enables designers to experience their designs in real-time, which means here without leaving SketchUp this feature gives realism to designs. We can say this is the one kind of integrated dedicated solution for SketchUp users to make more realistic their designs.
Q. What happened to Google Sketchup?
Ans: Google had acquired SketchUp in the year 2006, then till June 2012 Google owns this SketchUp program. Google has launched around three versions of this software as like SketchUp 6,7 and 8. Nowadays Trimble has acquired SketchUp, then also SketchUp users can place their design modeling on the Google Earth program.
Q. What is SketchUp style builder?
Ans: Style builder is the part of SketchUp Pro subscription package, where if you draw a single line on the program then this feature enables you to make that into the catchy edge.
Q. What can you do with SketchUp?
Ans: SketchUp is a 3D modeling program where you can create interior designs, video game design, landscape architectural, architectural, etc. Here some basic features are available in this program is surface rendering, layout drawing ability apart from that it helps for the plugin third party warehouse from the warehouse extensions.
Q. What is Google SketchUp?
Ans: Google had acquired the SketchUp program for some years, during that Google launched three versions of this program like SketchUp 6, 7, and 8. At that time it was formerly known as Google SketchUp.
Q. Who acquired SketchUp in the year 2012, after Google?
Ans: Trimble.

Q. Can we place Sketchup Design models on Google Earth program?
Ans: Yes.
Q. Does SketchUp offers interior design model features?
Ans: Yes.
Q. With the help of SketchUp, Google has designed to which two well-known programs?
Ans: Google Map and Google Earth.