Everything About Minecraft
The benchmark for sandbox games, Minecraft is a single and multiplayer game in which the possibilities, maps, and resources are limitless. Between building, destroying, exploring, making, or hunting monsters, this game has a pharaonic lifespan, well-thought-out game mechanics, and a formidable bestiary. It is to be tried in the trial version through the Microsoft Store. But most of the users have the same question like what is Minecraft? No worry, the motive of this article is relevant to your question.
Now some users among you may don't have an idea like what actually you need to do during the play of Minecraft game. Apart from that, everyone should know, which kind of amazing specialties are available in Minecraft. So for all of them, this article will one kind of the vital source of information about Minecraft.
This is a worldwide famous game, but which things in Minecraft, make more engaged to users, such type of conclusion should be well known for every user. Throughout this article information, you will get to know all these things. If you think, it can be helpful information for other people, then you can share this article with them
What is Minecraft?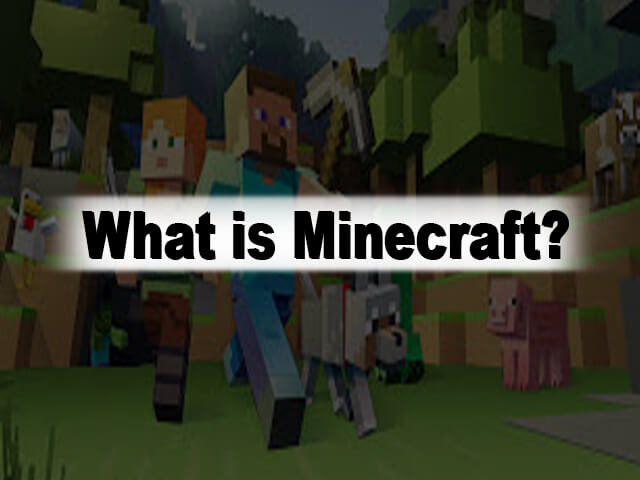 Main Content of The Article:
What is Minecraft.
What Does Smite Do In Minecraft.
Brief Information About Minecraft Game.
How to Play Minecraft Game?
What opinion do we have of Minecraft?
Minecraft Games for Kids.
The game available in the trial version (Minecraft Games Free)
Impact and Awards.
Conclusion.
FAQ.
What is Minecraft?
Minecraft was released in 2011 by Mojang and created by Markus Persson, aka Notch, Minecraft has had millions of active players and hundreds of millions of downloads since its inception. It was later purchased by Microsoft in 2014.
As per the estimate, it is the best-selling video game of all time. It is available for PC, Android, iOS, Xbox 360, Xbox One, PlayStation 3, PlayStation 4, PlayStation Vita. Until the beginning of 2020, over 180 million copies of it were sold across all platforms.
Including all the versions, it has over 112 million monthly active players. It stands out with its cube graphics and its basic principle could not be simpler, than my cubes and build.
This game without a concrete objective is called the sandbox. This means that the goals within the game are largely self-directed and not driven by a plot.
As the possibilities are immense between exploration, survival, and construction, and because the map of the game is almost unlimited and procedurally generated, each part will be unique. The focus of Minecraft is entirely on exploration and crafting. Every time, you will get a new environment and freedom to show your creativity.
What Does Smite Do In Minecraft?
Usually smite is an enchantment, which can be helpful for players to increase the damage from undead mobs. It is applied to weapons like an ax or sword. When you play Minecraft, during them you need to go through survival mode where you face zombies, skeletons, zombie villagers, skeleton horses, phantoms, Zoglins, etc. Because every time they attack players.
Every smite has unique and individual strength, while with the use of them you can increase the damage of opponent enemies like zombies, skeletons, etc.
Around 5 types of smites are available which have the independent strength for giving damage to the next undead mobs.
Smite enhances extra damage to all undead mobs, if-else enemies haven't worn any type of armor and your attack is fully charged. It might give critical damage to common enemies of the game while it is a strong contender against zombies and skeleton-type enemies.
Smite five always proves strong as a contender over enemies, when it is applied on a sword or axe. Attack with this site, it is enough to kill enemies just in one hit. With below than five smite you will need to hit more time on enemies until they get slain.
Usually smite comes with combinations like sharpness, arthropods, and bane, so among them, you can select anyone damaged with a combination of sword or axe. Here you can switch your weapon but not possible to select all these three enchant over weapons.
Finally, the conclusion of this explanation is smitten is the damage applied to your weapons is like a sword or axe. Smite comes with five types of enchantment which enhance your weapon power while as much higher as smite you will choose that many next enemies will be damaged.
Brief Introduction About Minecraft Game.
As a user/player you should know about Minecraft, like exactly what steps you will need to complete and which kind of adventure will be there. Here stepwise you will read about that.
1. Modes of Minecraft Game.
Survival
Creative
Adventure
Spectator
Hardcore
As mentioned above, these five are the modes that Minecraft offers for its users. As a sandbox game, Minecraft gives high possibilities with the flexibility to create your own world in the game.
2. Levels of Minecraft Game.
Usually, as a player, you can get four types of levels in Minecraft, all of these are as per the given below.
Peaceful
Normal
Easy
Hard
Players can change the levels of the game during the creation of the world, so as per the suitability you can bring changes to game level. Here on the hard level, you can do more struggle for every simple task, that's the beauty of this game.
How to play Minecraft Game?
In Minecraft, the player is free to choose his goal between constructing buildings, designing traps, unlocking the secrets of the game, or simply surviving. To discover the game step by step, it is advisable to choose theCreativemode in which only the imagination counts.
To do this, the game offers dozens of types of blocks that will allow you to assemble materials or obtain different textures and colors. All with hundreds of recipes for objects, protections, buildings to build.
Many creatures also populate this cubic world, from the quiet pig to the disturbing creeper. The bestiary includes – at the same time, Animals, source of food or Predators, source of worry.
Whether solo or multiplayer, Minecraft also offers additional content and offers to visit the most beautiful achievements of other players.
As you have read 5 types of modes above for Minecraft among them you have to choose anyone, while from that 4 types of game levels, player/players have to choose anyone.
Peaceful and easy levels can make your efforts a bit low for every mode while in a hard mode you will need to do extra efforts for every task.
Now if the question is in your mind like in actual what to do in Minecraft? then mode wise you will need to get understand that, then only a real scene will create in your mind.
Let's go to see what is fun and adventure are available inside Minecraft, which is able to give you totally new experience as a player.
1. Creative Mode
Here as a player, this game mode name is enough to give you a clear idea like possibly what you will need to do in this mode. One thing is sure that in creative mode you will not get any type of damage also will not be affected by hunger.
In a creative mode, players will need to access almost all the essential resources which are available in the creative mode. Minecraft offers various types of material through that players have to create a place while they can remove that as per their own wish.
Here as a player, you can fly into the game world while you will have to focus on creating new projects. No obstacle for you during that time, when you build or remove a place from there.
2. Survival Mode
Minecraft game works with its inventory system, which is so helpful and vital for mode like survival. Here in the inventory system, you can get to see some bars like status, which denotes health, hunger, etc.
Players have to collect various types of natural resources like stone, wood, and other materials which they will find around them. Sometimes during the gathering of resources players may need to face dark sides, where they will meet with difficulties. Here as per the chosen game levels, you will need to face difficulties in a survival mode. If you have chosen hard mode then deadly attacks are possible over you from mobs.
With the help of an inventory system, you can check health status, this bar may get decrease due to attacks of mobs, falling into lava, suffocation, starvation, etc. From time to time players has to need to refill their hunger bar by eating food which they will get into the game.
Another good option is choosing the peaceful level, through that players can collect resources by easy way. This game offers a smite-like enchant, which is applied to weapons. With smite power when you attack undead mobs like zombies, skeletons, villagers then either they either be demised or being damaged highly.
In to inventory system, many numbers of items are available, while players can get furnaces from them to cook food and other edible materials, which have been collected from various places in the game world.
Minecraft gives options to players like they can exchange goods with villagers through the trading system. Here in the game players can do mining, breeding animals, smelting ores, and cooking food.
In short survival mode is a bunch of adventures where you will need to struggle for collection of natural resources, building projects, fight with undead mobs. On other sides, it is so much interesting and fun making, where you can cook, smelting ore, etc. While for every task players can earn points that are specified for every task.
Survival is one of the most interesting and adventurous modes whereas as a player you will get to feel all kinds of new experiences during the build of your own world.
3. Spectator Mode
In this mode, players have no need to involve directly in the game but need to watch from the perspective of other creatures or players. As a player, you can fly through a block during Spectator mode while can do teleport with other players.
4. Hardcore Mode.
It is the toughest mode where players can die, while once if anyone dies into this mode then they will no longer go ahead into the mode. While all kinds of your creation go to end with you.
It is one kind of another variant of survival mode which is locked most of the time.
5. Adventure Mode.
Players can get various types of adventure experiences into this mode, where user-crafted maps are available. The user interface of this model is the same as survival mode, but here many restrictions are available.
If players want to explore this mode then they will need to gain some specified items which they can get to see on the map intended with a marker. If you want to go through a more adventurous journey in Minecraft, then you will strictly need to collect all the mentioned things on a map intended with a marker, then need to go ahead.
What opinion do we have of Minecraft?
Indispensable for its gameplay and graphics, Minecraft requires a short period to learn its different game mechanics and the possibilities offered in terms of craft and construction.
Whether solo or multi, it is possible to discover this world in many aspects, the educational world will also find its account with many resources and constructions available online.
Minecraft Games for Kids
Minecraft has also been used in the educational environment in the classroom as a tool for teaching children collaborative problem-solving. It has been used practically to develop an interest in kids for architecture and civics.
Realistic skills like architecture, engineering, design and can be learned and developed in the game. This can be useful for the future career of the child.
The game available in the trial version (Minecraft Games Free)
Although it is available at around 30 Euros excluding sales, Minecraft can be tried for free in Survival mode for a game-time limited to 90 minutes.
Impact and Awards
The game has had a marvelous impact on the whole video gaming industry and has created an entire genre and style of play.
Minecraft has won the "Most Addicting Game" at the 2015 Kid's Choice Awards, the "Still Playing" award at the 2019 Golden Joystick Awards. It has got huge critical acclamation, too. Facebook, YouTube has played a big role in popularising Minecraft.
Conclusion:
Minecraft is a famous game where players can do many types of tasks while to do that there are various types of modes available. Every time players can choose game levels they will be able to set gameplay difficulties. If you want to play Minecraft but don't have an exact idea of what is Minecraft and which types of tasks you will need to do during the gameplay. During that time this article information can be a helpful reference for you.
Frequently asked quiz questions about Minecraft
Q. What to build in Minecraft survival?
Ans: Storage Building, Modern House, Mountain House, Barn, Simple Survival House, Redstone Farm, Underwater Starter Base, Simple Wooden House, Underground Survival Base, Simple Oak Survival House, etc.
Q. Can we play Minecraft games in a multiplayer?
Ans: Yes.
Q. What are Minecraft dungeons?
Ans: Minecraft dungeons is a dungeon crawler video game that has been published on Xbox games studio. This game was developed combined by Mojang studios and double eleven. Here in Minecraft dungeons, no features are available similar to Minecraft like an open world, building, mining, etc.
Q. How many modes are available in the Minecraft game?
Ans: Five.
Q. How many levels are available in Minecraft?
Ans: Four Levels.
Q. What are the names of Mode available in Minecraft?
Ans: Creative Mode, Spectator Mode, Survival Mode, Hardcore Mode, Adventure Mode.
Q. What are the levels available in the Minecraft game?
Ans: Peaceful, Hard, Normal, Easy.