Introduction of Tally Account
Tally is an Indian Company that provides Enterprises Resources for Planning Software (ERP). The Company base is at Bengaluru in Karnataka state in India.
The Company was founded in 1986 by the Business tycoons Mr.Shyam Sundar Goenka and his son Bharat Goenka.
Earlier years the Tally was known as "Peutronics", Mr.Shyam S Goenka was running the company that was supplying raw materials and machine parts to plants across southern and eastern parts of our country.
As his business was growing fast he had a problem to maintain his account books, so one fine day Mr.Shyam Goenka told his son to develop a software application that could maintain the records of their companies accounts as his son Mr. Bharat was a Math Graduate so he started to develop the software application, after some months he was able to develop the software and it was named as Peutronics financial Accountant which had only a simple basic accounting function.
Introduction of Tally Account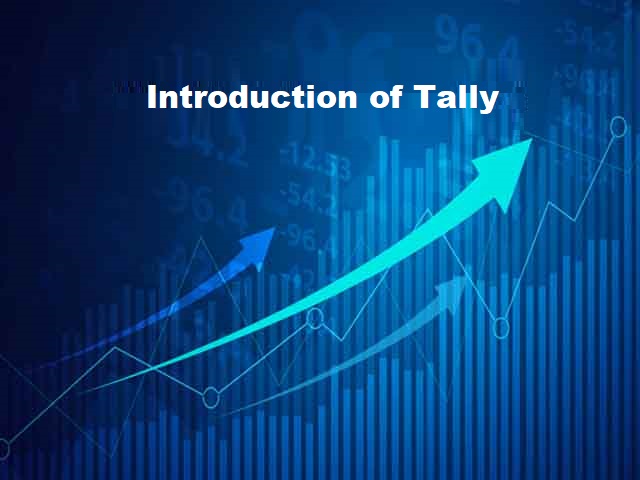 What is Tally Accounting?
After a long 13 years, the company finally changed its Peutronics to Tally Solution in the year 1999.
By 2006, the company had developed a multi-lingual version and upper version of Tally 8 and Tally 9.
By 2009, The company launched the business management software that is Tally ERP 9
A program called Vriddhi was launched in 2015 to certify and classify the partners in this business. In the same here Tally.ERP 9 5.0 version was released.
By 2016 Tally Solution had over 1 million customers using this software.
As the Indian Government launched the Goods and Service Tax (GST), the Government had nominated the Tally Solution as a Service Suvidha Provider to help the business merchants know exactly how it works.
And by 2017 it updated the Software by GST compliance.
After a few years Tally's named its product as Enterprises Resources Planning and Accounting Software called Tally.ERP 9. For big companies, Tally Solution offered Tally Server 9. This software is used for handling Inventory Management, Tax Management, Payroll, and Accounting.
Tally is a complete package for your Accounts management, Tally is also called a record of debit and credit.
In earlier years all the business people were maintaining their accounts record manually and was very hard to get thinks to get corrected fast. Due to modern information technology, people are using Accounting Software.
Benefits or Advantages of Tally:
Any business owner thinks about the importance of keeping the records of his accounts so the best alternative is the Tally.ERP 9 where everyone gets the proper way to handle all the records or data of their accounts. If you are using Tally you can work across multiple locations and handle various multiple currency transactions, manage cash flow, and interest payment.
The technology used by Tally makes data secure and reliable. This software supports all the file transfer protocol. Tally is best for financial analysis and financial management. It provides all the user information about the receivable turnover of your business, cash flow statement, activity consolidation, and even all the branches.
Tally provides a solution to all the problems the real business has to encounter. A single software takes care of all the task that is required for enterprises management. The task which has to be carried out such as record keeping accounts receivable and bank reconciliation are done through this software that is Tally.
About Tally:
Tally can be divided into four parts:
Simplicity: working with Tally is very simple. Just install the software and then activate the license and start your business.
Flexibility: Tally adapts the way your business goes. It is flexible in terms of configuration.
Speed: You can get real-time reports of a balance sheet, profit, and loss statement, and many more within fractions of time
Reliability: It is immune to any virus attacks as your data is always safe and any sudden disruptions in the work environment cannot lose your data.