If you are a social media user then surely every day you try to connect with new people across the world, After all, gossiping with new people as well as existing friends is always every one favorite task. Some peoples prefer to make voice calls on social media via messenger and some likes to chat.
That is why messenger is a popular destination through which people are getting interact with each other, Sometimes users share videos with each other on special occasions or some have like to share funny moments videos, traveling memories videos, etc with their buddies, In such case users maybe don't know how to download that videos from the messenger.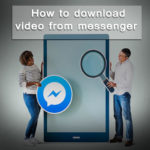 In this article, you will all information about this like how to download video from messenger and save that into your device or PC , Moreover you will get one basic idea about messenger video downloading.
Download video on Android Device.
Before entering into messenger make sure you have signed in to the Facebook account with a valid registered email address and password, then you have to follow the given below steps.
You need to open the Messenger app on your device.
You have to search or scroll for specific contact numbers and conversations about whose video you want to download.
You have to tap or hold on to that specific video for a few seconds, By that process, you will get the 'Save' option below that specific video.
You need to click on the save option and it will take a few minutes time to get downloaded or saved into your device.
This video will save into your device gallery media or photo option and it will appear soon after downloading process is done.
In this way you can easily download video from messenger to your android device.
Download video on Windows.
You can download Messenger video also on your windows computer, You have to simply follow the below-given steps.
You have to Log in first to your Facebook account with a valid registered email address and password.
Then you need to search for specific conversations or chat whose video you wish to download And open that chatbox.
Search for a specific video into that chat history, You will get a three-dot icon beside that video click on that dot, option by name will appear on the screen"Save to Facebook", Just click on that option and the video will be saved into your Facebook saved item.
After done video saving task, You will get the option "View your saved item" option just click on that option, and a new tab will be open within a browser, where you will get the "My Collections" option box. Here you can see your Facebook videos have been saved already, so choose that specific video which you want to download and click on that video it will automatically start downloading.
After doing all the processes your video will be saved to the 'Downloads' option on your computer.
So this is the simple method to download video from messenger to your windows computer.
Messenger video downloading by Leawo video downloader.
Leawo is an online tool with the help of that you can download messenger video both on windows and Max system, You have to just follow below given steps.
As we said earlier Leawo works on windows as well as Mac so you need to choose a specific version according to your system.
You have to download the first Leawo program into your computer and install it.
After done downloading process you have to open Leawo, You will see the different options within the program so choose and click on the "Video downloader' option.
You need to copy the Facebook messenger-specific video URL and paste that into the Leawo address bar and go ahead. You will have entered on a specific video page. Here you will get a green tringle icon, so you have to click on that to choose the video resolution which you want. Select video resolution, size, format, etc.
After done everything you need to click on 'download' option, Your video will be download and save into Leawo as in downloaded video option as well as 'Downloads' option in to your computer.
Download messenger video to iPhone
You have to open the Messenger app on your iPhone.
Go on a specific conversation or chat history and choose a specific video that you wish to download.
Tap or hold on specific video for a few seconds and the 'Save' option will appear under the video, You need to tap on the save option.
Specific video will be saved on your iPhone gallery or photos options
In this way easily you can save video on your iPhone from the messenger.
These all are simple and very convenient methods to download messenger videos on your mobile device as well as computer, Hope you have understood all of this information, Try this method to download messenger videos and enjoy them.