Setting up a new phone can be a tedious and time-consuming task, since it consists of many different things, like taking your data from your previous phone to your new phone, configuring the new phone, and much more. Especially when it is a new iPhone specifically, you would need to do the setup of apps, iCloud, iMessage, contacts, and more, which would take some time and effort.
If you have bought an iPhone from Verizon, you might be wondering how to set up an iPhone. In this article, we are going to have a look at how to set up a new iPhone without any effort. Note that you should follow any of the given steps, so as to easily set up your iPhone.
Set up new iPhone Verizon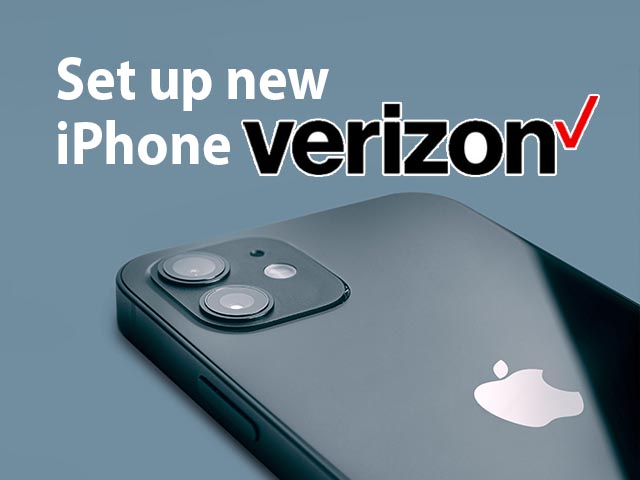 Note: Before we move to initializing the new Verizon iPhone, please make sure to back up your old iPhone data.
Way 1 – Activating your new iPhone
Let's have a look at the first way using which, you can easily activate your iPhone. It is very simple, but you would need to follow the given steps in order to activate your iPhone. First of all, please make sure that you have made a backup from your older iPhone.
The below step is for your older iPhone, so if you don't have your older iPhone, please move to the next step directly.
Please make sure that the Find My app is disabled, and then turn your phone off.
Further steps on your new iPhone –
Press and hold the Power button to turn the new iPhone on. (If you have bought the 5G iPhone from Verizon, don't remove the SIM card, since it would cause trouble, and in the case of iPhone 14 and after, it can be only activated with an eSim)
Swipe up or press the home button to choose the language, country, and region.
Then, the appearance screen comes up, and you have to choose a preferred size(default, medium, large), and then click on continue.
Then, from the Quick Start screen, tap on "Set up without another device"(Or follow the given directions).
This step would require you to connect to a Wi-Fi network, or you can also continue without Wi-Fi if prompted.
After this, you can find the activation screen, confirm your phone number, and then tap on Next.
After this, enter the account PIN, or the last 4 digits of the SSN of the owner of the account. (If you are activating a new phone, make sure that the old one is switched off.)
Review the data and privacy info, and then tap on Continue
After this, from the setup screen, select any of the available options – Setup for myself, or Setup for my child in the family.
Follow the on-screen prompts, and set the Face ID, or Touch ID, whatever is available.
Enter a passcode, which is 6 digits long.
You will see some backup-related options now, and you have to choose one of the given options to restore the backup. You have several options, like iCloud, from another iPhone, from Android, or Mac or PC, or you may also choose to not transfer anything.
Finally, enter your Apple ID and password(if you don't have an Apple ID, you can create one)
After this, you may need to follow some more on-screen instructions, which would do some more setup, just follow them, and you should be easily able to get started with your new iPhone.
After you have set up your iPhone, you can also bring in the other accounts, like Cloud, Google Account, etc. Please note that if you have bought a new 5G iPhone, don't swap the SIM card from your previous device, since it would cause problems in correctly configuring the device for Verizon's 5G network.
Please understand that the setup may depend on the device that you are setting up, and on the iOS in the device, so you may or may not see some options shown above, but the setup should be pretty obvious in many cases, and you should be able to get the things done.
Way 2 – Activating your iPhone through Customer Care(Another device required)
Another way to activate your new iPhone from Verizon is to get help from customer care. Follow the below steps, and you should be able to activate your new Verizon iPhone.
Note: For this method, you would require another Verizon iPhone, other than your newly bought iPhone, and your old iPhone. Make sure that your both devices (New and old) are switched off.
Get the third Verizon iPhone as mentioned in the earlier note, and dial the Verizon Customer Care number – (877)-807-4646.
When you talk to the customer care representative, you will be required to verify all the details relating to your Verizon Network on your iPhone.
Upon confirming and verifying the details, the transfer request should be initiated soon, and your Verizon network should be activated on your new iPhone.
Now, you have to wait for some time, then turn your new iPhone on, and carefully carry out the setup process. Wait for the iPhone welcome screen to appear.
When the welcome screen appears, you can see the Get Started option, which you have to tap on. When prompted with the license agreement, tap on I Agree.
After this, you would need to follow the on-screen instructions and set up your iPhone as a new iPhone, and soon, you should have the new iPhone activated with Verizon.
Conclusion
If you are using the Verizon network on your iPhone, and when you buy a new iPhone from Verizon, you would want to switch your network to the new iPhone, but it is not as simple as it seems. Instead, you would be required to follow a set of instructions in order to successfully get started using your Verizon network on your new iPhone.
In this article, we have talked about some ways using which, you can easily activate your Verizon network on your new iPhone. Please talk to customer care for any query related to Verizon activation, and some queries related to Verizon network.
FAQs related to setting up the new iPhone Verizon
Q: Can you activate Verizon service on your new iPhone yourself?
Ans: You can easily activate the Verizon service on your iPhone, by following some easy steps, and also, you can also talk to customer care for any difficulty.
Q: What is the customer care for Verizon activation on iPhone?
Ans: (877)-807-4646 is the number for Customer care for Verizon Activation. While talking to the customer service executive, you would need to provide details about your network, so that the transfer of the network can be initiated.
Q: Can I buy an iPhone from Verizon?
Ans: Yes, you can shop your iPhone with Verizon with exciting offers, and set up your network with Verizon.