This article is about safety gadgets for the home. There are many incidents take place of robing the houses, so we all need to keep our home safe from thief nearby. There are many gadgets for home safety available on online sites or retailer stores in your area.
There are common gadget CCTV cameras that are used everywhere today. But there are many high tech gadgets available now in online market which is better than CCTV cameras. As CCTV cameras need a lot of setup and installation part to secure an area. But these new technical gadgets don't need much setup and installations to secure an area.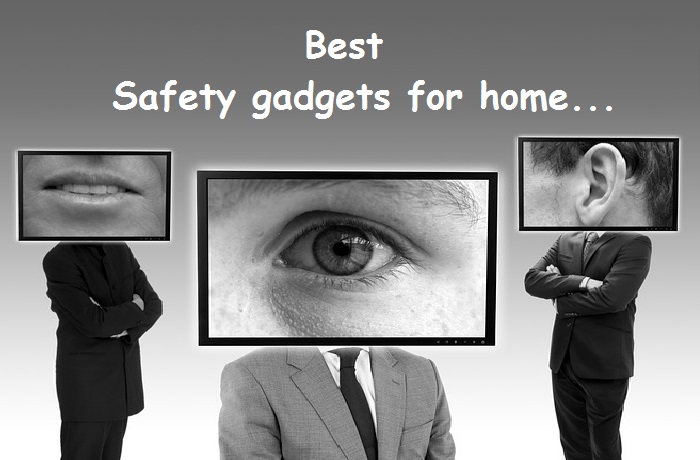 We will give you information about some of the home security gadgets for home safety with their uses and benefits.
Best Safety Gadgets for Home 100% Secure Your House
So let's check the gadgets
No. 1 Video Doorbell
This Gadget is not a security camera and has some functions that will keep eye on visitors. This gadget is like a bodyguard who scans the visitor before they enter the door. The Gadget records the video online and sends you the notification with the details of the visitor so that you will be secured.
This Device has functions given below:
Control Door lock with mobile: Use the mobile app for unlocking the door without going to the door when you get notification of visitor.
On-demand Video recording: You can check live stream video on the app, it also records the video automatically online.
Two ways audio: You can interact with the visitor without attending a door. With the mobile and device, you do audio conversation with the visitor.
Motion Sensor: It detects if someone in front of a door and send you the alert notification, even the visitor does not press the button.
Night Vision: Don't worry if the visitor comes in the night, still it will be clearly visible as it is visible in the daytime.
Silent Mode: If the family member is sleeping in a home, then the bell send notification on mobile instate on ringing loudly if someone visits the door.
Video Doorbell works on Wifi and has the 1080p quality of video to record and display that show a clear face of the visitor. This gadget is available in online stores.
No. 2 Outdoor light camera
This gadget helps you making a house more secure from outside. It looks like an outdoor light but has a small camera at the bottom of light which can capture all motion happening front of the door. This Outdoor light has a function to capture and record the video and it also has an inbuilt speaker with a microphone for two ways interaction.
This gadget has a function to call police or make the loud alarm to alert nearby people if some suspect appears on the door. This gadget is available on online markets.
No. 3 LG Smart Security solution
Here it is, the complete smart security solution launched by LG. This gadget has multifunctional tasking at a time; it can record video, allow you to interact with the visitor microphone and speaker which is inbuilt in the gadget.
This gadget has many adjustments depend on your requirement; you can mount it on the wall or just keep it on a shelf in front of the door. It has the ADT Home security system and it is easy to operate, just need to download the app from app store. You can watch live stream video of the front door while it will record the videos 24/7 online.
This Gadget is available on online stores.
No. 4 smart lock
All security is incomplete without a smart lock for a door. Though other gadgets will send you the information and may show you the video but still need a lock that will give you the complete security of other gadgets.
It is the modern time lock. You can unlock with Smart Key, or from mobile, or with the standard key. This lock has the facility of sending alert notification if an unauthorized person touches the lock.
You can share the smart key with your friend who will be visiting for particular time duration. You can set an access time duration for the person to use the lock. This gadget is available in online stores.
More Best Safety Gadgets for Home
No. 5 Haven
It is the unique gadget totally different from all other home security gadgets. It has to set at the bottom of the door and comes with the Bluetooth key fob to lock or unlock it.
You can also unlock the Haven manually when you are inside the house, just by stepping on the lifted gate in the middle of gadget which stops the door and steps on left paddle to lock it again.
This gadget does not have any specific function besides sending notification on attending a break in. It is made of the military material which is hard to break.
This gadget is available on online markets and also on its official website.
No. 6 Friday
The stylish and compact gadget as the name makes it unique. This gadget is compact and perfect for home security. This gadget can be attached above your main lock of the door and you can both keys to unlock the door, with the main key either with the mobile.
This gadget alerts if someone tries to break in or tries to open the door. You can purchase this gadget from online markets.
No. 7 Piper
Piper is one of the gadgets with cameras that provide security for home. It has an HD camera which continuously records the movements around it, also has motion sensor detection for more security. If someone breaks in or tries to do so, this gadget makes a loud sound which can alert nearby people and also send alert notifications to mobiles by email, text, and calls.
This gadget is simple and compact to set near your door or a place from where no one should break-in. You can grab this gadget on online stores.
No. 8 ISmart Alarm
This gadget is the package of complete home security kit that can be set and used for securing your home. This kit included Cube One (Control Unit), the motion sensor for detecting movements, ICamera for live streaming, ICamera Keeper for storing the videos, Contact Sensor for doors and windows, the smart switch for plug-in devices and a remote control.
This Gadget has the complete combo of home security devices that can make your home completely secured. You can buy this smart security kit online.
No. 9 Motion Sensor Alarm
This gadget is for them who don't like to live under the security cameras around the house. This gadget has the Passive Infrared sensor which scans the area with the infrared signal by sending it every second. If an object or a person comes in the contact of the signal it makes a loud noise that alerts the neighbors and sends the notification to the mobile.
This device is simple but a strong home security and available on online markets.
No. 10 Novi
This gadget is a smoke detector with multi features for home security. It has an HD camera which rotates up to 170 degrees and always records videos automatically. It also has the motion sensor for movement detections. It has a loud siren to scare the thief and alert the nearby peoples. It also sends notifications to mobile when something happens wrong.
This gadget looks simple and is non-noticeable to anyone as it looks like a smoke detector. You can buy this gadget online.
So these were some security gadgets for making your home safer. May some gadgets will not be available some particular areas, but still, you find more devices in that area. These gadgets are as per worldwide requirements so they are most recommended gadgets for everyone.