If you ever needed to fill out or edit a PDF file, you have probably searched Google for a PDF editor that could help you.
Unfortunately, many PDF editing programs are either very expensive or difficult to use, so we surveyed to find the best and most intuitive PDF editors to use on Windows to make your life easier. Come on
PDF File Editors for Windows
1. PDFelement
PDFelement is an easy-to-use Windows editor that offers a variety of useful features, including the ability to easily edit, create, convert, annotate, password protect, and sign PDF documents.
This software includes a free trial period for Home and Professional versions, the latter offering a number of extra features, such as OCR (Optical Character Recognition) technology, which allows you to edit/extract text from scanned PDF files.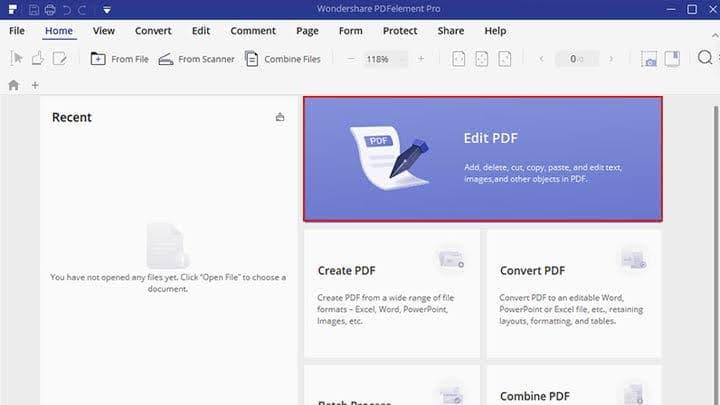 User Interface
The first thing that struck us about PDFelement was the simple interface with an intuitive menu system. The setup and menu system are immediately familiar and very similar to those of Microsoft Office, so if you know Word you will quickly be comfortable with this editor.
The home screen gives you access to the ability to create, combine, edit, or convert PDFs, and gives you the ability to use a range of PDF templates to get started.
These templates give you access to everything from business budgeting examples to job application forms, purchase agreements, confidential forms, and more. It's a very useful tool if you don't want to create something entirely from scratch.
The outstanding edit capability
Once you start working on a PDF document, editing tools come into play. These tools can be quickly accessed through the navigation menu. With a few clicks, you can add or edit text, insert images, change backgrounds, apply headers and footers, and more.
You can do all this while maintaining the original document design as well as layout using the line and paragraph editing features.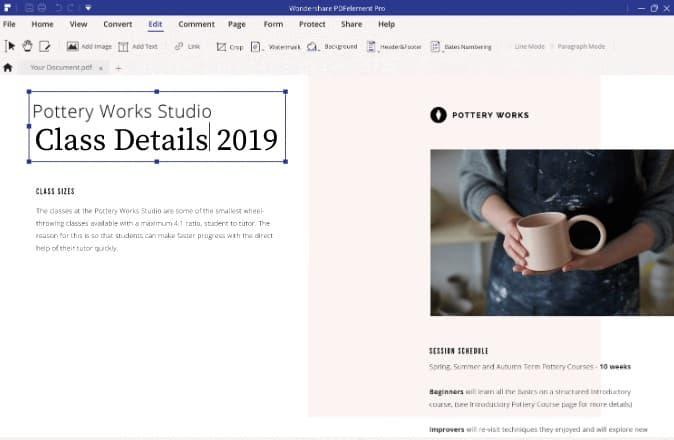 Actually, there are many advanced features I can't cover more in a short description, such as protect file, sign document, batch process, extract data, and more, you can easily find them via the link >>
2. Adobe Acrobat DC
Adobe's Acrobat editor is one of the best-known PDF editing tools for Windows, mainly because the company was responsible for creating the file format in 1993.
Adobe Acrobat Reader has become the dominant viewer, but Adobe is also known for its PDF editing tools, the latest being Adobe Acrobat DC.
DC stands for "Document Cloud" and this software feature allows you to save your PDF files to the cloud so they can be viewed and accessed easily, anywhere, anytime.
Although Adobe is an excellent PDF editor, because it allows you to convert, edit, and annotate, among other functions, the program may not be suitable if you only need to use a PDF editor occasionally because it is a subscription service.
3. Foxit PhantomPDF
PhantomPDF is a very capable PDF editor for Windows. It offers all the basic functions, as well as the ability to merge and separate PDFs, annotate and share, create forms and convert to other formats, among others. You can also add encryption, compose, and sign the files. It has the OCR function if required.
If you want to try before you buy, you have a free 14-day trial, but you need to create an account and provide your data to the business.
Navigation and interface
Like PDFelement, Foxit PhantomPDF has a user-friendly interface that is reasonably intuitive. It has a menu system similar to Office but does not offer as many features.
4. Nuance Power PDF
The Nuance Power PDF editor offers the ability to convert, annotate, edit, and add encryption to your PDF documents.
However, the feature that stands out in this software is voice note recognition technology, which makes it possible to add notes to your PDF simply by speaking the notes, rather than having to type them. In the age of Alexa, Siri, and Google Assistant, the ability to dictate is certainly welcome.
There are several tools that allow you to quickly edit PDF files. Navigating through documents is also easy, with the index system that includes the visual representation of document pages in thumbnail form.
It's easy to find the right page and access it in no time. You can also choose to split the screen and dock multiple pages in the window so you can access and edit multiple pages of the document at one time.
Before documents can be edited, they need to be converted, which may take some time and occasionally this may cause the software to crash.
5. HiPDF
If you're not in the mood or don't like downloading and installing software on your computer, then HiPDF is the right alternative. This free PDF editing tool is available within the browser (online).
It offers a surprising number of features and is capable of performing numerous tasks including converting multiple documents into PDFs, merging, compressing, and protecting PDF files, among others.
You can use this online tool to edit PDFs and to convert a document back to a PDF once you have finished.