How to Shutdown PC with Keyboard
The traditional method to Shut down the computer is practiced by most people. Usually, people do the following to shut down their computers –
Hit the windows button and click on the shutdown option (on a Windows PC)
Choose the Apple menu and click on shut down (on an Apple PC)
Click on the top right corner of the screen to open the dropdown menu, and click the shutdown option. (in Ubuntu (Linux) PC)
Even though these are the most traditional ways to shut down a computer, we have come up with some other ways with which you can shut down your PC (sometimes quicker than these traditional methods). You can try these quick ways yourselves and identify which one suits you or is comfortable for you, or you can also continue to use the traditional method.
How to Shutdown Computer with Keyboard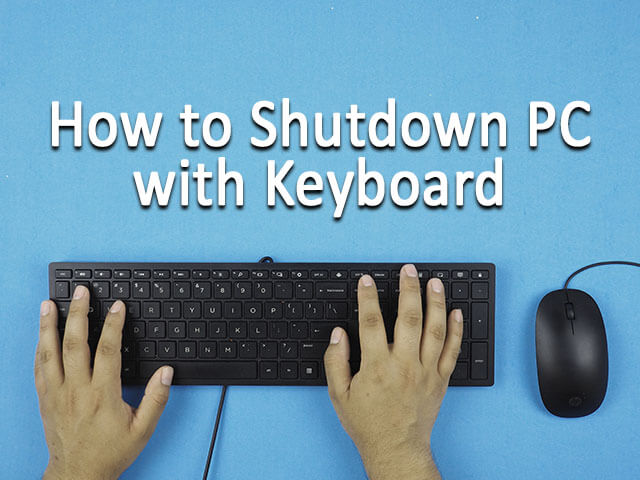 Here are some ways using which you can shut down your Windows PC –
1. Using the Old but Gold Alt + F4 shortcut key:
Other than closing the currently active program(Without any warning!), the shortcut key Alt + F4 can also help you shut down / restart / sleep your Windows PC. When all the active programs are closed, and you are about to shut down your Windows PC, do the following –
Press Alt + F4 to open a prompt asking you to shut down your PC.
Hit the Enter key
And your PC will shut down. That's it!
If you want to Restart/sleep your PC, you can select the option from the drop-down menu on the prompt as per your need and then hit the Enter key(or press OK on the prompt).
Note: by default, the Alt + F4 is intended to shut down your Windows PC, however, by changing the preference from the dropdown menu, you can use this feature to restart/sleep your system.
2. Using another shortcut key combination:
You can use a particular combination of keys to shut down your PC. One such Combination that you can use to shut down your PC is –
Windows Key + X + U + U
Note: Pressing the above key combinations will shut down your PC. However, this shortcut works only with Windows 8 and other newer versions of Windows. (That is, it won't work with Windows 7 or Vista or earlier Windows versions).
If you have the latest Windows version(8 or more), you can enjoy using this quick shortcut to shut down your PC.
3. Pressing some keys to shut down your PC:
You can press the following keys to shut down your Windows PC –
Press the Windows Key
When you press the Windows key, the Windows menu appears where you can find the option to shut down your PC.
Press the Right Arrow Key
Pressing the Right Arrow key selects the shutdown option from the power menu.
Hit Enter
Hitting enter will activate the shutdown program and your PC will shut down.
Note: that this method may not work in newer versions of Windows. If you have windows 7 or vista or an earlier version, you can enjoy using this feature. (It may also work on windows 8)
4. Adding the Shutdown shortcut to your Windows Desktop:
This shortcut is not actually from the keyboard, but it is a good shortcut to shut down your PC. In fact, it is actually a shortcut, which you can add to your windows desktop.
To add the shutdown shortcut on your Desktop, do the following –
Right-click on your desktop.
Click New and then click Shortcut.
A window will appear asking you to enter the location of the program to which you wish to create a shortcut. Just type in (Or copy) the following location in the input box –
%windir%\System32\shutdown.exe /s /t 0
Hit enter(or click the Next button on the window)
Set a name for the shortcut (by default it will be named as shutdown)
Click Finish to create the shortcut.
When you open(double click) the shutdown shortcut, the shutdown program will be launched and your PC will shut down.
Above were the ways to Shutdown your Windows PC. You can try any / all of these options.
Ways to Shut down your Apple Computer (iMac / MacBook) using a keyboard :
Besides the traditional way to shut down an iMac or a MacBook, you can use the following shortcut keys to quickly shut down your Apple PC.
Control–Option–Command–Power button*
Pressing this combination of keys will quit all the active applications and shut down your Mac. (if there are any active documents with previous unsaved changes, you will be prompted to ask whether or not you want to save the changes). Alternatively, you can use the Control–Option–Command–Media Eject key combination to do the same. (The Eject key is the last key on the top right side of the keyboard in most of modern Macs)
Pressing this key combination will prompt a window(dialog box) asking whether you want to shut down, sleep or Restart your Mac. You can shut down quickly from here. Alternatively, pressing Control–Media Eject key will also do the same task.
Ways to Shut down your Ubuntu PC(Linux) using a keyboard :
With Linux, there are no such options as Alt + F4 available to quickly shut down the PC. However, you can add your custom shortcut to Shutdown the Linux PC.
Do the following to create the shortcut key to shut down your Linux PC-
Open the terminal and type in the following command.
Sudo chmod u+s /sbin/shutdown
Note: upon entering the command, you will be asked for the password.
Then head to the System settings >keyboards and click the shortcuts tab and then click Custom Shortcuts.
Click Add custom shortcut button. Now a prompt will appear asking you for the name of the shortcut and the command. Just name it as Shutdown and type shutdown -h now in the command box and click Add.
After you click Add, a list of shortcuts will be prompted. Click shutdown (which we just created in the previous step)
Below it, there will be three unassigned. Click the first unassigned and it will turn to Pick an accelerator. Then click on Ctrl + Alt + K at the same time. This is now the shortcut or shutdown operation.
So now just like Alt + F4 in windows, you have a shortcut Ctrl + Alt + K for shutting down your Linux PC.
Conclusion:
Above are some ways to shut down a PC using Keyboard. The different ways for Shutting down a Windows PC, a Mac, or a Linux PC are shown separately. You may use any / all of these available options(according to the Operating system you use) to shut down your PC. We do not promote/or recommend any program/service. This is just an informative article.
Frequently Asked Questions Quiz Shutdown PC with Keyboard
Q. How can I force my PC to shut down?
Ans: Press and hold the Power Button for several seconds(6 – 7 seconds). This will force your PC to shut down. This can often be done when your PC is not responding or has frozen. It is often called Hard Shutdown / Force Shutdown.
Q. How can I quickly lock my Computer?
Ans: You can use the shortcut key Windows key + L(In a Windows PC)
or Control-Command-Q (In a Mac) to quickly lock your screen.
Q. Is it bad to turn off the PC with the power button?
Ans: Earlier, it caused problems when the PCs were shut down by directly pressing the power button. But now it is perfectly safe to shut down the PC with Power Button.
Q. How often should you shut down your computer?
Ans: A frequently used computer system should only be shut down almost once a day because when computers boot again after the previous shut down, a lot of battery power is used by the PC. Frequently shutting down and starting the PC can decrease the lifespan of your PC.