How to cancel and delete Spotify Premium account
If you have decided that you no longer want to continue with your Spotify Premium subscription, then you should first stop your recurring subscription on the service. This action is required by the subscribers to make sure that Spotify will no longer charge a subscription fee every month from your credit card.
In Today's article we will learn about the following two things:
How to cancel a Spotify premium subscription?
How to delete Spotify account?
So Let's begin!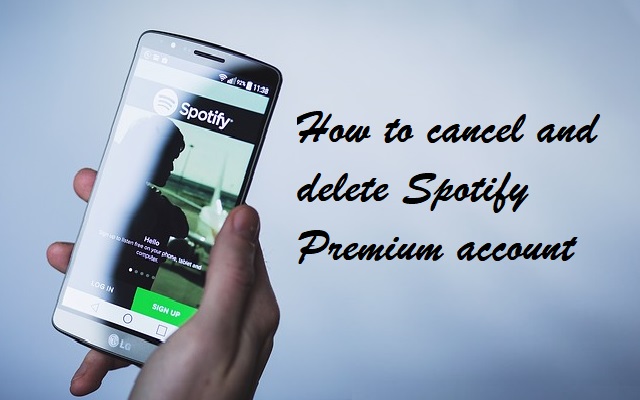 How to cancel Spotify account premium subscription
Step1: Reach to Spotify's subscription webpage by opening http://spotify.com/account-subscription in your desktop web browser. Now, enter your user name and password to log in to the account.
Step2: Locate the 'Subscription and Payment' tab and click the link "Cancel your subscription."
Step3: Before canceling the subscription, you will be asked to write a reason to end your subscription. Choose your option and move to step 4.
Step4: Now click on 'Cancel My Subscription' and then enter your password at the required field.
Step5: This is the final step, click on 'Cancel Spotify Premium subscription' and end your subscription with Spotify.
Following the above steps will let you cancel your premium subscription with Spotify.
Now let's move towards the second half of this article in which we will learn about how to delete a Spotify account.
How to delete a Spotify account
Until now we have discussed the steps to cancel the Spotify premium subscription, but now we will explain the operation required to delete a Spotify account from the server. So keep following!
If you are here to delete your Spotify account, then you'll need to cancel your Spotify subscription before closing or deleting your account. And to perform this, please go through the first half of the article and continue reading the article after you have already unsubscribed.
Note: If you want to unsubscribe and continue to use Spotify for free, you need not delete your account as you'll lose access to your playlists both offline and online.
Follow the below steps only after unsubscribing Spotify Premium:
Step 1: On your device, open the web browser and reach to Spotify homepage. You may have to sign to your account during the procedure so be ready with your login ID/username and password.
Step 2: Now click help tab from the menu.
Step 3: In the search bar now type "delete Spotify account" or "close account."
Step 4:  Now access the drop-down menu on the screen and select "Close account" from the options.
Step5: Now scroll down the webpage until you go through a link which says "If you'd still like to go ahead, you can close your account here." Click on this link to proceed.
Step 6: After you will click on the link, a contact page will come up on the screen.
Step 7: In this step what you would be doing is expand the Account menu and select "I want to close my Spotify account permanently."
Step 8: This is the last step in which users have to select "Close Account" to permanently delete their Spotify account.
Note: Users should keep one thing in mind that after deleting the account on Spotify they will not only lose access to the playlists but will lose their username as well. Besides this, users having student discount will not be allowed to use it to another account until a year passes after they first signed up for Spotify.
So in today's article, we have finally discussed the major steps that users will require to either cancel a Spotify premium subscription or to delete a Spotify account from the server permanently. Proceed with caution, and kindly read the "Note" section.
Read More: