How much data does Skype use in an hour
Skype is a program that lets users connect with each other via instant messages, text messages, and audio and video calls over the Internet. And the use of Skype data depends on the call for video or audio.
You have to have a secure network in order to benefit entirely from the service offered. It is recommended that a Wifi connection and a secure mobile data connection will also be available, but if you go beyond the data allowance you will have to deal with the costs your provider may impose.
Service providers usually charge data for downloading, but others also charge their customers for uploading, as both still convey data. You must ask your provider if the upload data is ready because you will use both uploads and download if you use Skype, particularly when you are on a video call.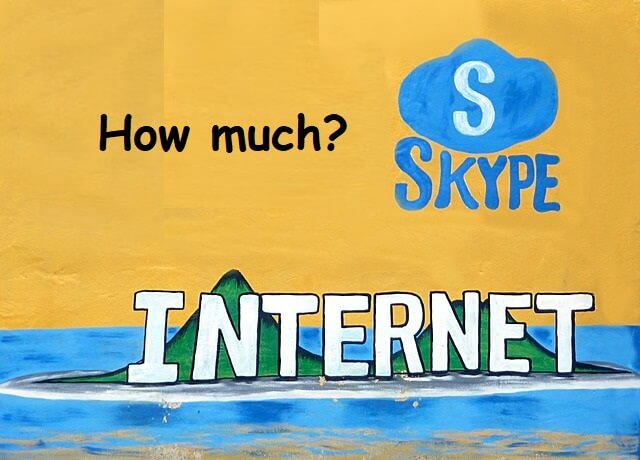 In this post, we will discuss how much data is used by Skype. If you are one of the users who are curious about this stuff, read on, as this article can support you or explain your questions.
How much data does Skype use?
Your download and upload almost the same quantity of data when you do video calling. Here are statistics to give you an idea of how much data you really use when calling via Skype.
⦁ Calls from Skype-to-Skype: 50kbps or roughly 375 KB per minute
⦁ Calls to mobile numbers or landlines-6-20 kbps or around 150 KB per call for 1 minute.
⦁ Video calls between two cell phone devices- 500kbps
⦁ Video calls between a computer and a mobile phone: 600kbps
I'm sure you want to know how much data the application uses in video calls,
It depends on the resolution level, 3 forms of video calls are possible. According to Skype–the standard, high or HD (the high definition ). Skype will determine the quality of your video call. It depends on different factors such as webcam performance, Internet connection speed, device configuration, the person you call, etc…
So the figures on video calls depend on the quality of the videos:
Standard Video Call, It uses Data between 60 MB and 130 MB per hour
HQ (high quality) Video Call, it consumes data between 180 MB and 220 MB in each hour.
HD (high definition) Video Call, it uses data between 550 MB and 700 MB in each hour.
While, Voice calls only use a small amount of data on Skype, which allows you to make more calls and spend more time using the voice feature rather than video and voice.
In recent research, it was found that when you make voice calls via mobile over 4 G network on Android, Skype App consumes the most data. For a 1-minute, 2-way call it consumed approximately 875 KB (kilobytes). Skype scored the least points in the use of data from the list of 10 apps.
Again, this means that an average voice call of 1 way would receive 45 MB and that a video call of 1 way (standard quality) will take up to 130 MB. When it's a two-way call, it takes about twice the data.
How can I keep up with the use of my data?
Use the Application Tracker for your current data use on MyXplornet. Consider topping or testing Our site for other internet plans of Xplornet that may best fit your needs if you need more data.