How does Whatsapp work?
Nowadays, Sending messages through social media platforms has become one of the most popular and standard means of communication. Many people send messages over social media platforms to one another.
There are many applications which can be used to do so, but Whatsapp proves to be one of the most used social media for messaging purpose. This easy-to-use and secure application come with a number of features that can contribute to your daily communication.
Here is everything you need to know about Whatsapp and how it works –
How does Whatsapp work? A step-by-step beginner's guide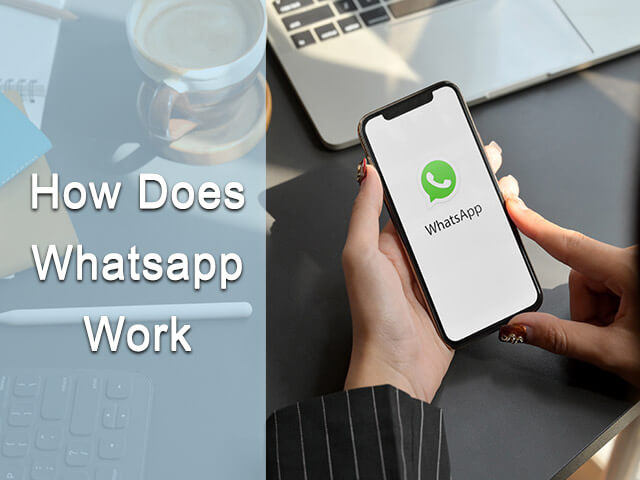 Earlier, cellular messaging was in great practice. But there was a drawback that one had to pay charges to send messages over a cellular network. But Whatsapp was released as one of the first mobile applications using which, one could send messages using the internet-based messaging technique for free.
Instead of the charges applied in sending text messages using cellular networks, one needed a Wi-Fi or Internet connection to send and receive messages and calls on Whatsapp.
So here is a step by step guide on how to use Whatsapp –
How to Install Whatsapp?
The Whatsapp application is free to download and is available on different platforms like Android, iOS, and the web. You can download Whatsapp from the Google play store on android or from the apple store if you are on iOS.
Whatsapp setting ready to use:
After you have installed Whatsapp, the next step is setting up the application so that it is ready to use. Here are the steps you need to follow to set up Whatsapp –
Open the Whatsapp application.
A page similar to the image shown below will be displayed. Just click on Agree and Continue to proceed (Please consider reading the privacy policy before clicking the button)
Then you will be redirected to a verification page where you will have to enter your phone number. Just select your country if it is not selected or wrongly selected, and enter your phone number. (Note that Whatsapp will send you a message on the same phone number with a code to verify you. So make sure that you enter the correct phone number) and click next. (Here comes the Whatsapp phone number image)
Whatsapp needs permissions to access storage media, contacts, microphones,s, etc in order to work efficiently, so just allow Whatsapp to access them when prompted. If you have used Whatsapp earlier, then it will ask if you want to backup your data from google drive.
Once your phone number is verified, you will have to complete your profile by giving your name and setting up a profile picture(A profile picture is optional). You can change it anytime.
Now you are all set to use Whatsapp!
How to use Whatsapp?
When Whatsapp is being used for the first time, there won't be any active chats.
To start chatting, click the green message icon at the bottom right of your screen.
You will be redirected to a page with all the contacts in sync with Whatsapp.
Just select/click on a contact you want to chat with, and you jump to the private chat with that person.
At the bottom of the screen, you can see the message box with the text "Type a message". This is where you have to type your message.
When you click on the message box, the keyboard will pop up and now you can type your message.
You can also use the emoji keyboard to express yourself.
Whenever you type something in the message box, the "microphone" icon near the message box changes to the "send message" icon. Tapping this icon will send the message to the contact.
With a microphone icon, you can record audio messages. To record an audio message, just hold the microphone icon and speak. Whatever you speak is recorded as an audio message. Release the button to stop recording. The message will be sent automatically.
Sending files with Whatsapp –
We can send different files like images, videos, location, audio files, documents, etc to the contact using the "clip" icon on the message box.
Clicking the "clip" icon will prompt a small window below the keyboard with a variety of available options like document, video, image, audio files, etc. select whichever file you want to send to the contact, and find it from your file manager, or media storage and the selected file can be sent to the contact.
Calling with Whatsapp –
You have options of both audio calling and video calling with Whatsapp. It uses an internet connection or Wi-Fi connection to establish the calls.
In order to call someone, just go to the private chat of that contact and on the top right side of the screen, you can see the audio call and video call icons.
For a video call, just tap on the video icon
For audio calls, tap on the audio call icon, and the calls will be established
One of the drawbacks of Whatsapp is that it relies on an Internet connection for sending and receiving messages and calls. It means that without an Internet connection, one can't send or receive messages and make or receive calls.
Note – You need to have a stable internet connection or Wi-Fi connection to experience a good quality video call or audio call.
Using Whatsapp Web or How to use Whatsapp Web?
The Whatsapp web feature allows us to use Whatsapp on the browser. To use Whatsapp web, do the following –
Open the Whatsapp application.
On the top right of the screen, you have to tap the "three vertical dots" icon.
Among many options, there is an option called Whatsapp web. You have to cap on Whatsapp web. You will be redirected to a page that will open a scanner to scan the QR code, which is available on web.whatsapp.com
Now you have to type "https://web.whatsapp.com/" in the browser on the desktop/laptop.
You will be shown a QR code on the screen, you have to scan the QR code with the QR code scanner that we just opened on Whatsapp on our mobile.
Once the QR code is scanned, Whatsapp will be opened in your browser. (It may take some time if the internet connection is not stable.)
We can put status(similar to a story on Instagram) on Whatsapp for some special occasions and events and can choose who can see your status and who cannot. To put a status on Whatsapp, do the following –
Open Whatsapp application
On the screen, you can see a status option. You have to tap on status.
This is the place where you can see all the status from your contacts, and you can also post your status from here so that your contacts can view it. You can also choose who can view your status.
On this page, you can see the "pen" icon and the "camera" icon on the bottom right side of your screen.
With the "pen" icon, you can write something as your status with colorful backgrounds.
With the "camera" icon, you can put images and videos to your status.
Just select whatever you want to put as the status, And it will be set to your status for the day.
Note that the status you set is/are available for only a duration of 24 hours.
How to pay Through Whatsapp?
You can now make payments using Whatsapp. To make a payment using Whatsapp, do the following –
Just open the private chat of contact to which you want to make the payment.
Click on the "clip" icon. A small window will be displayed. Find an option for payments within that window.
Add the money you want to send to the user. You can also add a note.
Whatsapp uses a UPI supports application to make the transaction. In order to finish the payment process, you will have to enter your UPI pin.
Note that the number you are using on Whatsapp needs to be registered and linked with your bank account in order to make the payment.
How to Create a WhatsApp Group?
It is sometimes a headache when you have to send the same message to many people. Instead of forwarding messages, you can form a Whatsapp group of those people and send the message to the group so that it is received by all the participants at once.
Whatsapp groups can be formed for various reasons like for chatting between multiple people, or a group for all the team members of a project, and many more.
To start a group on Whatsapp, do the following steps –
Open Whatsapp application
On the top right corner of the screen, you have to tap on the "three vertical dots" icon.
Out of many options displayed, you have to tap on the "New group" option.
Now you will be redirected to a page where all the contacts that are in sync with Whatsapp will be displayed. You have to select the contacts that you want to include in the group.
The next step is to set a name and a profile picture(optional) for the group. It is a good practice to name the group according to the reasons behind the formation of the group like if the group is made for your project, the name of the Whatsapp group can be related to your project. You can change the name and profile picture anytime.
The one who creates the group is called the admin of the group. He can add/ remove participants from the group.
Customizing your Whatsapp –
Whatsapp allows its users to customize the application according to their convenience. There are so many features like custom background and dark mode in Whatsapp. You can explore the setting option in Whatsapp, where you can –
Select a dark or light theme.
Control your account privacy
Customized background wallpapers for individual chats
Notification sounds. (You can also set custom notifications for individual chats)
two-step verification(Security)
and much more. You can explore the Whatsapp application and customize it.
Conclusion:
The above article is a simple explanation of how does Whatsapp works and how can you use it effectively creating groups, putting stories to status, using Whatsapp web, and much more. You can use Whatsapp according to your comfort and convenience. We do not recommend or promote this application. This is just an informative article.
Whatsapp Tips and tricks
Putting an asterisk(*) at the beginning and the end of the desired portion of the message will make that portion bold
Putting an underscore ( _ ) at the beginning and the end of the desired portion of the message will italicize the portion
Putting a Tilde(~) at the beginning and the end of the desired portion of the message will make that portion strikethrough.
Swiping right on a message will quote the message.
You can email chat to yourself or anyone.
With two-step verification, you can add security to the application by setting up a pin.
Enabling this, no one can access your account from a new phone even by having your sim card. Because with phone number and one-time password, this two-step verification pin will add a security layer to your Whatsapp account. You can add your email address which can help you in the case if you forgot the pin.
You can add the chat shortcut to your home screen to directly access the chat on Whatsapp.
You can control the last seen feature. This option can be found in settings> >Account>privacy. It can be adjusted to Everyone or My contacts or Nobody.
You can set up custom notifications for a contact. To enable this, you need to go to the chat of the desired contact, tap on their name and look for custom notification and turn it on.
Quiz Whatsapp or WhatsApp Question Answer
1.How does Whatsapp make money?
Ans: Whatsapp is an ad-free application. The revenue generated is basically from the Whatsapp business. It charges businesses for late replies. The charges may vary from region to region. By doing this, Whatsapp makes sure businesses use the Whatsapp business application as a priority for their services. The average revenue per user for Whatsapp ranges from 4 – 14$. Whatsapp ads on Facebook can be considered as a part of revenue for Whatsapp.
2. Does Whatsapp use your phone number?
Ans: Your Whatsapp account is well related to your phone number. The phone number is one way you can find people on Whatsapp. However, you need an internet connection to establish calls and send and receive messages on Whatsapp.
3. Can anyone see my Whatsapp messages?
Ans: Whatsapp includes end-to-end encryption, which means that no one, not even Whatsapp or Facebook cannot see the contents inside your messages.
4. Is Whatsapp safe?
Ans: Due to the end-to-end encryption, Whatsapp is safer to use in comparison to other applications. However, no applications are 100% safe.