WhatsApp the most using instant messaging app in the world. Every person who owns a smartphone, either Android or iOS use WhatsApp for chatting, video calls, meeting, and texting. It also acts as a storage space for important conversation and documents. However, when you switch from iOS to Android, it becomes incredibly difficult to transfer WhatsApp data from iPhone to Android.
For most people switching from iOS to Android can be a little daunting as they may lose important chat and meeting details from WhatsApp. This is because both Android and iOS are a completely different operating system and has different features as well. Apple keeps backup of WhatsApp on iCloud, and Google keeps it on Google Drive. But the good news is that there are useful tools that help with WhatsApp transfer from iPhone to Android.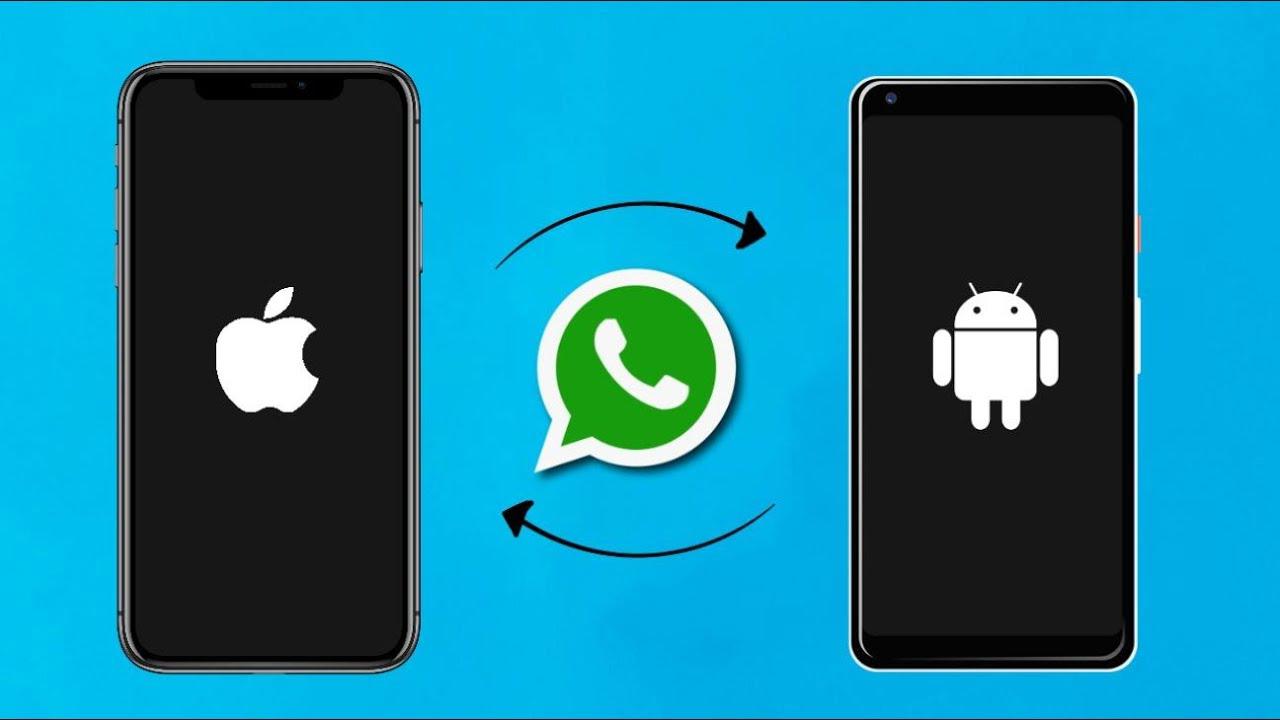 In this article, we will you with how to transfer WhatsApp from iOS to Android. Are you wondering how to do that, our step-by-step guide will help you. Take a look!
Part 1: Move WhatsApp Data from iTunes Backup to Android
The first way to move WhatsApp data from iPhone to Android is by iTunes backup. Here the steps that you can follow for this method.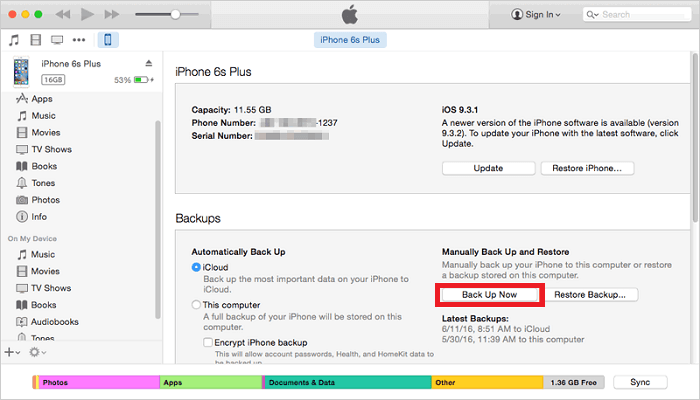 Step 1: Take a backup of iPhone data on your system with the help of iTunes. If you are using a Mac computer, then you can directly use
Finder to backup the data of your iOS device. If you do not have mac PC, then install drives to take the backup of iPhone data through iTunes. Make sure the system has the updated version of iTunes.
Step 2: Run software to transfer iPhone WhatsApp to Android on the computer and right-click on the local database icon to select the "Import from iTunes Backup" menu.
Step 3: Now, select the iPhone chat backup you created earlier. You are now able to see all your messages with attachments saved in the local database of software to move iPhone WhatsApp to Android.
Step 4: Now connect your android device with the system and then choose "Transfer Messages from local database to Android."
All the above steps are easy to do, but for this, you will need a reliable and best data transfer tool like Dr.Fone WhatsApp transfer.
Part 2: Move WhatsApp from iOS to Android with Dr. Fone
For WhatsApp business transfer and to transfer WhatsApp messages from iPhone to Android, Dr.Fone – WhatsApp Transfer is a great tool. This tool is easy to use and takes very little time in transferring WhatsApp data from iOS to Android. Further, Dr.Fone – WhatsApp Transfer has many features that make the entire process very easy and safe for you.
This product has a very popular range of tools that make your WhatsApp data transfer easy and simple. Plus, it is safe to use on any device as it doesn't breach your data. Please take a look at its amazing features which makes it different and best from other tools.
2.1 Features of Dr.Fone – WhatsApp Transfer
Transfer & Backup Everything in your WhatsApp
You can take a backup of all your WhatsApp messages and WhatsApp Business chat history to the computer. Dr.Fone can help transfer WhatsApp messages from iOS to Android, including your profile icon and stickers. Also, you can WhatsApp videos, audios, contacts, and all other documents from iPhone to Android.
Transfer between multiple devices
It supports almost every device, and with it, you can easily move WhatsApp/WhatsApp Business between different operating systems, whether
you are using Android or iOS. It works great with major mobile brands such as Apple, Samsung, LG, Oppo, Motorola, etc.
More than just WhatsApp Transfer
In addition to Whtsapp transfer, Dr.Fone also helps you with the move and backup data of other apps, including Kik, LINE, WeChat, and Viber.
2.2 How to Transfer WhatsApp Data from iPhone to Android with Dr. Fone
Here is the step by step guide for to use Dr.Fone – WhatsApp Transfer tool to move WhatsApp from iPhone to Android. Take a look!
Step 1: Download the Dr.Fone from the official site on your system or PC. Now, launch it and select WhatsApp Transfer mode.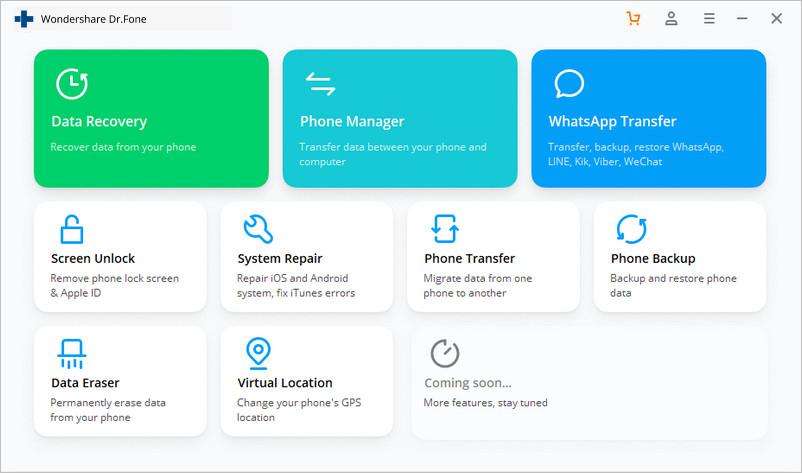 Step 2: After this, connect your both phones that the iPhone and Android, to your computer with the help of USB cables. Now, the program
will detect the devices. Open the WhatsApp tab and choose the "Transfer WhatsApp messages" option.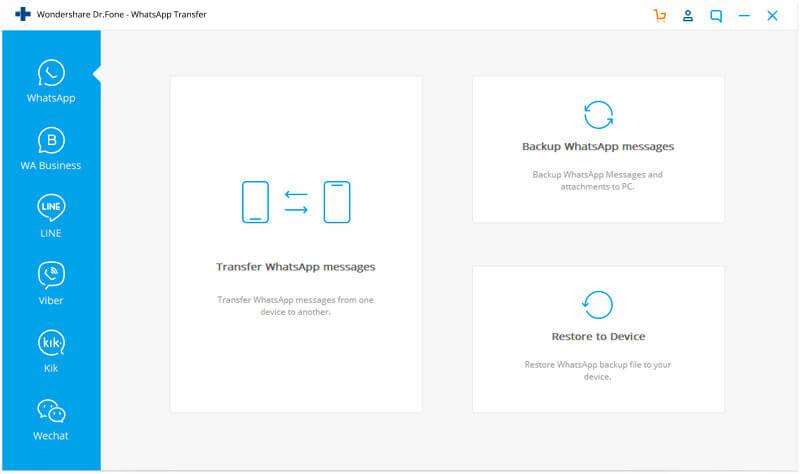 Step 3: Now, click on the "Transfer" to transfer the WhatsApp data from iPhone to Android. Note that the "existing WhatsApp chats get
deleted in the destination device" this message may appear in a pop-up window. You need to confirm this to complete the transfer process.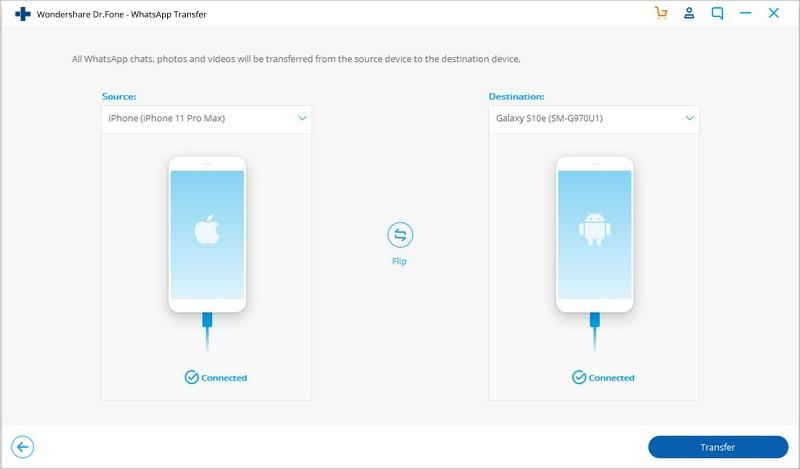 Step 4: Now, wait for the transfer process to complete. When the process is completed, you will see a confirmation window.
Part 3: Transfer WhatsApp Data from iOS to Android using backup
There is another way to move the WhatsApp from iPhone to Android to use the backup. For this, follow the following steps.
Step 1: Open your WhatsApp and go to Settings > Chats > Chat Backup > Back Up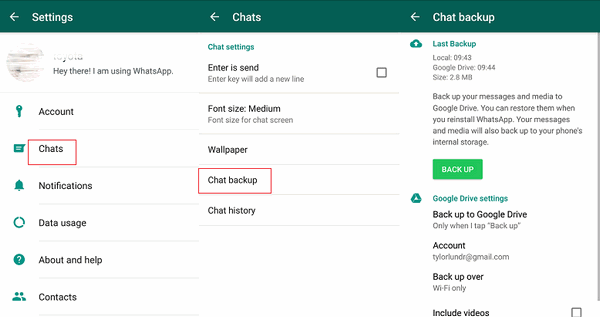 Step 2: Now, backup all your WhatsApp data to iCloud first.
Step 3: After this, uninstall WhatsApp from your iPhone and install it on the Android device.
Step 4: Sign in the WhatsApp account with the same details on your Android phone. Then you will see "Message Backup Found."
Step 5: Select Restore and follow the instructions. This is how you can transfer the WhatsApp data through backup.
Conclusion
If you are planning to change your phone and want to buy Android after using the iPhone, then you might be worried about WhatsApp transfer. But, with the right tools, Transfer WhatsApp from iPhone to Android becomes very easy. With Dr.Fone – WhatsApp Transfer tool, you can easily and quickly move your WhatsApp data from iOS to Android. It is the safest tool for data transfer as compared to many other options available. Try it now!