Best Online Grammar Checker Tools
Hello friends! How are you doing! Today, we will discuss correcting the grammar of the English language. For use of any language, one must be very well acquainted with its grammar rules.
Grammar includes too many topics such as types of nouns, types of sentences, punctuation marks, types of tense, direct and indirect speeches, the figure of speeches, voice, etc. In order to write and talk in any language, grammar knowledge is a very basic and important thing.
But it gets difficult for some people to learn the basic knowledge of a particular language and afterward they find it very difficult to write or talk in that language. Even if it is their mother tongue, they cannot get enough grammar knowledge. The result is that they have poor communication skills, poor construction of any topic, failure to deliver an impressive speech.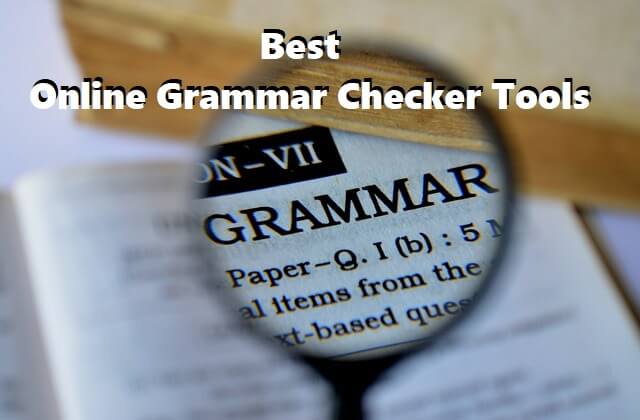 Top 10 Grammar Checker Tools and Website
Friends, we all know very well that the wisdom of a man is only judged by his skills of expression in a particular language, he is speaking with. Even if you have good knowledge of grammar, you are not still perfect; because improving language is a constant process.
But as we see that in today's modern age of computers and internet help, aids are made available to increase knowledge in each and every field.
Computers and smartphones are nowadays are serving as key guides for every subject. One who is having very little knowledge of his subject and is willing to gather more knowledge about the subject can obtain it with the help of a computer by using the internet. For learning grammar also, there are some websites and tools, which are designed in an easy-to-learn manner for any level of the learner.
Some websites offer free tools to correct grammar; while others offer paid services with different plans as a one-time purchase, monthly or yearly subscriptions.
The use of these websites can definitely feed your knowledge domain. Some of the sites give the service of checking grammar. So, you must be eager for knowing about these sites.
Top 10 Sites for Spell Check Online
1. Grammarly:
Grammarly is a popular online grammar checker free tool, which you can use by giving add on to your search engine. After enabling this add on, it checks grammar and spellings as you go on writing. At the bottom of the right corner of your typed script, it shows an indicator, if there is a mistake.
It will highlight wrong spellings, grammar, or contextual errors. But for proofreading your document, you will need to switch to the text editor. As the application is designed by passionate experts and linguists, it can rectify even small-expression mistakes that are escaped by other tools.
The app helps you by taking charge of complete context change and all elements of a subject-word agreement.
Main feature of Grammarly:
Comma splice. – Comma usage.
Integration with Gmail. – Integration with social media.
Missing articles. – Misspelled articles.
Outdated spellings – Repetitive words.
Spell Check in Word
Grammarly Integrations: Grammarly offers the following integrations
Facebook – Firefox – Flamory – GitHub
Gmail – Twitter – Google chrome – LinkedIn
Microsoft Outlook – MS Office products
2. Ginger:
Ginger is a writing tool for desktop as well as mobile devices. The main function of this tool is checking grammar by giving suggestions and corrections. In order to avoid redundancy, this tool rephrases the sentences by different methods.
This tool also offers a dictionary at the top, so that the user can spellcheck any word or phrase. The most important feature of this application is that it also offers translations for more than 40 languages. Various plans of Ginger are available on websites.
Ginger Main features
Grammar Checker – Sentence Rephrasing
Translation – Dictionary
Text Reader – Personal Trainer
Mistakes Practice – Error Analysis
Improve Writing: With Ginger, software tool users can improve their writing skills by correcting grammatical and spelling errors. Grammar and spelling are the two main constituent elements where users mostly tend to do mistakes. Ginger rectifies these errors by giving suggestions.
Intelligent Algorithms: As the software is developed by intelligent coders and linguists with smart algorithms, corrections are not based on a single word, rather by giving suggestions for the context of the sentence. This makes the application more accurate as compared to other apps.
Enhanced English Communication: Ginger not only correct mistakes but also helps users to learn from them. In addition to correction Ginger refers users to the learning centers where they can have tailored training.
Best Grammar Checker
3. GradeProof:
The smart algorithm of GradeProof enhances your writing perfection by correcting analyzing grammatical issues, spellchecking, choice of words, phrase structure.
This is an intelligent tool for making your writing more perfect. It avoids all types of embarrassing mistakes. The very different feature of this application is that it even increase and decrease the word count on users demand.
Main features of GradeProof Editor include :
Spellchecker – Grammar Checker
Rephrasing Analysis – Word Count Targeting
Plagiarism and originality detection
User can also find this software useful for:
Writing an English essay or paper for school.
Checking and polishing college assignments.
A journalist preparing an article for a newspaper or blog.
Teaching students about efficient writing
Grading an academic thesis.
4. Hemingway Editor:
This is a simple word processor and proofreading tool developed for writers. The desktop version of the tool can be downloaded for free. By highlighting with colors, the tool detects the adverbs, hard-to-read sentences, complex words or phrases, and passive voice within the text. Its important features include the facility to write directly in the app.
Hemingway Editor Useful features:
Color-Coded Writing Problems, Mistakes, and Errors
Complicated Words or Phrases
Common Grammar Errors
Readability Grade
Formatting Features
Publish Directly To WordPress or Medium
Publish For The Rest Of The Web
Write and Edit Modes
Import From and Export To Microsoft Word Or Other Editors
Send Hemingway Highlights To Colleagues
No Internet Connection Required
5. Paper Rater:
Paper Rater is a cloud-based proofreading app developed to identify errors contextually. It serves to correct grammar and spelling in the text.
Plagiarism detection is one of the best features of this application. The application displays the originality score of the text, which indicates the percentage of the text that is original. The useful
Modules of Paper Rater include:
Vocabulary usage
Sentence length and variability
Phrases to avoid
Passive voice detection
Readability statistics
Analysis of sentence beginnings
Main features of the app include:
Automated Scoring Spelling checker
Enhanced plagiarism detector Faster processing
Vocabulary Builder Grammar checker
File upload Formats: doc, Docx. txt, RTF
Suggests corrections Grammar exercises
Grammar Check Online
6. ProWritingAid:
Pro Writing is an online writing editor that analyzes written text for grammar and spelling errors, plagiarized content, and contextual errors. What makes this app different than other writing software, is that it corrects inaccurate script and gives suggestions for multiple improvements.
It will scan your script for repetitiveness, dubious wording, sentence length variations, adverb over-dependency, passive voice usage, complex sentence constructions, and much more.
The application comes with a built-in word explorer and contextual thesaurus. Apart from generating cleaned-up text, the app bears tracking and reporting tools to aid users to identify common writing errors.
Special features of ProWritingAid:
Detailed Explanations
Find Repeated Words
Context-Sensitive Style Suggestions
Word Explorer
Contextual Thesaurus Report
Visualize Sentence Lengths and Variation
Plagiarism Checker (for premium plans)
7. Virtual Writing Tutor:
This is a grammar checker tool useful for bloggers, writers, and other professionals. It is primarily designed for students to provide learning additional aid for students where teachers are not available.
There are some words and jargon which are used only in specific fields. Virtual Writing Tutor help users outside of such specific fields.
When the teacher specifically mentions any verb, prepositions, transition words; for such target structure checker tool scans whether these are found in student's work. With the help of the Check Grammar button, users can correct grammatical errors.
This application is supported by desktops and iOS and is useful for small and medium businesses.
Let's look at some of its main features:
Check and Enrich Vocabulary
Academic And Conversational Vocabulary
Cliches And Power Words
Field-Related Vocabulary
Target Structures
Grammar Checker
Check Spelling And Punctuation
Paraphrase Checker
Essay Checker
Grammar Checker Websites
8. WhiteSmoke
Since compared with popular grammar checkers it stands as a viable alternative to Grammarly. Easy installation, device compatibility, affordability are the plus points of this application.
This grammar checker checks for fragments, run-on sentences, subject-verb disagreements, tense shifts, spellings, punctuation's, missing words, fused sentences. The system corrects common style issues like monotony and constantly switching tenses.
These problems are not captured in programs like Microsoft Word. Punctuation checker is another vital application of WhiteSmoke. This application can be used for Windows or Mac and in smartphones both iOS and Android phones.
Multilingual translator offers translations for 55 languages; which is a big advantage of WhiteSmoke over Grammarly. The translator features a full dictionary and thesaurus.
Main features of WhiteSmoke include:
Grammar Checker
Plagiarism Checker
Translator
Online instant Proofreading
Integrated with all writing platforms
9. LanguageTool :
This is an online grammar checker that comes with a personal dictionary that keeps a record of words that are not found in the conventional dictionary, but might be part of someone's native language. Users can add such words to LanguageTool's personal dictionary.
Such words are treated as exceptions to the grammar and spelling rules applied by this software.
The applications can be used by making an add-on or extension to the search engine. If we see the main features of this application, they are as below :
Multiple Language Support
Grammar, Spelling, and Style Check across variations of languages.
Personal Dictionary Suggested Correction.
AutoCorrect Rule-Based.
Enable And Disable Rules Use As An Add-On Or Extension.
Stand-Alone For Desktop Keyboard Shortcuts.
10. After The Deadline:
This is a cloud-based free-to-use spellcheck and grammar check application available online.
The software processes sentences and paragraphs to find whether the writer meant something else by using another word. With this software, writers learn more about language and grammar because this software does not just correct errors but also offers explanations for them.
The most common error is writing one word when you mean another. Most of the spell checker assumes any word from their dictionary is correct, regardless of context.
That means all the misused word errors go unnoticed. But the database of After The Deadline possesses 1500 commonly misused words. Therefore, contextual word mistakes are corrected accurately. No other web-based writing solution possesses this special feature.
Other Main features:
Contextual Spelling Check Advanced Style Checking
Misused Words Detecting Grammar Checking
Errors Explanation Replaces simple words for complex phrases
Researches redundant phrases and suggests what to eliminate
Detects passive voice Explain errors
Conclusion:
Mere writing in ample amount and without thorough knowledge can only produce a sack full of words, catching very poor quality readers. But when you try to write something fruitful and creative, you must have grace in your writing. In order to fancy your writing, it should be framed in the rules of grammar.
Those who have lost some important lessons of grammar during their learning period, but are still passionate about writing, still have a chance to learn with the above-listed grammar and spell checker tools.
If you have read the above information, you will come to know that some of the above tools not only correct your grammar and other errors but also give explanations for errors.
So it is the chance for the cascaded learners to get complete. A passionate learner never gives up, because the above tools have been designed and developed by very passionate and brilliant linguists for you people. I hope the above information will surely fuel your knowledge and interest. Stay tuned with vbtcafe and comment bellow if you find any best service for a Grammar checker. Good Bye.