Difference between WhatsApp and Telegram
Mostly everyone uses smartphones with different kinds of applications. For chat as well as to make voice calls and video calls many interesting applications are available on iOS as well as Android, Some of them provide voice calls and video call facilities with chat services.
Nowadays almost all social media provide us with messenger service, Some messengers are the most famous and world widely used today, WhatsApp and Telegram among them which are very convenient and user-friendly working on all operating systems like iOS and Android.
Difference between WhatsApp and Telegram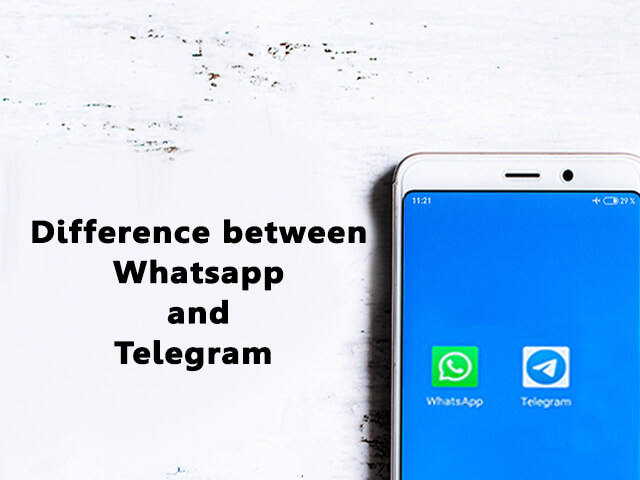 We are going to provide you with detailed information about these two instant messengers (WhatsApp & Telegram) as well as we can see the difference between them.
1. Voice Calls on Whatsapp
WhatsApp provided a voice call facility since it had been launched.
2. Voice Calls on Telegram
Recently telegram has been launched a voice call facility for users.
Whatsapp provides a voice call facility for so many days, almost like when it was launched since its voice quality is good and user friendly. Telegram has recently introduced a voice calling facility. Here we can say WhatsApp has many years of experience as a voice call service provider.
1. Messaging on WhatsApp
Strangers can send messages through WhatsApp
2. Messaging on Telegram
Strangers can't send messages through Telegram
On WhatsApp, you can receive messages from all of those who haven't been added to your phone contact list it means you can get messages from any strangers too, But on Telegram, you will receive messages from only that people who have been already added to your contact list. It means here strangers are strictly prohibited in Telegram.
1. Whatsapp Video Call
WhatsApp provides a video call facility.
2. Telegram Video Call
Telegram doesn't provide a video call facility.
WhatsApp provides very best video call facility for millions of users across all over the world by consume very low internet data with good video quality. On Telegram this facility is not available.
1. Whatsapp Browser
The browser within WhatsApp is unavailable
2. Telegram Browser
The browser within Telegram is available
In WhatsApp they dont have any browser built in , But in Telegram they have built in browser so you can open any link or website through Telegram.
1. WhatsApp
WhatsApp supports very few languages.
2. Telegram
Telegram supports so many worldwide languages as compared to WhatsApp.
Whatsapp supports English and very few other languages but telegram supports almost many worldwide native languages. This special feature of telegram connecting many new users with them.
1. Whatsapp Storage
WhatsApp users cant store their images, videos, and file in any built-in cloud base storage.
2. Telegram
Telegram users can store there images,video,and file in cloud, because built in cloud base storage is available on telegram.
1. WhatsApp
On WhatsApp users have so many restrictions to sharing files. File sharing capacity is up to some MB only.
2. Telegram
Telegram users can share files up to 1.5 Gb.
File sharing capacity of telegram is higher than WhatsApp, That's why high size document or media we can easily share through telegram.
1. WhatsApp
On WhatsApp either you can create your own group and add your contact list of members in that group, As well as other members also can add you to their groups with your permission. The group limit on WhatsApp is only 250 members, No public channel service is available on WhatsApp.
2. Telegram
On Telegram, you can create a group and add up to 200000 members. Public channel service is available on Telegram, Which provides so much entertainment content as you can watch as well as download that.
On WhatsApp group member limit is very less as compared to Telegram whereas on Telegram they have public channel service it's beneficial to users in all ways.
Also on Telegram self message, destructing service is available, It's unavailable on WhatsApp. Keeping chat secret is easier on Telegram.
Conclusion
Though Telegram and WhatsApp both are easily available and popular applications, there are some special features making them different from each other. So you can decide and choose now which one is best for you, we hope you have very well understood now features and differences between them. We can say both of them are reliable and use-worthy.