Movies, television shows, and home videos can become so much more captivating with the addition of color. While traditionally done manually by adding colors layer-by-layer, technology advancements have enabled us to enjoy an automated process to add colors to black-and-white video footage. AI colorize video is a revolutionary process that enables professionals or novices to easily restore the vibrant hues of old black-and-white films or convert monochrome materials into eye-catching visuals with minimal effort. This blog post will take a closer look at what is involved in the AI colorize video process, and offer step-by-step instructions on how to colorize videos with the top AI-powered colorization software AVCLabs Video Enhancer AI.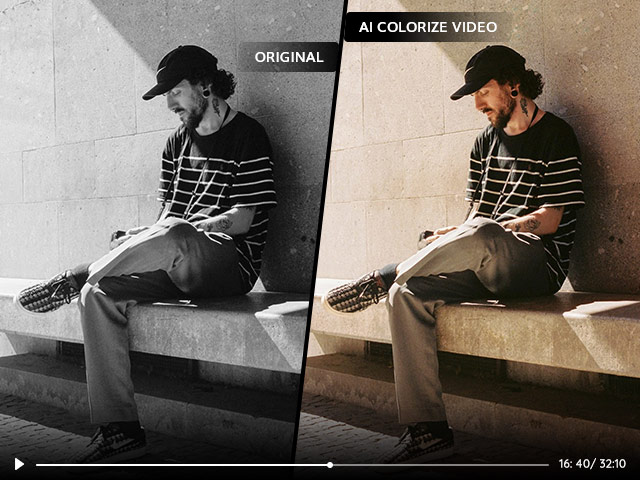 Understanding AI Colorization
AI colorization is the process of using artificial intelligence algorithms to add color to black-and-white images or videos. This technology has become increasingly popular in recent years due to its ability to automate a process that was previously very time-consuming and labor-intensive.
There are several different approaches to AI colorization, but one common method involves using deep learning algorithms, such as convolutional neural networks (CNNs) or generative adversarial networks (GANs). These algorithms are trained on large datasets of images and can learn to recognize patterns and relationships between different parts of an image.
AI colorization can be used in a variety of applications, from restoring old photographs to adding color to black-and-white films. It can also be used to create artistic effects or to make images more visually appealing.
AI Video Colorize Software: AVCLabs Video Enhancer AI
AVCLabs Video Enhancer AI is an innovative video enhancer that takes advantage of advanced artificial intelligence to offer users a range of cutting-edge features. One of the most impressive features is AI colorizing, which can turn any black-and-white footage into vivid color in just a few clicks. With this feature, you can bring old videos back to life with stunning results. AI video colorizing uses deep learning algorithms to reverse engineer the colors in a video and create results that are as accurate as possible — giving you a seamless transition from black and white to vibrant color without any jarring effects.
YouTube Video: AI Colorize Video with AVCLabs Video Enhancer AI
https://www.youtube.com/watch?v=aF-4obKXdd8
Step-by-step Tutorial: How to Colorize Video with AI
Step 1: Download AVCLabs Video Enhancer AI and Upload Videos
Download and install AVCLabs Video Enhancer AI, then launch it.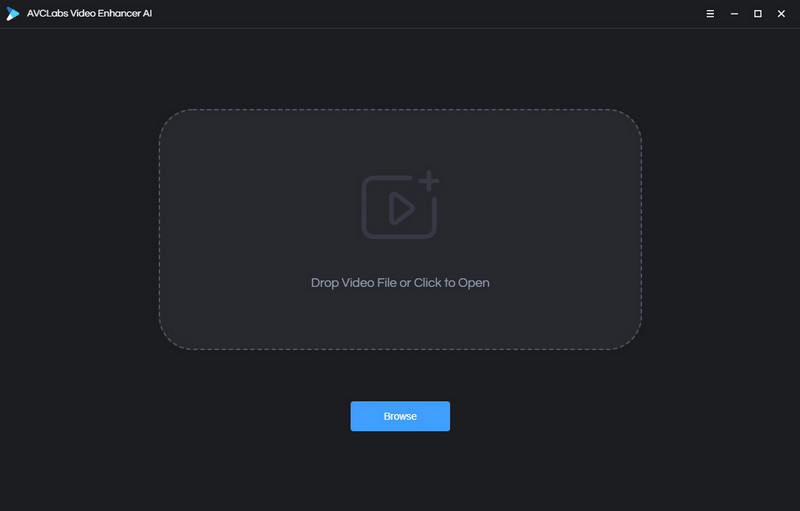 Either click the "Browse" button to upload the video or film footage that needs to be colorized, or just drag and drop it to the workplace.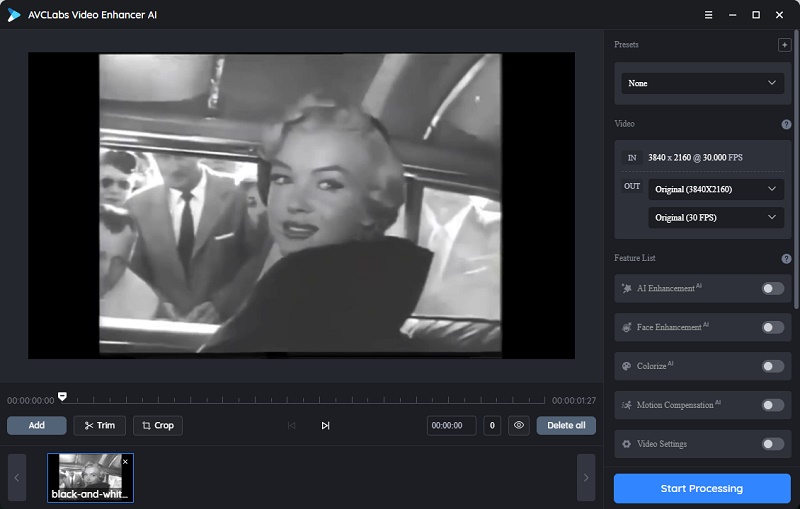 Step 2: Select AI Features
Under the Presets section, there is a list of pre-configured options that you can use right away. Once you select one, the corresponding AI features will be enabled automatically. If your video is in low resolution, you can select Upscale to 4K and Colorize, which will both increase the video resolution to 4K and add colors to the video.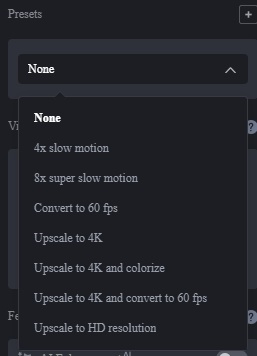 If you only want to colorize it or combine colorization with other features, just go to the Feature List and enable anyone you want. There are 4 AI features to solve different quality issues, namely, AI Enhancement, Face Enhancement, colorizing, and Motion Compensation.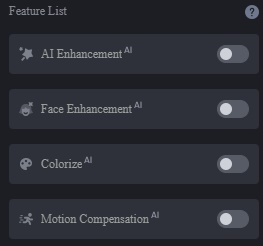 Render Factor: After you enabled the Colorize feature, there will be a bar that adjusts the render factor. The higher the parameter is, the stronger the color will be.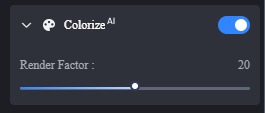 Step 3: Configure Other Settings
Video Settings: Adjust the brightness, saturation, and contrast of your video or crop the video to fill the frame and deinterlace to reduce horizontal lines in the video.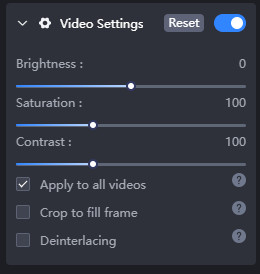 Output Settings: the section where you can set the output video format(MKV, MP4, AVI, MOV, WEBM), the encoder (H.264, H.265, VP9 Good, VP9 Best, AV1), bitrate, audio settings, and output path.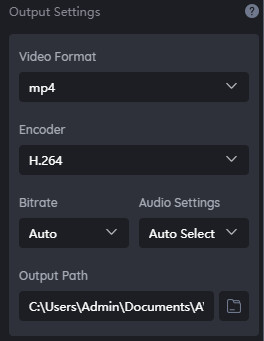 Step 4: Start Colorizing Videos
Once all the settings are complete, click the Eye button to preview 30 frames of the colorized video. If you are satisfied with it, click the Start Processing button to begin to colorize the whole video.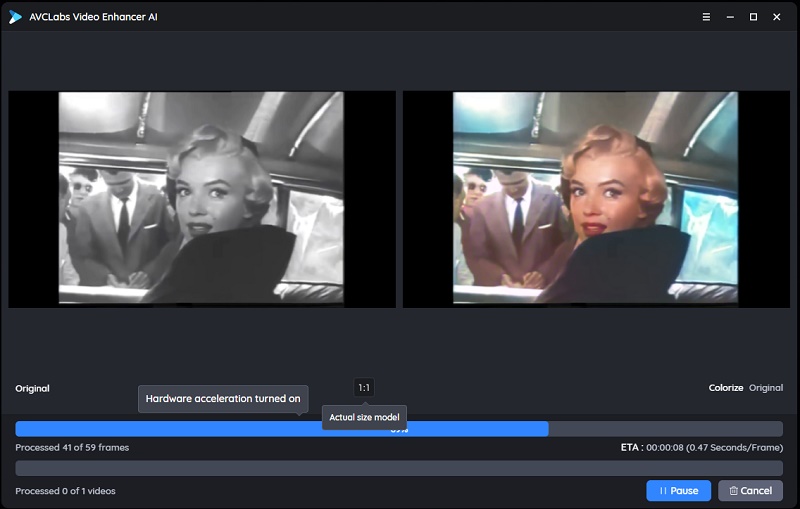 More Reasons Why You Should Choose This AI Video Colorize Software
Here are some of the benefits of using AVCLabs Video Enhancer AI:
Automated Process: AVCLabs Video Enhancer is an automated tool, which means you don't have to waste time manually colorizing your videos. You can let the AI algorithms do the hard work for you, so you can focus on other aspects of video production.
2. Rich Functions: In addition to colorizing black-and-white videos, It also offers features such as denoise, face refinement, motion compensation, stabilization, and upscaling the video resolution from 480p, 720p to 1080p, 4k, or even 8k.
3. Cost Savings: AVCLabs Video Enhancer can help you save on production costs by eliminating the need for expensive color grading equipment or services. This will free up your budget for other video production tasks.
4. Improved Visual Quality: The AI-powered algorithms used by AVCLabs Video Enhancer can improve the visual quality of your video footage. This includes brightening and sharpening images, as well as applying color palettes for greater detail and accuracy.
Conclusion
AI Colorization has opened up a world of possibilities for filmmakers, photographers, and other media creators to bring older films and photos to life. With AVCLabs Video Enhancer AI's powerful functions and easy-to-follow instructions, anyone can colorize videos with minimum time and effort using the most advanced technology available today.