How to delete Instagram account
Instagram is one of the main social networking platform owned by Facebook, and it has more than 500 million monthly active users. This social network has been designed in a way that it is best suited for the ones who like sharing pictures/photos over social media. If you are one of them, then you might be having a profile or an account on Instagram. However, many people are deciding to turn off their Instagram for fear of violating their privacy.
This concern is reasonable,  0 nb especially because on more than one occasion the applications that belong to Facebook (such as WhatsApp ) have been hacked by hackers, taking important information from the company and from users. For countless users, it is better to be sure than to repent. That is why they have chosen to delete their Instagram account.
Given its recent popularity and potential to reach more people, it is an unusual issue, but it could be that if you wanted to eliminate or close your Instagram account (be it personal, professional or from a brand that you manage), you will have doubts close its implications or what would be the difference if you only choose to deactivate it.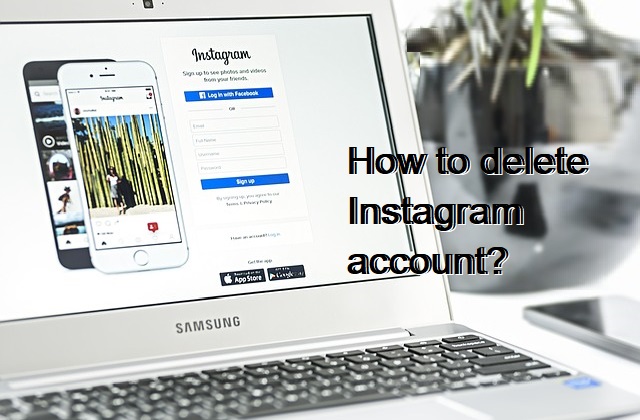 How to delete Instagram account
When we want to delete a Facebook account, unsubscribe and remove any trace of Instagram activity, it is not something you should do without being completely safe before.
And it is that deleting an account on Instagram is definitely not an entirely intuitive procedure, and, even, you may later regret it. First of all, think about it, because many professionals struggle every day to keep their accounts active and prevent the platform itself from closing them for violating any of the Instagram policies.
Do you want to delete an Instagram account? Wait, check first what it implies and how to do it.
 Deactivate vs. close or delete an Instagram account
If you have definitely decided to delete the traces of an Instagram account, you should bear in mind that:
Neither deactivation nor deletion of the account can be made from a mobile device. Thus, in both cases, you will have to log in to the Instagram account from a computer.
If you have not yet decided to delete your Instagram account permanently, you have the option to deactivate it or, as they call it, 'temporarily disable.'
Unlike the option to close an account, with the option to deactivate it, you will no longer appear in searches, and the content of your account will not be visible to any other user.
How to deactivate an Instagram account
To deactivate your account (and not just log out of Instagram), follow these steps:
Log in to your Instagram account from a computer.
Click on your user profile to access the overview.
Click on the box where you can read 'Edit profile.'
In the column on the right, your basic information will be displayed and, at the bottom, the option of 'Temporarily disable my account' will appear.
Select the reason that you think best explains your reasons for removing your Instagram account from the following drop-down menu.
Enter your password again and confirm that you want to continue with the process.
As you can see, there is no option that, as such an easily visible, allows you to turn off Instagram, but you can only do it by going around it.
Remember that, in this case, you can re-activate and use your account whenever you want. It will be enough with you to initiate a session in her.
How to remove or delete an Instagram account
If you are completely convinced that you will not use a certain profile again (you will no longer have Instagram activity), either because you do not know what to post on Instagram or any other reason, it is best that you delete or permanently delete your account. Thus, you will ensure that the information is deleted, although it is possible that some copies remain in the company's database (though, without identifying with you).
As for how to delete your Instagram account, although it is possible to do so, this option will not be found in your profile as in the case of deactivation. So, how can you unsubscribe Instagram? Well, what you have to do is the following:
Access Instagram 'Help' or 'Help.' You can find this link at the bottom of the page, along with many other options.
Once inside, type in the search engine 'delete the account,' or a similar phrase that reflects your willingness to leave Instagram.
You will be shown several results, and you must open the one that best suits this process (usually the first one).
At this point, you will access the instructions to remove your Instagram account. Specifically, you will be asked to click on a link, which will also ask you why you want to leave Instagram, in addition to offering you the possibility to temporarily disable the account instead of deleting it.
While selecting one of the reasons, they will provide you with a series of tips to try to convince you that it is best that you stay and do not choose to delete your Instagram account (and with good reason!).
If, however, you wish to continue, enter your password and click on 'Delete my account permanently.'
Read More: