In India, opting for a home loan is an easy way to support your home-buying decision financially. Applying for a home loan from a bank or an NBFC (Non-Banking Financial Corporations) is quick and hassle-free.
At the same time, you can also choose the mode of loan repayment as per your convenience – in the form of EMI (Equated Monthly Installments) or lump sum payment (pre-payments).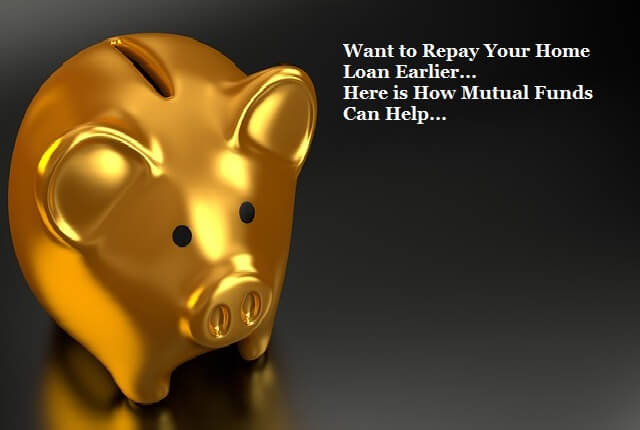 Want to Repay Your Home Loan Earlier? Here is How Mutual Funds Can Help
Home loan repayment is relatively convenient through EMIs than making lump-sum payments.
However, EMIs have one obvious demerit – a significant amount of interest is accrued on the loan amount throughout the repayment tenure, and you have to pay back a higher sum of money than you had initially borrowed.
The additional liability of paying back the interest is a crucial factor that inspires home loan buyers to opt for repaying the home loan earlier, as a lump sum (or loan pre-payment.) In this post; therefore, we take a look at why paying back the loan earlier makes sense and how having a SIP investment can do your bidding?
Why Invest Through Mutual Funds?
A mutual fund is one of the most convenient ways to invest your money. In simple words, it is an instrument, wherein several investors pool the money. The collected amount is then invested in a variety of market-linked instruments such as securities, equities, debt securities, liquid funds, and their combination.
Investing in mutual funds is beneficial because you do not have to manage your investments. The involved AMCs will hire professionals to manage the securities for all the unitholders. As an investor, you hold a pro-rata share of the portfolio and get profits when the securities are sold.
Think of it in this way –
When you only invest in shares, there is a higher risk of loss but equally rewarding ROI opportunities. A mutual fund is a combination of different financial assets that tends to optimize both the risk and gain factor.
This means that if you invest smartly in a mutual fund, as per your risk appetite, and efficiently manage your investment portfolio, you can avail significant market-linked returns over time. Subsequently, you can utilize these gains to repay your home loan earlier in time.
Here's why you should start investing through mutual funds to fulfill your goal of earlier home loan repayment:
Lower Cost
A mutual fund allows you to invest in a diversified portfolio in just five thousand rupees or even less.
If you opt for SIP investment, you can start investing from as low as five hundred rupees at pre-defined intervals in a mutual fund scheme. The SIP route helps you invest in a time-bound manner without the need to worry about market dynamics.
Diversification
Since mutual funds invest in securities, your investments are relatively safe from the risk of depreciation, unlike other investment options such as equities.
Transparent Investment
Your fund manager will help you monitor your investments through their Net Asset Value (NAV) and choose instruments that show consistently high-performance year after year.
Overall, the returns on your investments in mutual funds, along with the principal amount, can help you repay your home loan faster.