You might have heard a lot about the term "Insurance". Well, insurance protects us from some unfortunate expenses that we might face in our lives. There are many types of insurance, covering a wide variety of different events which might arise in our lives, and lead to unfortunate expenses emptying our pockets.
"Accident" is one such event, which may bring unfortunate and uncalculated expenses to our pockets. Many people might choose to get accident insurance for themselves so that they can protect themselves against accidents. But getting an accident insurance is not as easy as it might appear.
Tips Before Buy Accident Insurance
In this article, we will have a look at some tips to consider before you buy an accident insurance.
Why should you buy an accident insurance?
Well, especially if you often travel on your bike or car, you might want to get accident insurance for yourself, because despite being cautious while driving, or doing any kind of thing, an accident may happen, and you might not want to hurt your pocket that way. So, it is anytime to get accident insurance and protect your pockets from being hurt due to the expenses.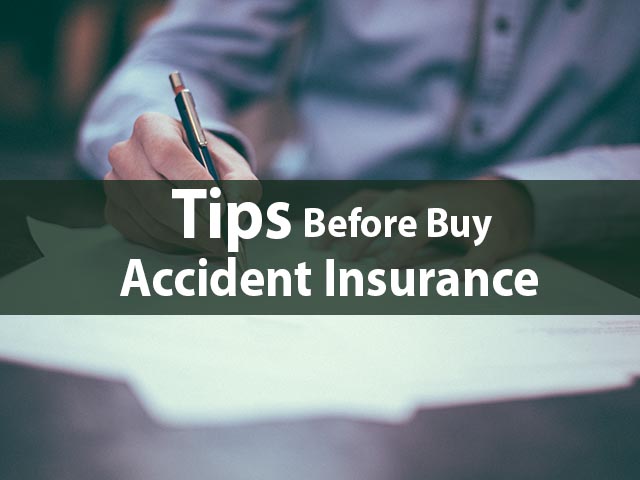 What is an accident insurance policy?
The Accident Insurance Policy is a type of insurance, that offers coverage for your medical expenses, that come due to an accident. It can also cover death or some kind of disability caused by some accident.
Tips before you buy accident insurance
1. Look for the coverage of the policy
When you are looking to get accident insurance for yourself, always take a look at the coverage of the policy. Coverage means the extent of risk that the policy covers in the case of an accident. Always ensure that the policy covers all the possible accidents which might happen due to your daily activities.
2. What is the premium of Insurance
When you are getting insurance for yourself, you are going to pay some premium amount, which refers to the money paid to the insurance service in exchange for the insurance coverage. This amount depends on what is being covered.
Try to get the maximum coverage for the amount you invest in the insurance.
3. Check what is included and what is excluded from your policy
It's not just for accidents, but when you are buying any insurance, you need to check what is included and what is not. It is crucial for you to know it all. Sometimes, you can pay a little bit higher premium, and avail of the exclusions in your plan.
But overall, it's very important to know and ensure that all the possible accidents that you may face are covered by insurance.
4. Check for the reputation of the insurer
When you are getting insurance from a particular insurance service provider, you should also do a detailed background check, like their claim settlement ratio, the range of plans available for you, and what kind of coverage are they providing in the plans.
Also, when you are checking for the reputation of the insurer, check for the reviews online, and also go through the testimonials of their previous or existing customers. It should give you a good idea of the kind of service the particular insurer provides.
5. Know the Exit Age for the policy
In the insurance, there is something called an entry range, which is the eligibility range for getting the policy, and the age after which you cannot buy/renew the insurance policy is the exit age. Always when you are buying an insurance plan, choose the one with a high exit age. This will ensure that you get the coverage for a long years.
6. Know the compensation to the family
Find out the benefits that the policy offers to your family/dependents in the case of permanent disability, or unfortunate death due to some accident. You would want that in any situation, your family / dependent should get maximum compensation.
7. Know the network hospitals with the insurer
Many insurance providers have a tie-up with certain hospitals to settle the bills on behalf of the insured person. These hospitals can be called Network Hospitals, and they accept cashless payments. You should ensure that your insurer provider has a connection with good hospitals. You can find the list of network hospitals on the insurance provider's website.
Conclusion
In this article, we have explored some tips that can be handy when you are buying accident insurance for yourself. It is very important to consider all these tips when you are not only buying accident insurance, but any insurance. We have discussed some important tips, like Coverage of the policy, inclusions, and exclusions, knowing the premium, compensations, network of hospitals, and more.
Yet there can be some things that you might want to look for, and you should consider all the important dimensions when you are buying accident insurance, this can apply to many other different insurance policies.
FAQs related to tips before buying accident insurance
Q: Does Health insurance include coverage for accidental injuries?
Ans: Health insurance usually doesn't cover accidental coverages as part of their policies. If they may offer any, they may be limited as per the policy. It is important to choose the policy that comes with a maximum range of coverage in your case.
Q: How to buy accident insurance?
Ans: You need to search for a reliable insurance provider and check for the best plan that suits all your needs, and then you can buy accident insurance. It may look easy and straightforward, but it's not.
Q: What are some tips to buy Accident insurance?
Ans: Before you buy accident insurance, there may be a bunch of things you might want to consider, like the premium, type of plan, compensation, insurance provider, coverages, inclusions and exclusions, etc.