Roedean School: Four Inspiring Old Roedeanians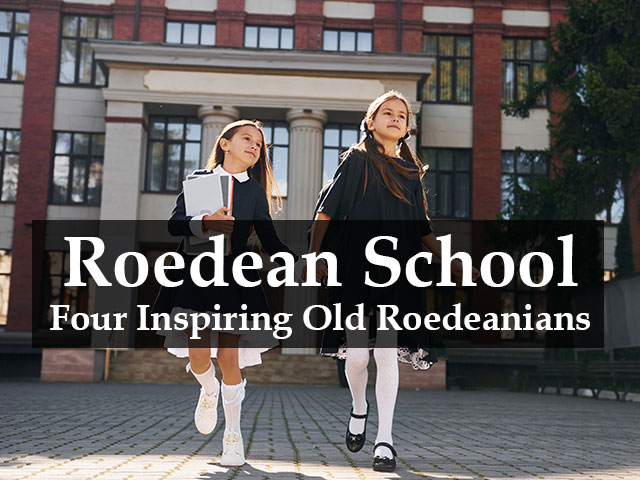 Since the Lawrence sisters founded Roedean School in 1885 to offer a thorough, physical, intellectual, and moral education for girls, the School has gone on to shape numerous young women for acclaimed futures. Roedean School has enjoyed its current seaside-front location in Brighton for nearly 125 years, where over 700 pupils from around the world now study.
Here, we'll take a look at four of the Old Roedeanians who have become inspirational role models for today's students.
Award-winning jewellery designer and artist Anabela Chan has crafted unique pieces for several well-known figures, including Lady Gaga, Camila Cabello, Julia Roberts, Anne Hathaway, Mariah Carey, Emma Watson, Halle Berry, Taylor Swift, and Rihanna, who wore Chan's Mirage Ring in the music video for "Wild Thoughts." Her jewellery creations are on show in some of the world's highest-end boutiques.
During Chan's time at Roedean School, she spent hours in the Art Department, where she worked hard to perfect her creations. After completing her school education, Chan trained as an architect with Lord Richard Rogers. She then took on a specialist role in print and embroidery design with Alexander McQueen. From here, she explored her artistic talents further by training at the Royal College of Art and the Gemmological Association of Great Britain, which prepared her to open her own boutique in London.
Chan's collections include the Butterfly Orchard collection, which features sustainable, ethically lab-grown gemstones that replicate the beauty of natural stones. Given that Chan dedicates a quarter of her profits to the Wild at Heart Foundation, which funds and supports animal welfare products, she has also created the Puppy Rings Collection. This collection features rings shaped like puppy faces, each encrusted with pink and blue sapphires and black diamonds.
Lady Hazel Mary Fox is an international lawyer who specializes in the law of state immunity. She has written several publications on international law, including The Law of State Immunity, the third edition of which Oxford University Press published in 2015.
Fox was a pupil at Roedean School during the Second World War. She then studied at the University of Oxford and became a barrister and Queen's Counsel. Later in her career, she served as the director of the British Institute of International and Comparative Law (BIICL) and the editor of the law review journal International and Comparative Law Quarterly.
Fox went on to become a fellow and law tutor at Somerville College (University of Oxford) and is now an honorary fellow. She is also a member of the Institut de Droit International and the International Law Association Committees.
In 2006, Fox became a Companion of the Order of St Michael and St George for her services to international and comparative law.
Antonia Marian Gamwell OBE
After studying at Roedean School during the early 1900s, Antonia Marian Gamwell OBE became a volunteer ambulance driver and commanding officer of the First Aid Nursing Yeomanry (FANY) during the First World War. She served as a British ambulance driver with the Scottish Women's Hospital in France between 1914 and 1915 and then became an ambulance driver with the FANY in Belgium and France between 1915 and 1918. Her role in Belgium saw her join the first unit to drive for the British Army.
Gamwell then farmed in Northern Rhodesia, which is now Zambia, before returning to the UK in 1940 to train as a pilot and take command of the Corps Units (non-ATS) FANYs. She managed the recruitment and administration of all units serving with SOE, the Polish Army, and other organizations. She also supported the anti-Nazi resistance in occupied countries by recruiting female agents. She was made an OBE in 1946.
Mary Ann Buscombe was a creative, experimental theatre director, known professionally as "Buzz Goodbody," a gender-neutral name reminiscent of her childhood nickname. While completing her secondary education at Roedean School, Buscombe joined the Communist Party of Great Britain. Meanwhile, she pursued her love for the stage and became heavily involved in the Sussex University Theatre Group. Her reputation grew when the Group won a prize at the National Student Drama Festival in 1966.
One year later, Buscombe joined the Royal Shakespeare Company (RSC) as a personal assistant to the director, John Barton, who was the co-founder of the company. She overcame gender-related criticisms and became the first female director of the RSC. In her new role, Buscombe directed a production of Hamlet in a small theatre in Stratford-upon-Avon, shocking critics by managing to cast big names like Mikel Lambert and Charles Dance. The production was well-received, but Buscombe sadly ended her life days later, aged just 28.
These are just a few of the many Old Roedeanians who inspire current students.