Whenever we think about some Apple products, we think about their sleek and modern design, Security, innovative technology, Premium experience, Brand, High-quality build, etc. Well, Apple products are something that becomes a must-have for a rich experience and high quality.
In this article, we are going to discuss one such product, which is MacBook 12in M7 Laptop, which is a lightweight, incredible machine. From this article, you can find everything that you need to know about MacBook 12in m7 Laptop.
Macbook 12in m7 Laptop Review – Specifications, Price…
What is MacBook 12in m7?
The MacBook 12in m7 is a sleek, modern, and lightweight Laptop from Apple, and can be considered as a great choice for many users due to its great features, at a good price. This laptop is known for its sleek design and high-quality finish. We will discuss some of the technical features and specifications of MacBook 12in M7 ahead, and they should give you an idea about the model and should help you in taking a decision if you are looking to buy this machine.
Specifications of MacBook 12in M7
Now, that you are quite familiar with the device MacBook 12in M7, it is time to consider some important specifications of this laptop, so that you can have an overall idea and image of this device in your mind. As mentioned earlier, this device has got some great features, and it is from Apple.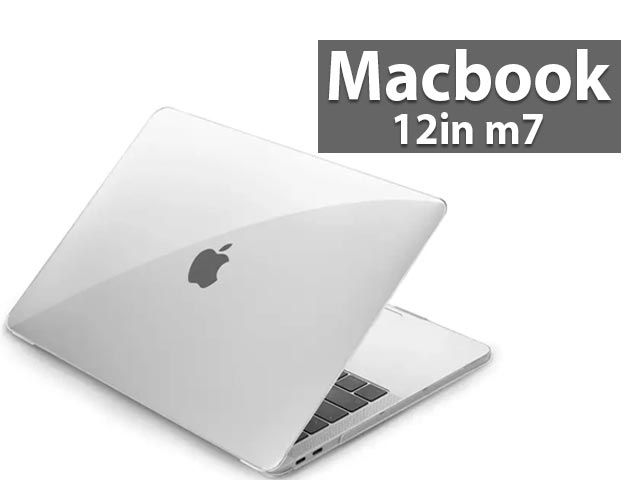 | | |
| --- | --- |
| Processor | 1.3 GHz dual-core Intel M7 processor |
| RAM | 8GB 1866 MHz LPDDR3 RAM |
| Storage | 256/512 GB |
| Graphics Card | Intel HD graphics 515 GPU |
| Touchscreen supported | No |
| Display | 12 inches (diagonal) LED – Backlit display |
| Weight | Around 1 Kg |
As you can see, the above specifications are some of the important specifications of the MacBook 12in m7. You can go through them in detail, and even find some more features of this laptop below.
Features in MacBook 12in M7
Now, it is time for us to look at some of the features of the MacBook 12in M7. If you just have a look at the image of this laptop, it looks very sleek and modern. Some people may have felt disappointed with the performance of this Laptop when compared to other and newer devices. But still, let's have a look at some of the features of the MacBook 12in m7, which would give you an idea about this device.
Battery
Well, when we are buying any laptop, one of the major things that most people consider is the battery power, and battery backup of the Laptop, since many people might want to carry it around the world, and may want to have a device that has a longer battery backup.
Talking about this device, how long will the device battery last long pretty much depends on what are you going to use in the laptop. As per the data from the official website, here is how they specify the battery and power for the device
Up to 12 hours of Movie playback, iTunes.
Standby Time – Up to 30 days.
Up to 10 hours of wireless web.
In order to charge the device, one would need a 30W USB-C Power adapter(USB-C power port)
Processor
Another important thing that we look at the most when buying a laptop, is its processor, since many of our tasks that we carry out, may depend on the processor of the laptop. So, talking about this particular device comes with a 1.3 GHz dual-core Intel M7 processor, which can turbo boost up to 3.0 GHz.
Graphics Card
Another important thing that we look for, when buying a laptop is its graphics card. For this particular laptop, it comes with an Intel HD graphics 515 GPU. So, if you are looking for a Laptop for heavy gaming purposes, or for heavy operations, this Laptop may not be suitable for you, but yes, it may work for your most of the tasks, and be a great choice.
Memory
Well, while we are looking for a Laptop, there's often one question, "What's the RAM?". Let's try to answer this question for this particular Laptop. This laptop comes with onboard 8GB 1866 MHz LPDDR3 RAM, and we can configure it up to 16 GB. So, I think that's a sufficient amount of RAM, for doing most of your tasks.
Display
Talking about the Display of this laptop, it has a 12 inches (diagonal) LED – Backlit display. The pixel density is 226 pixels per inch, which makes it possible to support millions of colors. It supports a full native resolution on the built-in display and can support up to full HD 3840 x 2160 pixels at 30 FPS on an external display.
So, if you were looking for an HD screen, you have got it in this laptop.
Storage
Another important factor to keep in mind when buying a laptop is the storage. For this laptop, the storage is around 256 GB SSD, or 512 GB SSD onboard. Well, this is nonupgradable. But we can say that this amount of storage is reasonable for someone who is not much concerned about storage and mostly works on the cloud. But if you wish for more storage, you would need to upgrade completely.
Operating system
This device comes with macOS, and that is something that you would love. You would get many different Apple-only features that you would want to use more and more with this laptop. MacOS is amazing in both performance, security, and build.
Other features
Well, above we have listed some of the main features of MacBook 12 in M7 Laptop, but there are many other features, that might be important for many other people, so here, we are listing a few more features so that you can have a glimpse at them.
Camera – 480p FaceTime Camera.
Keyboard – Full-size keyboard, including 78/79 individual LED backlit keys, and it includes 12 function keys and 4 arrow keys.
Multitouch touchpad – It comes with a multitouch touchpad for better accessibility.
You can connect it with multiple displays through VGA cable, or HDMI Adapters.
Good battery life.
Things to keep in mind when buying an Apple Laptop.
It is true that Apple devices are very popular among everyone, from students to working professionals to business professionals. Owning an Apple device may be a dream for many, but here, we are going to more focus on things to keep in mind, when buying an Apple Laptop. It is not like you went and bought, it because this thing is actually quite expensive, and you might want to think twice before you take a decision.
First, understand your budget and requirements.
I have seen some people thinking about buying an Apple Laptop so that they can flash in front of others, and they have very few requirements of work from the laptop, which could be fulfilled by some other basic laptop easily. So, it is important to identify your requirements, and your budget for the Laptop, before you go to buy an Apple Laptop.
Shortlist the laptops that fit your budget and requirements.
Well, once you confirm your budget and requirements, and you have decided that you are going to buy an Apple device, you need to shortlist the devices that qualify your needs, so that your search area becomes less broad, and you can think about the best device for you.
Compare the specifications
Well, when you have established your requirements, and shortlisted the qualifying devices, it becomes important to compare the specifications for even other devices. At this stage, you may require to do more shortlisting.
Read reviews and ratings
You need to read the reviews and ratings when you are about to shortlist the one device that you are going to buy. It is very important to read about the other users' experiences since it also teaches a lot.
So, these were some things that you need to keep in mind when buying an Apple Laptop. Well, the thing is that if you are used to using Apple devices, then it would be a comfortable decision for whether or not you should buy one, but if you are going to use the device for the first time, it would be a crucial decision, since that Laptop is going to stay with you for some time from that moment, so you need to really do a detailed cross-check and research before you make on a decision to buy an Apple laptop.
Conclusion
In this article, we saw everything we need to know about the MacBook 12in M7 from Apple. The Machine is amazing for many general-purpose works, while it may not be suitable for heavy work or heavy games, but still, there are many use cases where you can put this machine to good use. We hope that we could add some value to your decision through our article.
Remember that the sole purpose of this article is to provide you with some information on MacBook 12in M7 from Apple. Other than this, you can always visit Apple's official website to know more about this device, and many other amazing devices from Apple.
FAQs
Q: Does this laptop has a touchscreen?
Ans: No. This laptop doesn't have a touchscreen. If you are searching for a touchscreen laptop, that can be converted to a tablet as and when required, you may search for Asus 2-in-1 q535.
Q: Is the Apple MacBook 12in discontinued?
Ans: Yes, the MacBook 12in is discontinued, but it can be still available on other marketplaces for you to buy. But there are many other high-performance Apple devices, that you can look for.
Q: Why should I buy a MacBook?
Ans: Well, there may not be an exact answer to why should you buy a MacBook, because there can be many different opinions from different people. Some prefer Apple devices, so they buy MacBooks for their even basic things, while many people prefer MacBooks because of the features, and it allows them to do many amazing things.