iPhone Birthday Reminders
Some special occasion makes life beautiful also it creates memories, Everyone's always trying to catch such moments either by getting together, hanging out for a long journey or by clicking photos.
Birthday is a really good occasion for everyone's life and when we receive wishes from our buddies or dearest persons on that time what can be awesome more than that. Giving and receiving wishes both are beautiful moments in life on birthdays.
But sometimes we are forgetting to give wishes to our buddies as well as so close persons because either we don't know their birthday correctly or slip things from our mind.
Anyways, If you are an iOS user and you don't want to miss your dearest as well as closest people's birthday so this article will be so helpful for you because we are sharing information related to this topic So that you can set birthday reminders on your iOS device easily.
How to set birthday reminders on iPhone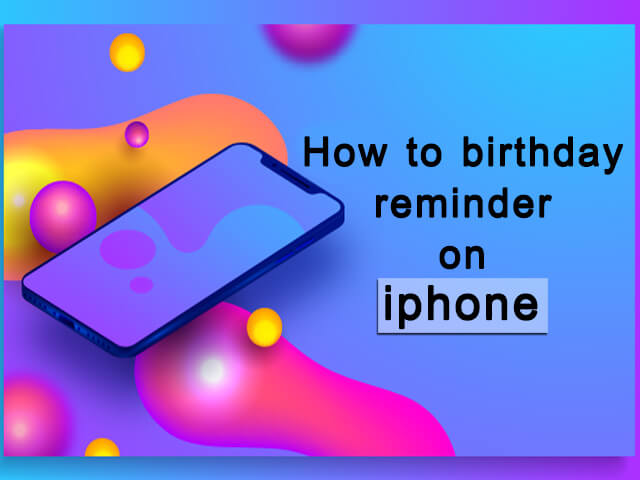 How to get Birthday reminders on iPhone Calendar
You can add birthdays on the iPhone calendar app and so that you can get reminders, To add birthdays in the calendar you have to just follow the below-given steps.
Open the calendar app on your iPhone first, Then you need to tap on 'calendars'
Now here you should scroll down and choose by name 'other' option, In that other option, you will get easily the 'birthday' option.
Tap on the 'Birthday' option, Now here you need to set a birthday with a specific date, Month and Year, name, etc. after doing it, Save all that details and select it for notification.
To get birthday notifications one or two days or 1 week before you can set an alert for that so that you can be aware, To set notifications you have to open iPhone 'Settings' option.
Next you have to tap on the calendar, and list of options you will see on-screen among that option you have to choose 'Default alert times'.
In default alert times you can set alert time for a birthday before one day, before two days, before one week, etc. As per your wish, you need to choose the alert time, According to that, you will get a birthday notification.
After done everything you have to apply this calendar setting on your iPhone.
Add birthday in to iPhone contact app.
It is a very simple method to create a birthday reminder on iPhone, You need to follow just below given steps
Open your iPhone contact app first and tap on the contact number of that person whose birthday reminder you want to create.
Scroll down now in that specific contact and tap on the 'Add Birthday' option,
You have to fill up this option with correct information and save it.
In this way, you can add birthday into contact to create birthday reminders on your iPhone.
Hope you have very well understood all of these simple methods to create birthday reminders on iPhone also well now you will not forget to wish your buddies on their birthday.