Twitch clip downloader
If you love playing and watching video games online, you must be familiar with Twitch. tv. Twitch is a live streaming service for videos. It is operated by Twitch Interactive which is now a subsidiary of Amazon. Apart from video games live streaming, the site broadcasts music videos, eSports competitions, creative content, and real-life live streaming. Millions watch Twitch videos live or through video-on-demand mode.
For ardent game fans, Twitch has a huge number of live game streams such as Fortnite, League of Legends, Apex Legends live streams.
However, a Twitch video is automatically removed from the site within 2 weeks or months after it was streamed. You probably want to download a fantastic Twitch stream or VOD to keep it offline so you can enjoy it whenever you want. Today, we are going to offer you a detailed tutorial to download videos from Twitch. No matter what you need to download on Twitch – streams, videos, or clips – you can find a way to do it in this article.
How to download videos from Twitch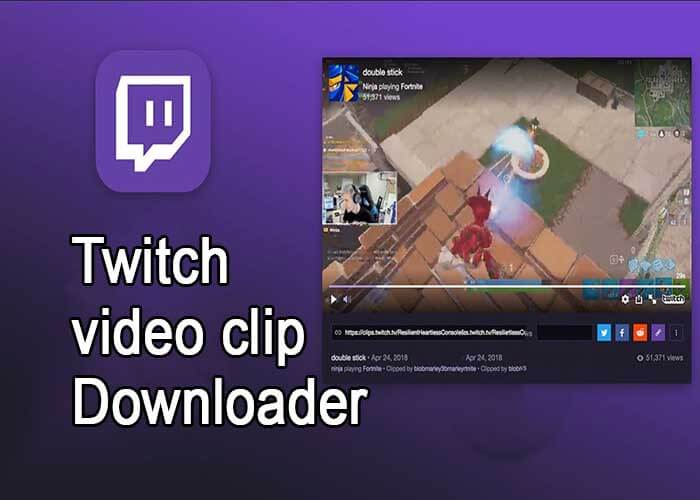 Download direct from Twitch
Download past transmissions
Twitch allows its users to download the streams that have been broadcast. But, if you are only a regular user, the videos you transmitted will be removed from the platform server after 2 weeks. So please follow the steps below to save your Twitch streams before they are removed.
Step 1: Verify that you are connected to the internet and are signed in to your Twitch account.
Step 2: Click the drop-down menu under Profile ad select the Panel button.
Step 3: Select Settings from the Dashboard and select 'Save past transmissions under stream preferences.
Step 4: Go to the main Twitch menu and find the Video Manager option. You will be able to see the thumbnails of all your videos.
Step 5: Click the Download button next to the stream you want to save from Twitch.
Record streaming videos from Twitch
If you want to save Twitch videos from other players, you can use FonePaw Screen Recorder to record the Twitch videos if you want to watch them offline.
In FonePaw Screen Recorder it is possible to record the sounds of the system, which ensures that the original audio in the Twitch stream can be saved in high quality. At the same time, you can also preset Task Scheduler, which allows the recorder to automatically record Twitch streams for hours, so you don't have to wait for hours in front of the computer until the video game recording finishes.
Once you've recorded, you can trim the Twitch video to remove any clips you don't want.
Step 1: Download FonePaw Screen Recorder and open it. Click the Video Recorder button, and choose Customize Screen for video recording.
Step 2: Click the Settings button e in the upper right corner and disable showing mouse action in Settings. If you don't want to show the mouse cursor in the recording of the Twitch streams, disable Show mouse cursor or Record mouse clicks.
Step 3: Select the format and quality of the video in which you would like to save the streaming videos from Twitch.
Tip: Better the quality, bigger the size of the video. The Twitch stream can take several hours or up to 12 hours, so be careful if you selected to record the Twitch video in high quality, which can result in a very large video.
Step 4: Open the videos you want to record on Twitch. Set up the recording area and verify that the system sound is turned on. Turn off the microphone sound in the recording. Click the Rec button and you can start recording.
Tip: You can also click Advanced Recorder and choose Lock & Record Window, which makes the Recorder only record Twitch content and ignore other screen activities from other apps.
Step 5: During recording, you can customize the recording duration on the panel, which allows FonePaw Screen Recorder to end recording automatically after your recording ends. So you don't have to wait for hours in front of the computer.
Step 6: When done, you can click Save to save the Twitch stream to your computer.
Best Twitch clip downloader
If you want more ways or want more Twitch video downloaders, the best tool to recommend is Twitch Leecher. It is the only application that really works and allows us to download videos from Twitch. An application that is not precisely under the tutelage of Amazon (owner of Twitch) but is from an independent developer that makes it available to everyone completely free of charge.
The operation of this Twitch clip downloader is very simple, in fact, it works like any application you have been able to try to download YouTube videos. We just have to click on Search and enter the URL where the video we want to download is located. Broadcasts by some content creators are extremely long-lasting for several hours.
Twitch Leecher allows us to establish from what hour and minute we want to download and until what hour and minute we want to download, as long as we only want to download a part of the video, not the complete video. This Twitch video downloader also allows us to enter the name of the channel so that all the videos are displayed and we can download the ones that we like the most.
To download Twitch Leecher, just visit the following Git Hub link and download it completely free of charge. Microsoft is required. NET Framework to be able to use it. If we don't have it installed, the application will take care of it during the installation process.
Twitch has more than 15 million daily active users worldwide up to the year 2020. The users watch live streaming gaming videos with other streaming content. For general users, Twitch is a free service to enjoy. But if a user wants to download videos, the Twitch clip downloader mentioned above will be of use. With the ways described above a user can have his favorite videos and the Twitch video downloader will help him do that.