How to change Viber Number
Viber is a messaging app that is totally free to download. It allows users to send and receive messages in text form or audio, video format. That is to say, using Viber, you can not only text chat with other users, but you can group chat, share media files such as audio, video, and pictures. It is available to be used on mobile devices as well as computers.
Recently, Viber has crossed 1 billion users mark in 2018. It is one of the most used platforms all over the globe for chatting and sharing media. People from over 190 countries use it for keeping in touch with their friends.
If you are a regular user of Viber, using your phone number for your Viber but now you want to use another number. You may have bought a SIM number of your choice or want to move away from the old mobile service provider permanently or have started using two numbers at a time.
For any of this reason or for anything else if you want to change your number on Viber you might be scratching your head for getting it done. You need not worry as you have come to the right place where you can get a solution to your problem.
How to change Viber Number on Your Phone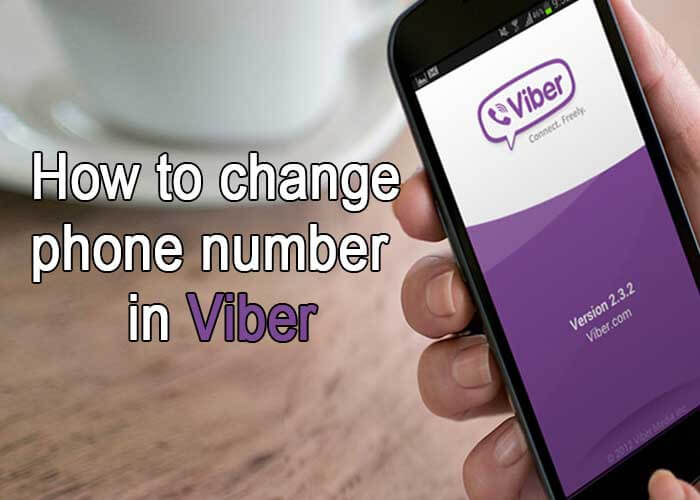 How to Change Viber Number
The procedure to change the Viber Number is as follows:
The first step is to deactivate your old Viber account. In this case, all the information related to your old account will be deleted, not the archived correspondence history, the account itself, or the address book. In a word, that's it. This can not be reversed. So, think again and be careful while doing this.
The first step to change Viber Number:
To deactivate your old account, you will need:
Download Viber to your phone.
Then go to the Settings of the application, clicking on the service button in the form of three bars.
In the "Privacy" section, select "Deactivate account".
Please read the warning that all account information will be deleted and accordingly agree or disagree with your choice.
After performing this procedure, all data will be removed: stickers, settings, correspondence histories. If this account is used on another device, you will not be able to log in either.
Now it only remains to download the program and activate as much as possible to activate a new account, but only by linking it to another number.
After this procedure, you can re-enter the program and link the new account to the specified number. Unfortunately, there is no special function to change the account when the data remains.
The second step to change phone number in Viber:
The second way is to uninstall the application and reinstall it. As in the previous case, you cannot save history and other data. You can reinstall the program from any more suitable source. You can copy correspondence and other data to save them in the new program. The contacts are synchronized with the phone, so you should not save them.
Note that when seeking the answer to the question of how to delete the correspondence, the desire of the developers to create almost identical programs for all mobile operating systems must be taken into account. Therefore, the procedure for changing the phone to which the account is linked is almost identical on all phones.
Now, you know that the suggestions mentioned above are suitable in most cases.
Conclude about How to Change Viber Number
From the procedures mentioned above, you can get an idea about changing numbers in Viber. This will be beneficial for especially those who had to change their phone numbers for inevitable reasons otherwise not wishing to change and want to keep the data.