Everything about PayPal and Simple Guide for Beginners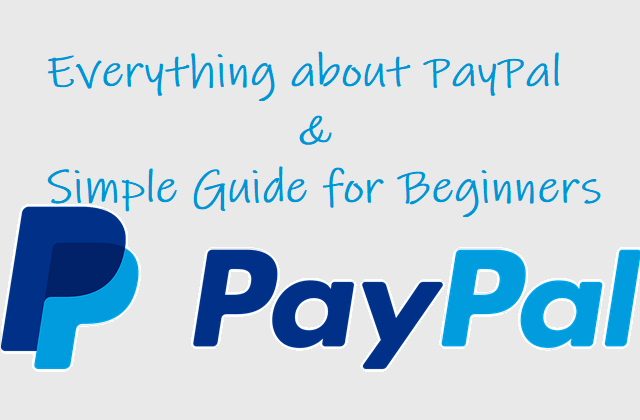 What is Paypal
PayPal Holdings Inc. is a U.S. company that provides online money transfers worldwide and is a digital alternative to traditional paper processes, such as checks and cash orders.
Basically, It is an online financial service that allows you to pay for items with a secure web account.
You just need to add bank account, credit, or debit card details and you can choose those cards or accounts you pay for when you pay by PayPal. Then You can set one as your default payment method and use it without choosing another payment method.
You can pay for products in a wide variety of online and highways like cafes, petrol stations, and traders with a great PayPal cash transfer app.
Besides this, you can receive money via PayPal. Any money you earn can be used in your PayPal account, and the balance will be covered in payment through cards or bank accounts.
In addition to this, You can also transfer the funds to one of your bank or card accounts that you have been allocated to.
So, In this article, we will explain to you How PayPal works and also give the proper Guide for Beginners Step by Step. So, Let's start-
How Does PayPal Work?
How does PayPal work when sending money?
This online money transfer service, PayPal, offers a simple and fast online way to sent and ask for money. With the help of this application, you can transfer cash to your friends, family, and auction sites, such as eBay, and abroad as well. PayPal allows traders in their eCommerce stores to take credit cards easily.
When would you like PayPal to be used?
If you're buying something online-
You can keep your data secure using PayPal for online shopping;
If the subscription is paid for-
For regular payments Paypal is fine. You can also set up your account so that the money is paid directly from your bank account.
If in a brick and mortar shopping you want to buy something.
It works only for participating shops, providing you with a single QR code, or requesting a receipt code.
If you want later to pay
A buy and pay later feature is now available in the Online money transfer application PayPal.
If you just want to transfer money to friends or family.
With the help of this application, you can easily transfer cash online to your friends and family. Even, PayPal has been designed for this purpose.
How can I open an account with PayPal?
You can set up two types of accounts on PayPal — personal or commercial. For both accounts, the process is very easy and simple.
PayPal sign up – How can I open a Personal PayPal account
Here's how to sign up for a PayPal Personal account:
In the first step, you have to just click on the "Sign up" tap for a PayPal account.
Now in the second step, what you have to do is selecting a PayPal Personal account and then press the "Get Started".
Coming on the third step, enter the legal first name in the legal first name text box, then enter your last name in the legal last
name text box, next, you have to type your mail id in the given email id text box and write your correct password in the password text box. You should not enter a password of fewer than 10 digits and then click on "Next".
You will then add your credit or debit card that is optional if you don't want to add your bank card details, leave that option.
Besides this, You can also directly link your personal PayPal account to your bank account. Then you can check your daily practice, e-mail address. So, This way, You have signed up with a personal PayPal account.
How can I open a Business PayPal account?
The way to start your PayPal business account is somewhat different, but it still does not take a long time or effort.
In the first step, what you have to do is sign up for a Business account.
Secondly, You just have to enter your legal first and last name in the given name text box column. then enter your legal business name in the particular text box. then type your business phone number in the specific text box. next, enter your business address in the given text box.
After adding this information, You should also affirm your approval of the PayPal e-Communications Delivery Program, User Agreement, and Privacy Policy.
The method tends to be similar after that— you verify your email address, connect to your bank account, and make payment processing options.
How can you Send Money via PayPal?
You only need the email address of the receiver to send money. If a recipient has no PayPal account, they can create an account after they receive a transferred money email message.
⦁ How can I send money via PayPal using your account?
1- Start the payment-
You simply need to click the' Pay now' button if you receive an invoice or a money request. If you want to start a payment yourself, log in first and tap the Send button.
2. Select the payment type.
There are two options available: a personal payment or a business payment can be made. When you pay or transfer money to a partner, family, in the US or abroad, you will need to check the type of business.
You must confirm the type of transaction — if you pay for goods or services or transfer money to a friend or family member, in the US or abroad. The costs are different, so please make sure you have the correct data.
3. Fill in the receiver's information.
It's very easy — just add your phone number or your receiver's e-mail address.
4. Ensure the money and currency amount.
Check again the details: The proper sum of money and currency
(PayPal allows payments to choose just yours in a number of different currencies).
5-Confirm the information & Select how to reimburse.
There are usually various sources of financing: a credit or a debit card, PayPal balance, a bank account, etc.
6. Check your mailbox for the receipt.
You could repeat a couple of times with the "Confirm" button and you are done. Please check the mailbox and there is a receipt that indicates that the payment has been processed.
How can I send money via PayPal without an account?
You need someone to give you an invoice or an application for cash to send money via PayPal without an account. A "Pay Now" button should be given which means that you can make a payment without logging in.
1. First, what you have to do is just press the "Pay now" button.
2. Secondly, You just Specify the details of your card.
PayPal can be opened to pay. If you don't like to, simply enter the details and simply select the credit or debit card option. But there's one thing. Payments without a PayPal account are far more costly than PayPal payments.
3. Confirm the payment.
If a mistake has been made and payment is prepared to be processed, you must check the details. by default, you're going to get an email.
It is very simple and convenient to use PayPal to send money. And a PayPal account is better—it's going to save you some money on fees.
Several rising error messages from PayPal
At times your visitors might encounter problems while paying with PayPal online. While some of these issues include the incorrect entry of credit card details or problems with the payer's PayPal account, a dispute with your PayPal account can sometimes result in payment errors.
In any case, please ask your participants to describe the exact error message they received from the website of PayPal. Without that, we won't be able to support your resolution effectively.
The list below describes some common error messages returned by PayPal as well as their most common underlying reasons:
Type 1 Message:
⦁ This payment can not be made using the card you entered. Enter another credit or debit card.
There are some reasons mentioned below when this type of error message is shown on PayPal.
1. A PayPal Account is associated or linked with the credit card.
2. Credit Card has previously been used by or assigned to PayPal in PayPal Closed Account.
3. Non-Member Credit Card Use PayPal Limit
4. In the transaction, credit card or e-mail address raises the flag
Type 2 Message:
Only encrypted payments are accepted by the seller. Unencrypted buttons do not allow you to pay the seller. For more information, please contact your seller.
When you receive the error message from your customers, you can disable the PayPal Encrypted Website Payments feature in your PayPal account profile.
Type 3 Message :
"It can not complete your payment. Please go back to the website and try again"
PayPal technical support recommends the following solution, on the basis of the above error message
If You receive the above PayPal error and you are PayPal Standard (Personal, Business or Premium), User:
You may have to take these steps to correct the situation:
To get the solution to this problem, What you have to do first is log in to your PayPal Account.
Secondly, You have to press on the "profile" tab.
In the third step, you have to click on the More option" tab.
After that, You have to select the 'My Selling Tools' then click the 'Block' Payments' option.
Please refer to the "Block payments from users who" section under the payment receiving preferences
Uncheck the option ' Payments start from the Send Money Register sub-tab then click on the "Save" button.
However, here, we have described all the important Paypal issues. So, you're ready to get PayPal started? Well, Don't waste your time! just click on the following link to get started.
https://www.paypal.com/us/signin
For more details, you can contact PayPal customer service
Read also: PayPal vs Stripe