Android apps outside google play
Google Play is not the only place where we can find good applications: Today, we will bring some such applications that are not on Google Play but are one of the essential apps in many smartphones. So, Please check below: Best Android apps outside google play
The site that most users use to download and install applications is Google Play, Google application store has become one of the flags of Android. However, it is not the only place where we can download applications, because Android has the grace to be able to download and install the APKs freely.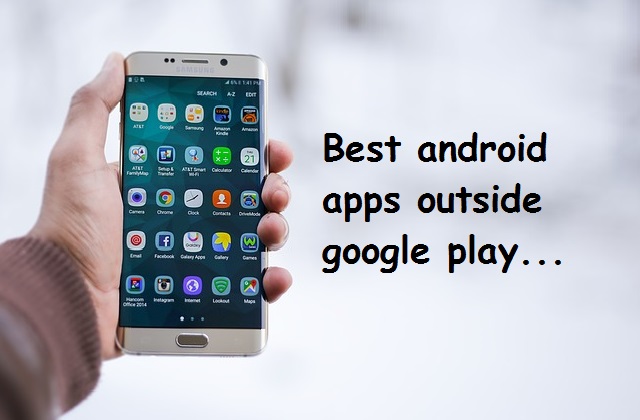 Best Android apps outside google play
For various reasons, Google usually blocks some applications that do not make it too funny, and this has made many users look for other sites where they can download those applications. To help you, and show that there is life beyond the Play Store, we will show you a few applications that are not in Google Play but are essential.
For various other reasons, some very good and useful applications cannot be downloaded from Google Play, but as APK files you can save them on your device and install manually.
The Google application store has a fairly comprehensive catalog. For most of the needs, it is more than enough, although for the most demanding there may be a lot of junk to look for in order to get something decent.
Except for a select group of the best apps that usually have hundreds of thousands of users and have gained a lot of popularity, the good applications in Android can be difficult to obtain due to the so exaggerated number of clones and useless apps that are in the Play Store.
When we go beyond the limits of the ecosystem, things get even more complicated. Downloading applications outside the Play Store is not illegal, but it does require a lot of care. Our Android device by default does not allow us to install software from unknown sources, but this limitation can be skipped easily simply by going to the Security Settings menu and activating the option.
Today we will present before you some of the most interesting options available outside of Google Play, applications that you can try without fear because it is not pirated versions of premium apps full of malware, but solutions that are distributed in another way.
Free download list of Best Android apps outside google play
F-Droid:
F-droid is an alternative store to Google Play store. The app has 100% free or open source software in its catalog. It is a very simple client that has no embellishments or an interface of another world, only a simple and long list of FOSS applications.
Many of the applications that are achieved in F-Droid are not in the Play Store either, so you have possibilities to expand your catalog at the same time you can install open software, something that will surely make you happy if you are an open-source advocate. To give you an idea of what you can find, check out our list of the best applications for F-Droid of the year.
Amazon App Store and Underground:
Amazon App Store and Underground gives us free games and applications, and the occasional promotions of the usual store shares thousands of products, there are many applications present on the Amazon App Store that can be downloaded by the users.
Aptoide apk
Aptoide apk is one of the best Google Play Store alternatives to downloading Android Apps. It is also considered the most secure store to download your favorite apps. Unfortunately, you can not find it in the Google Play Store like any other apps listed here. But do not worry! You can download it as an apk file and install it on your smartphone. With help of an Android Emulator, you can install Aptoide on your PC as well.
Uptodown:
Uptodown is a fantastic alternative to Google Play that gives us the APK of many applications, and that can be your salvation if you have any of those problems.
TuLotero:
Google still does not allow lottery applications on Google Play, so TuLotero is available on the company's website: an application that serves to play the lottery alone or accompanied and is perfect for the Christmas season.
QuickLyric:
Do you want the lyrics of the song that you are listening to without headaches? Want to save all the letters of your songs in the memory of your device? QuickLyric is your best bet then. We can download the app from Github if not available on Google Play.
Videorer:
YouTube Red, what we used to know as YouTube Music Key, has not yet arrived in our country, nor we can enjoy the benefits of the same. Videorer allows us to do what they both do: download videos, play in the background … although Google does not like this.
Cyanogen Installer:
Do you want to install Cyanogen, but everything seems pretty much complicated? Although it is not a tool for the few sayings, Cyanogen Installer wants to facilitate the process of installing ROM of a well-known brand in our device, although it has not been exempted from criticism among the community.
MiFit in Spanish:
Do you want to make the most of your gleaming Xiaomi Mi Band, but do not master all the English? The community has already been in charge of translating the application of Xiaomi for its bracelet, although not officially, and you can get hold of it right now.
NowSecure VTS:
We recently have talked about this application, when it jumped to the headlines to be deleted from Google Play. The controversy is served with this vulnerability detector for Android, but if you want to try it for yourselves, you have all the necessary code on GitHub.
Disconnect:
Although it has taken a different path since we got to know about the app, but is a specialized service to protect us from monitoring and threats present over the Internet. It is a paid app that charges a monthly fee. If Edward Snowden is among your plans, take a look.
Top Best Android apps outside google play
LMT Launcher:
Do you remember the time when hiding the navigation bar became a fashion, and turn into a series of circular buttons accessible by sliding? I remember taking advantage of its benefits in my old Galaxy S3 -what times those-, and we can continue doing it with LMT Launcher, available in XDA-Developers.
Humble Bundle:
Humble Bundle is a name that is more than just to be known by the gamers of the world. The offers of the Humble Bundle are some of the most demanded among all the online video games stores that exist.
If you have purchased games from this platform, Humble Bundle offers you an Android application that allows you to easily install all the games you have purchased for that platform. It also offers push notifications every time your games receive updates.
Transdroids:
Transdroid is one of the best torrent download managers for Android. It supports all popular clients such as μTorrent, Transmission, rTorrent, Vuze, Deluge, and BitTorrent 6. You can manage all active torrents and files individually, plus you can add torrents very easily through the integrated search, RSS feeds, or QR code scanning.
Transdroid has all the features of any full torrent download client for your desktop, in addition to the unique features that you can only get on an Android device.
Instwogram:
Does not it bother you that at these heights it is still impossible to have multiple accounts on Instagram? Well, you are not alone in the world. More than once I have felt the frustration of not being able to easily manage two or more accounts of this social network from my mobile, simply because the application does not leave you, nor does it allow third-party clients to do so.
Luckily for everyone, a developer of the XDA forums, created Instwogram an app that lets you have two Instagram accounts on the same device.
What Instwogram does is clone the Instagram application as it currently looks in its latest version, and in this way you have two instances of it.
So you can have an account in one and another in the additional one. Both work exactly the same, receive notifications and let you upload images without any problem. A dream come true.
TubeMate:
TubeMate is a simple Android application that allows us to do something that people for some reason love: download YouTube videos.
You can choose between different types of quality, or simply download as MP3 if what you want is just the audio. It is not a beautiful or pompous application, just a simple tool that fulfills a simple task.
Music Explorer:
Music Explorer is part of the Android applications of Exigo Software that are not available in the Play Store for reasons that will seem obvious. Music Explorer lets you search, download or stream music with Copyleft licenses, Creative Commons or any open type that can be obtained on the Internet.
Besides Music Explorer, Exigo is available to download other applications such as TinyTunes that lets you do the same as the previous one but searches for MP3s in multiple sources, lets you create playlists, manage your music library, and search for songs directly from Shazam or SoundHound.
They also have two other special apps to take advantage of Grooveshark's music: TinyShark and TinyShark Downloader first lets you listen to the music of this service on Android, and the second lets you download the songs to your device.
Mango:
If you like Japanese manga, then you will love this application for sure. Mango is a manga reading application for Android that includes a library of more than 9000 scans of sleeves translated by fansubs. The reader is quite complete and has the necessary features so that reading on devices with small and tactile screens is as pleasant as possible.
Best android apps not in the play store
Market Helper:
We know that depending on the device we have, the country in which we live, and the operator we use, our application store will look a little different in terms of the applications that we can download officially.
Market Helper is an Android tool that allows users to pass their devices through other models. For example, you can pass your Nexus 7 for a Galaxy S3 and thus have access to applications only compatible with this device.
You can change the country, the operator, and choose if you want to fake a tablet or a phone. For all Market Helper, you need root access, If you are worried about knowing exactly what you are getting and what each one uses, you can read it from the frequently asked questions on their official website.
Pokémon Tower Defense:
Created by fans of one of the most legendary video game sagas of all time, PTD is a Tower Defense style game that uses Pokémon, lets you train them and use them to progress. The game has become incredibly popular in Internet communities and even has a second part: Pokemon Tower Defense 2 (PTD2!).
Kodi (formerly XBMC):
The popular multimedia center software that recently changed its name from XBMC to Kodi has applications for how much operating system and device you can imagine. Of course Android does not run out of its native application, which you can download for the ARM and x86 devices.
With this, you will have on your android one of the best possible managers of multimedia content and a simple way to turn your device into a luxury entertainment center.