Best Writing Apps For iPad
Several many mobile production companies have been launched their brand tablet computer with the android operating system, As they all are selling out into market every day. In this category one famous worldwide tablet computer developing company apple also has been added, Their tablet computer is well known by name 'iPad' and it works on the iOS operating system.
If you are a student or professional person then you may need to do writing work for a whole day at least for once, then here you should know better which are the best writing apps are available for your iPad.
You will get introduced here with some best and most famous writing apps for iPad, with the help of them you can easily do educationally related writing work, if you need to write some notes every day for office work then also you will able to do by using such apps.
Someone's who is related to writing professionally as a content writer for them this app can give the best help during the official content writing. Some people who are fond about writing like if they like to write a book, story or novel, etc. for them also, this apps can be the best writing platform. As an iPad user you must try to use some apps among the list which you will get to see here in this article, hope you will like them.
Best Writing Apps For iPad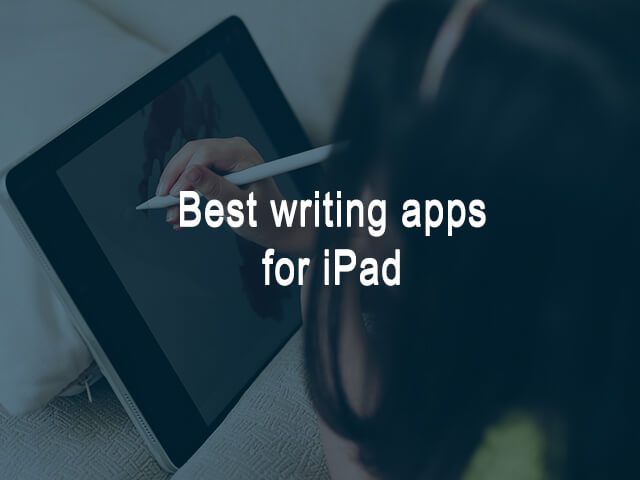 Main Content Of This Article:
Best Writing Apps For iPad.
Apps For Taking Notes on iPad.
Conclusion.
FAQ.
Best Writing Apps For iPad
Here you are going to introduce some best writing apps for iPad, which can be the best option for those who love writing and who are iPad users. If you are truly searching best writing apps for iPad, Then this information can be the best source for you to suggest the best writing apps.
1. iA Writer
If you like writing then some important thing is essential into that Like as during the writing you should not be get distracted, You need to be fully concentrated over the topic, also the user-friendly interface is again vital part. Here is a writer app giving you such kind of features which is called 'Focus Mode', where you are getting nice experience about writing.
When you are totally focusing on writing that time your eyes gaze over the screen consistently, So, in this scenario, this app provides a relaxed pleasant experience, which is going to be helpful for you. That's why another side of your hand can work nicely, It make your writing more easy and comfortable.
Also this app has a little bit about customization, If you are searching for that then iA writer can be a better option for you. As an iPad user, you can go with a writer, for writing purposes.
2. Notability
This is the best app ever for iPad because this is for everyone, Doesn't matter you are a student, teacher, or professionals. The best thing is 'Notability' allows you to create and securely save important notes with password protection. Maybe that's why it was selected as an 'Editors choice' app soon after when its launched.
If you are a student or teacher, then your notes can be always up to date by this app iCloud feature, On a daily basis, you can make notes. Also, you can record lectures, mark up photos, annotate PDF like tasks you can do with the help of 'Notability'.
If you are searching for a truly best-writing app for iPad, then 'Notability' can be the best app for you, you can try it.
3. ByWord
With the help of 'ByWord' you can easily open and edit all kinds of your documents, even when you are offline. This app can convert your file into HTML as well as PDF format, for sure it can make file editing easier for you.
Some extra and peoples loving feature of this app is you can do multitasking with this app, Also it allows for split your screen, Its dark mode experience can be quite comfortable for your eyes and in necessary situation you can move quickly between documents into this app.
As an iPad user ByWord can be a good app for you, For the purpose of writing, You can go with 'ByWord' to use their various types of other features. Simply can say, go and grab it.
4. Ulysses
This is one of the best recommendations in writing app list for iPad, If you are searching for a distraction-free and user-friendly customization experience then for sure 'Ulysses' can be an even better option for you.
This app has some best features including a text editor, it comes along with typewriter mode where you can fix the current line, exactly on which you are working. Moreover can say with Ulysses' writing can be clean and neat, As this app is rich in features like dark mode, fixed scrolling, etc. with a simple user-friendly interface.
For all iPad users this writing app can be worthful, so you can go with it and get a nice writing experience.
5. Scrivener
Among the best apps, this is the last but awesome writing app on our list, It can be the best option for you if you are habitual about long article writing. No doubt you can even write a book also by this app, as it offers advanced editing tools, so you can write a blogging script before publishing on the blog.
Some basic and various types of features make this app user-friendly as well as comfortable for writing purposes. Though it's an expensive app as compared to other apps on our list it's a great app to write complicated writing projects.
As an iPad user you can use it and make writing a more relaxed and easy task, Go and grab it.
These are some best and worthful writing apps for iPad, Which are strongly able to make writing more easier and interesting. You can choose any one among them, As per your need and preference. Hope this information will be helpful for you and you have enjoyed it a lot.
Apps For Taking Notes on iPad
Sometimes during the reading or watching you can get that information which can be helpful for you in future. No matter you are a student or a working person, some vital information can beneficial for you all the time.
In another way if you have already written something on a notebook page and now you wish to save that on your iPad then surely it's possible now. Nowadays taking notes on iPad or taking handwritten notes on iPad isn't that hard task.
With the help of some helpful iOS app you can do that task in an effortless way. Here you will get to know about some important and beneficial note-making app for iPad with the help of them you will be able to do that task quickly and very much easier.
You can see below the list of some best performance-giving apps to make notes on iPad.
GoodNote 5
Noteshelf
Penultimate
Apple Notes
Microsoft OneNote
In a brief let's try to know about them one by one so that you will get a clear idea about them, like how they work and which types of features they offer to iPad users for the note-making purpose.
1. Good Note5
This app enables you to take notes on your iPad while you can save that notes easily into the device. The best feature of this application is you can switch between typing and note-making.
Palm recognition and written words matching like facility also available within the app, this app is available on purchase so it is better for all of them who have frequently need of note-making.
Here once you have created notes then you can project them on the big screen like a whiteboard. To project your written notes on the big screen you will need to turn on the 'Projection Mode' option within an app.
So no matter now if you wish to take notes on time or want to take handwritten notes on your iPad, in all situations you can do that task with the help of GoodNote 5.
2. Noteshelf
If you are searching for that all-in-one app, with the help of that you can easily create notes on to iPad and later on use that note for various purposes then Noteshelf is the best app for you, for sure.
This is a truly loveable app where the best features of this app have included PDF conversion of files, Cloud base storage availability, handwriting recognition with the comparison of multiple languages.
Once you have created a note on Noteshelf then you can convert that normal note file into a PDF file while if you want to keep it securely then Noteshelf gives you a cloud base storage facility like you can export that note file into Google Drive, iCloud, One Drive, DropBox, etc.
It can be considered as a perfect app where not only you can take notes but also, later on, can use them as per your need. While the app gives you around 65 languages option, by comparing to that language you can do recognition of handwritten notes.
This app is available on the purchase based so this thing can make upset some users, but its benefits can make your every time happy. Nothing can be the best place then this app, where everything is available at one destination related to writing a note.
3. Penultimate
Up till now you have read about those apps which are basically available on a purchase based. Now you can read about that app which is totally free to install and use.
Penultimate is one of the best free apps developed by Evernote. For users who have already registered with Evernote, it can be the best application.
You can do login to this app with the help of Evernote account details, all your notes will sync with the Evernote notebook. You can handle and access them as per your need.
Though this app is available on a free basis to the iOS store, then also its some features are enough to make you delighted with its use. Like you can get comfortable layout during the write note also this app ability about handwritten content recognition can be far better than your expectation.
As an iPad user for note-making purposes you must use this app at least once, for sure you will not get any kind of disappointment.
4. Apple Notes
As an iPad user you may be well versed with this app because it is the default app for note making, comes with all kinds of iOS devices.
Basically this app gives all types of essential features which can be helpful for you during the note-making like drawing, sketching and illustration, etc.
As an iOS device user if you prefer to store your data into iCloud then with the help of the Apple note app you can switch your data from one iOS device to another like on Mac, iPhone, etc.
Finally Apple Notes can be the best app for you which is available on a free basis on iOS devices, while you may try to use that as per your need.
5. Microsoft OneNote
This is the best note-taking app developed by Microsoft, while as an iOS user you can download it on the store. As an iPad user, you can use this beautiful note-making app with its basic features.
During the note-making on One note you can get a multimedia feature like can add text, voice notes, and graphics,s, etc.
Best thing about this application is whatever note files you are making on this platform will automatically store on the OneDrive platform. As we all know that OneDrive provides the best service for cloud storage, so once you have created a note on One Note, that means it has already going to be secured.
Conclusion
There are so many apps are available on the iOS store for note-making with the help of them you can easily make notes. Some app gives truly fantastic features with the help of them you can make attractive your note with given add-ons. Here the better thing is that you should choose a note-making app for iPad as per your current need. If you wish to know about basic details of such note-making apps for iPad then this article information can be a good reference for you.
Frequently asked Quiz questions about Best Writing App For iPad
Q. What are the best writing apps for iPad for students?
Ans: iCan Write, Popplet, My Writing Spot, Toonastic, Clean Writer, Story Builder, Sentence Builder, ABC Cursive Writing, Pages, etc.
Q. What are the book writing apps for iPad?
Ans: Scrivener, Apple Notes, LivingWriter, Notebook, ByWord, Simplenote, IA Writer, etc.
Q. Suggest me some letter writing app for iPad?
Ans: Ulysses, iA Writers, 1Writer, Pages, LivingWriter, Apple Notes, etc.
Q. What are the novel writing apps for iPad?
Ans: Byword, Storyist, MLA Writer, Pages, Editorial, Chapters, GoodReader, iA Writer, StoryBoard, etc.
Q. What are the handwriting apps for iPad?
Ans: Notability, Jotter, Notepad+Pro, Noteshelf, NoteLedge, Notes Plus, etc.
Q. Which are the writing to text iPad apps?
Ans: Evernote, Notes Plus, Pen to Print, Notability, WritePad for iPad, GoodNotes 5, etc.