Word is Waiting for an OLE action to finish
Microsoft word is a very popular and worlds widely used software, As we all know word is used to create documents. But one serious error most of the users face during creating the document in word, today we are sharing all information regarding this issue.
All about – Word is waiting for an OLE action to finish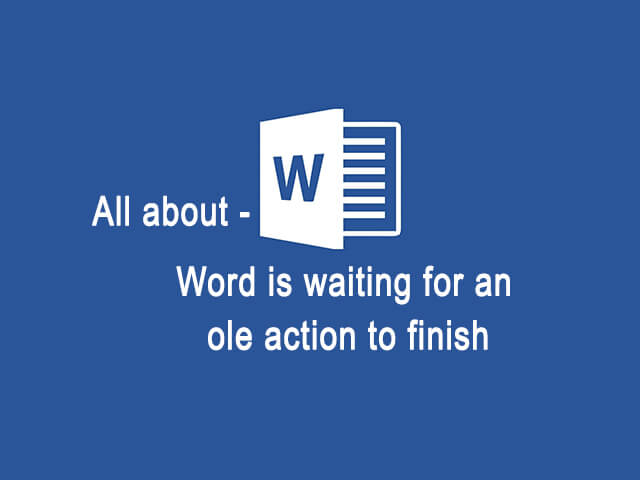 What is exact error message in word
When you are using a word file and you want to insert a math equation in the document then you have to click inline to insert math equation, if you are doing this thing you will get one error message on your system screen by the name " Word is waiting for an ole action to finish"
Sometimes this error occurs when you try to copy any image in a word document and its not go away easily, its really annoying and time-wasting situation for users.
This Error issue also happens when we click on Display, Left numbered or right numbered.
Math equation and its settings is available in "Math Type Dialog Box"
The reason behind this error is mostly when we use word document we do tasks like
we are opening a word documents and keeping it open.
Then we are opening math type dialog box, As we know there are many math dialog boxes available on the system which is confusing us and we are trying to fix the math font, Either by the wrong way we choose the font and go in a word document Or We leaving math type dialog box open with "Define style" option.
In the next step when we are trying to insert an equation with the help of the math type dialog box, the Math type dialog box does not open the equation for you because 'Define style " have still open there as it is in the dialog box.
Due to all of these above reasons system shows one error message on the screen as " Word is waiting for an ole action to finish'
Ole Means – Object linking and embedding.
Here we can clearly understand that there is some task still pending or session is incomplete regarding math type dialog box and system giving instructions about to do that task appropriately.
How to Fix OLE Action Error in Word
Switching math type and closing dialog box both things at a time not possible so some below steps you can follow.
You have to click on windows icon first
Among many option in setting you need to choose project option.
In project option you have to choose PC Screen option only.
So, now you will be able to open the math type option and close the dialog box so you can easily insert a math equations in a word document from math type and complete your task without error.
In this way, you can solve the "Word waiting for an ole action to finish" error, in another case during image copying from word if the same error you are getting then you can clean up temporary files from the c drive and reboot your computer.
We hope you have very well understood the exact reason behind this error as well as a solution for this, You can try these steps and solve your issue.