Word is Waiting for an OLE action to finish
Microsoft Word is a pretty popular and a very widely used software in this world. While working with this software, we can do many things, like writing letters, creating text documents, resumes, and a lot more. While we are doing some different things in Microsoft word, we might come across many different errors. There is one such error, which usually comes when we are doing something related to OLE, which stands for Object Linking and Embedding.
The Object Linking and Embedding (OLE), is a technology developed by Microsoft, with help of which, users can create and edit documents, which contains objects from other applications. Like for example, we can have some spreadsheet in our word document, and we can work on it while we are inside our word document.
Sometimes, while trying to do something related to object linking and embedding, we might get an error, which might say something like –"Word is waiting for an OLE action to finish".
All about – Word is waiting for an OLE action to finish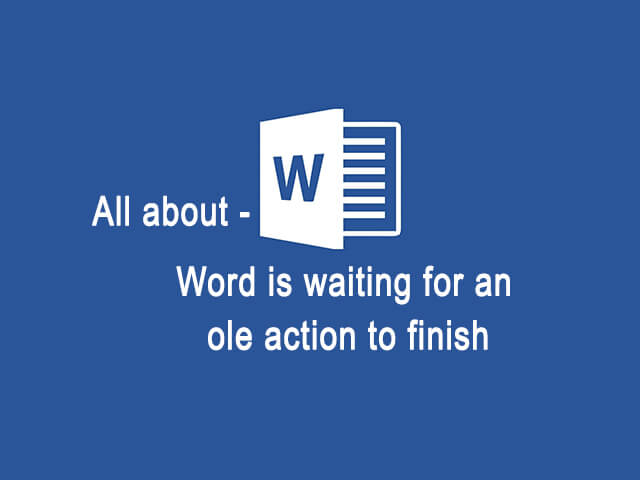 What is exact error message in word
When you are using a word file and you want to insert a math equation in the document then you have to click inline to insert math equation, if you are doing this thing you will get one error message on your system screen by the name " Word is waiting for an ole action to finish"
Sometimes this error occurs when you try to copy any image in a word document and its not go away easily, its really annoying and time-wasting situation for users.
This Error issue also happens when we click on Display, Left numbered or right numbered.
Math equation and its settings is available in "Math Type Dialog Box"
The reason behind this error is mostly when we use word document we do tasks like
we are opening a word documents and keeping it open.
Then we are opening math type dialog box, As we know there are many math dialog boxes available on the system which is confusing us and we are trying to fix the math font, Either by the wrong way we choose the font and go in a word document Or We leaving math type dialog box open with "Define style" option.
In the next step when we are trying to insert an equation with the help of the math type dialog box, the Math type dialog box does not open the equation for you because 'Define style " have still open there as it is in the dialog box.
Due to all of these above reasons system shows one error message on the screen as " Word is waiting for an ole action to finish'
Ole Means – Object linking and embedding.
Here we can clearly understand that there is some task still pending or session is incomplete regarding math type dialog box and system giving instructions about to do that task appropriately.
What does the error wants to say?
First of all, we can consider understanding, why this error might occur?, and what does the error wants to say? Well, this error is straightaway saying that word is still waiting for some OLE action to finish. This means that we attempted for some object linked and embedding, and it could not happen properly, and now Microsoft Word is giving such errors.
You might also get some options like switch to, or retry, and cancel, clicking on which is not going to do much for you.
How to Fix OLE Action Error in Word –
There are some quick fixes available for getting rid of this error, and we are going to discuss a few of them here. So, lets get started –
Way 1 – It might feel silly, but sometimes, a restart is all that we need to do!
Yes… you read it right. This is a pretty silly fix, but a restart might be a solution. This problem might seem annoying, but restarting the system can prove to be a quick fix over this issue. So, you can try restarting your system, and then try doing what you were trying to do again. Well, if the error went away, its all right. If not, it's still all right, since we got some more fixes on the way to work around, which you can give a try. But however, restart sometimes works!
Way 2 – There might be a case, that you were using the MathType to insert a MathType equation, and you clicked insert to insert the equation after you are done, and you just see this error. If this is the case ,this might be a fix for you. Well, there might be a situation that there are some MathType dialog boxes still open, and then you tried to insert the equation into the Word document.
If this is the issue, the fix is easy. You just have to switch to MathType, and close the dialog box!
But sometimes, this is not that easy. What if you are able to see the MathType icon on the Windows taskbar, but clicking on it does not open the dialog box? Also, doing Alt + tab does no help! Now, what are we going to do?
Well, this time as well, the fix is easy. All we got to do is follow the given steps –
Step 1 – Click on the notification icon, which is usually present on the right side of the windows taskbar.
Step 2 – somewhere, you might be able to see the project option there. You need to click on that.
Step 3 – After clicking on project, another pane opens on the screen, with several options, like PC screen only, Duplicate, extend, second screen only. Out of these options, we have to select PC screen only.
After you are done with the above steps, the dialog box will be visible, so that we can close it, or we can open it from the taskbar to close it.
Way 3 – May be the disk cleanup would help!
Well, a DISK CLEANUP of your C drive would help. You can try performing a disk cleanup for the C drive. Follow the given steps to perform a disk cleanup for C drive –
Step 1 – Open your File explorer (This PC/My computer)
Step 2 – Once you are in This PC, just select C drive, and right click on it.
Step 3 – You get to see several options, out of which, you have to select the properties(which is probably the last option).
Step 4 – Once the properties dialog box opens, there we can see an option, called as Disk Cleanup. We just have to click on that. (if that option is not visible, click on general tab on that same window, and you will get to see that option)
Step 5 – Once we click on Disk Cleanup, another window opens. Here, you have to select all the things, that you think may contain temporary files.
Step 6 – Click on Cleanup System Files, and then hit OK!
Step 7 – In this step, you got to do nothing, but patiently wait!
Step 8 – After you are done with the disk cleanup, restart your computer.
Well, these were some possible fixes for the error – Word is waiting for an OLE action to finish. You can try any/all of the above stated fixes, and see if your problem gets resolved. Hopefully you might have understood the possible causes for the stated error, and also some of the fixes that you can try, so as to get rid of that error.
You can also try some other quick fixes, like enabling the option that says ignore applications that use DDE(Dynamic Data exchange), or may be disabling the add-ins, since you might be working with many add ins, and one or more of them are corrupt.
In short, there are many fixes over this, and you can work around some/all of them, and see if your issue gets resolved.
FAQ –
Q: What is OLE ?
Ans: Object Linking and Embedding (OLE), is a technology developed by Microsoft, with help of which, Office applications can communicate with other applications for doing something.
Q: What might be the causes for OLE action error?
Ans: The error might be received while we are working with the word or excel documents, with embedded objects. In general, while dealing with Object linking and embedding, we might get such error, which says that Microsoft Word is waiting for an OLE action to finish.
Q: What is the full form of OLE?

Ans: The full form of OLE is Object Linking and Embedding.