HR Policy Sample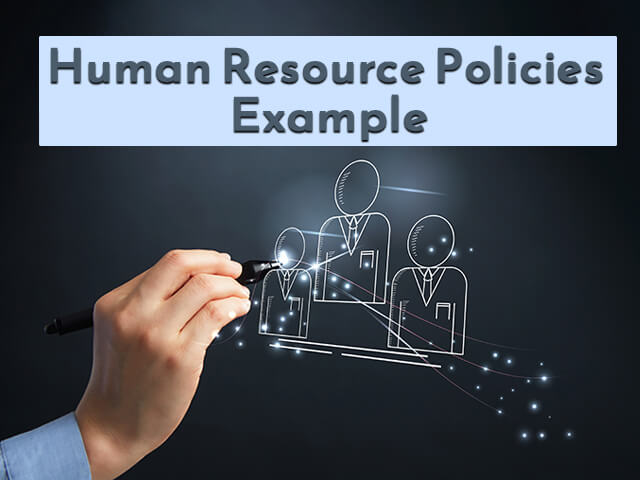 What is HR policy?
The employee of an organization is managed by a set of rules and guidelines this set of rules and guidelines is called HR policies. The HR policies focus mainly on employees' welfare along with companies' interests and vision.
The advantages of HR policies are given below.
Company has a Legal protection because of it's HR policies.
The conditions of employment are expressed with transparency in HR polices.
Employee expectation with regard to their career growth is set by HR policies.
They help you to resolve employee complaints and conflict.
They decision-making process regarding various matter of HR is seed up by HR policies.
HR policies ensure that all employee should be treated equally and fairly.
The main purpose of HR policy is to create safe and healthy working environment.
Now you know what are HR policies and what are their advantages let's talk about the 10 HR policies to include in your handbook.
1. Code of conduct
Code of conduct policy is all about how employee should behave at workplace. The purpose of this policy is to maintain discipline in company and let employee know their boundaries in terms of conduct. Under this policy following issues are mentioned such as:
Dress code
Social media use
Alcohols and drug use
Harassment and bullying
Punctuality
2. At-Will Employment Policy
This policy says that both employer and employee can end the employment relationship at any time for any reason provided that the reason is lawful. This policy should preferably be mentioned at the top of your employee handbook.
3. Termination Policy
Termination Policy gives guidelines about how an employee should give his resignation.
The employee should give an advance notification about his resignation at the time limit for giving advance notice is mentioned in this policy. This policy also mentioned the rules which  violation can result in termination of service of the employee.
4. Working hours and Overtime policy
This policy gives guidelines about working hours when to check-in and when to check out. This policy also explains the flexibility of working hours and the overtime policy of the company.
5. Attendance and remote work policy
If your company allows you to work from home then rules related to it are explained in this policy.
The following points must be clarified in this policy.
1. Who is eligible for remote work?
2. What are the limitation of work from home policy?
3. How will the company supervise the online work?
6. Performance evaluation and Promotion policy
How the company monitors and evaluates the performance of an employee is stated in
policy how promotion is given on the basis of performance and seniority is
elaborated in this policy. This policy ensures the equal treatment of all the
company employees. This policy also motivates the employee to perform better in
his work.
7. Health and Safety Policy
If you work in a manufacturing company then there is always a risk of getting an injury. The Health and safety policy contains a protocol that should be followed to avoid injury and what to do immediately after the injury happens. The rules that must be followed by all employees so as to make the workplace safe and secure are listed in this policy.
8. Expense Policy
Sometimes company employees need to go to a different location for marketing or to attain seminars. In such a situation expense limits for travel, accommodation and meal are mentioned in the Expense policy. In case the employee pays this expense from his own pocket then the step-by-step procedure to get its refund from the company is mentioned in this policy.
9. Benefits and Compensation Policy
This policy contains complete details about payment method, amount of payment, Date of payment, Bonus, allowances, the deduction for unpaid leaves, and so on.
This policy also gives information about retirement plans and company wellness programs.
10. Leave Policy
To work with full potential you need some days off because along with work rest is also necessary for sound physical and mental health. This results in a maximum output from the employee. The leave policy elaborates how many paid and unpaid leaves can an employee take. What are the rules regarding leave are clearly stated in this policy? What is procedure of getting leaves is also mentioned in this policy?
Example of HR strategies
1. Purposeful Hiring
If you want to achieve the desired goal in business then it is very important to select the right candidate for the job. The company should have its own strategy while recruiting employees. The selection of employees depends upon the type of goal you want to achieve
Along with academic qualifications and experience, the need for employees to work with a company is also important. Such a candidate should be hired who has desired skill to achieve the set target and will remain with the company for a long time.
2. A good onboarding experience
A good onboarding experience is one of the best HR strategies. Hiring talent is time consuming and expensive process. If a new hire does not feel well oriented with the company in the first 90 days then there is a 90% chance that he will leave the job. Hence in order to orient new hires toward the company good onboarding experience is an important HR policy.
3. Frequent Communication
Success is the result of teamwork and good teamwork means good communication between every member of the team. In any organization, if they want to achieve the desired goal in a stipulated time then there must be proper communication between different departments of that organization. For that purpose, an executive meeting should be held every day and in this meeting, everybody should be given chance to speak.
Frequent communication between companies' top officials to the bottom-most employees is goal oriented HR strategy.
Meetings should be held and the executive level and staff level. Everybody should be free to give an opinion and express their views.
4. Growth opportunities
Incorporate world, HR strategies are all about raising the standard of both employee and company. If you pay the same amount of salary to an employee for a long period of time then the probability that he will leave his job is very high. What is the solution to this problem then? Promotions are solutions to this problems. But you can not give promotions to employees overnight. Then you should use soft progressions such as giving employees more responsibilities, projects, and an increased role scope. In return give employee bonus for extra work. Growth opportunities strategy can prevent 78% quit rate of employees.
5. Competitive Salaries
The companies retention rates and productivity directly depend upon the amount of salary the company can give to its employee. The companies are highly competitive in hiring the best people for the job. Determining the right salary is a crucial function HR department. It requires lots of research of companies finances, trades and market. It is very crucial to decide the amount of salary a company can give to its employee but if they can give a good competitive salary the companies growth and reputation is secured.
FAQ
Q. What is HR policy?
Ans: The set of rules and guidelines that manages the employee of an organization is called HR policy.
Q. What is the need for HR Policy?
Ans: The HR policy is needed for the welfare of employees along with companies growth.
Q. What is the importance of the leave policy?
Ans: The number of paid and unpaid leave must be clear to employees. We can not work every day of the week and we also have some emergency under this condition there must be the provision of leave.
Q. What are HR strategies?
Ans: The planning done by the HR department of the company to achieve a particular goal is called HR strategies.
Q. Which points should be mentioned in the Code of conduct policy?
Ans: The following point should be mentioned clearly in the Code of conduct policy.
1. Dress code
2. Social media use
3. Alcohol and drug use
4. Harassment and bullying
5. Punctuality V