If you are involved in some legal case, then having a good attorney can prove to be a very important step towards your winning in the legal case. For many people in the very first, time, it might feel like a hard task to find a good attorney, but I should tell you that it is not a So–Hard – Task.
But you need to take your time searching for a good attorney, since it can likely help you in winning the case if the attorney is good, and has relevant experience in the issues like you have involved.
How to Find Good Attorney
In this article, we are going to discuss how to really find a good attorney, so that it improves your chances of winning the case, but still, terms and conditions apply.
Why do you really need a good attorney?
Well, this can be really a valid question, why do we even need a good attorney, doesn't any attorney do the task? Well, it is very important and you do need a good attorney, and in fact, one of the best attorneys, due to the following points –
Legal Expertise – A good attorney has good experience in handling legal cases and can help you a lot in a variety of cases.
Specialization – Many attorneys are specialized at solving special types of cases and having a specialized attorney related to your case or issues can always help.
A good network – A good attorney can have a good network, which can always help.
A good position in Court – Having a competent attorney with you in the case can be crucial for representing your case in court. This is because they can argue better in court, cross-examine, and properly investigate the situations from all angles.
Negotiations and settlements – Attorneys are skilled negotiators who can help you secure the best possible outcomes in the settlements.
Legal documentation and paperwork – A legal matter may involve a lot of paperwork and legal documentation, which can be easily handled by a good attorney, ensuring that everything is in order, and nothing is overlooked or missed.
So, there are a bunch of reasons why you need a good and experienced attorney for your legal matters. Of course, it depends on the intensity of the matter that you are taking to the court which is a heavy parameter, but for some crucial legal matters, it becomes important for you to find a good attorney by your side.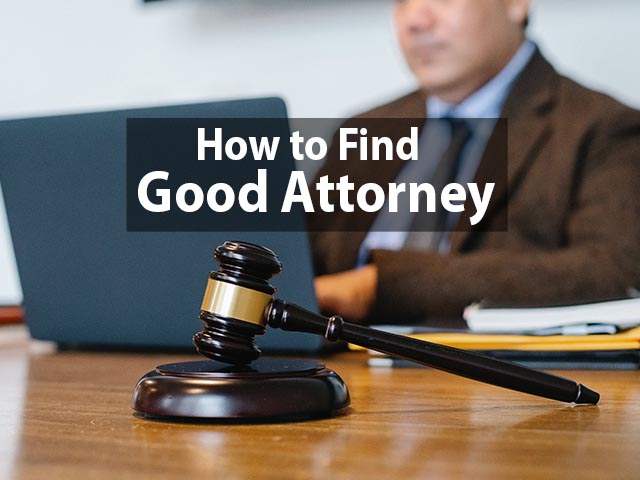 How to find a good attorney –
Determine the type of attorney you need
As mentioned earlier, many attorneys specialize in a particular class of cases. So, first, you need to determine the type of attorney you need for your matter, like Bankruptcy, malpractice, labor law, tax, corporate, family matters, civil rights, financial, real estate, and more.
So, you really need to choose the best possible specific type of attorney, which can better help you with your matters in court.
Review online reviews of the attorneys
There are many websites and platforms, that allow free reviews for businesses, so you can go through the different reviews and experiences of other people for different attorneys, and then decide for yourself.
Some platforms include – LawHelp.org, lawtrades, avvo.com, and many others. Also, don't forget to check multiple resources to check the reviews for the same attorney if available.
You can contact the Bar association
You can also contact the local bar association to find some qualified attorneys in your area. They have a public record of the complaints and actions taken against attorneys licensed to practice in the state.
They can also help you find an attorney to suit the needs of your case matter. On the American Bar Association website, you can find a local bar association website for your state.
Ask for referrals from your neighbors, friends, and contacts
At times, taking help from your friends, relatives, contacts, neighbors, etc. Can help you. You can ask them if they have such attorney in contact who can help you in your legal matters. Also, if you know someone who has gone through a similar case earlier, you can ask them about what they did, whom they hired, and some other things to get yourself clear about the matter.
Make a list of attorneys that qualify for you
When you are actually searching for an attorney, it is a serious matter. So, you should actually list down all the potential attorneys that you find in your search asking others, finding on the websites, or more ways. Also, try to rank or prioritize them, as it will be important for you ahead in making a choice.
These are going to be the final choices, and you are going to choose one of them as your attorney. This list is subject to change and may add up or remove some attorneys.
Try to review them, or know more about them.
Now that you have a list that you can go through, try to review the most potential attorneys you found for your case, like looking for the reviews of the clients, going on their websites, asking for peer reviews, looking for some general information about the person, and also try to check their social media profiles.
Try to look for a bigger law firm
We all know that the size of the law firms may vary, but it can be better for you if you try to find a good attorney and a bigger law firm. It would help you in handling extremely complicated, international, and bigger legal matters.
However, it depends on the intensity of the case, that whether or not you need to visit a bigger law firm, but you need to see what suits best for your case.
Filter out your list, and try to contact the potential attorneys
Through the searching process, you might be able to filter the list and remove some attorneys who don't completely suit your case. Now the time is to contact the ones that mostly suit your case. Try to consult them in person, or try to have a phone call, so that you can make your issues clear with them, and may come to a deal.
Have the most relevant questions when you talk to attorneys
When you meet the attorneys in person, or on the phone call, and you have an enough big meeting, you should ask the most relevant questions related to the case and the attorney. You can ask about the matters relevant to your cases, find out about how long he/she has been practicing, and some other obvious stuff.
Don't hesitate to ask for things like price, time for the matter to solve, the intensity of the matter, the attorney's availability, the success rate in your case, and more questions.
Finding an attorney may not be an easy task, but it's not so hard. You just need a good approach, and you can find a good attorney for your legal matters easily. First of all, you need to define what you mean by a good attorney, because it may depend on a lot of factors, like what's the intensity of the legal matter that you are involved in.
Conclusion
In this article, we have seen how can we find a good attorney. There are many ways, like asking your friends and relatives for an attorney, finding attorneys online from various resources, and with one or more collectively implemented techniques, you can end up finding actually a good attorney who can help you in your legal procedures.
Note that this article is just for informational purposes, and the time to find a good attorney can be unpredictable, and it depends from region to region. But with the above-specified points, you may find a good attorney easily.
FAQs related to how to find a good attorney
Q: How to find a good attorney?
Ans: There can be several approaches to this. You can try asking your friends and relatives or searching on the internet, and you can find a good attorney who can help you in your legal matters.
Q: What makes an attorney a good attorney?
Ans: To your specific needs and the intensity of the case, the definition of a good attorney may vary. Someone who is experienced and specialized in that particular type of case that you are facing, someone who has a good position and network in the court can help. So, the definition of a "Good attorney" may really vary.
Q: Are there many types of attorneys?
Ans: Yes, depending on the type of legal matter, there can be some different types of attorneys, like family lawyers, labor lawyers, Bankruptcy lawyers, and more.