Hey, Friend In this article today we discuss The Google Translate or also called Google Translator is one of the most used Android apps in the Play Store. Its operation is as simple as writing the word or phrase that we want to translate in its corresponding language box.
In just an instant we will have our phrase translated into the language we select. What is the Google Translator and what is it for?
The translator of Google (Google Translate) as mentioned above, is an excellent application to translate texts in any language but despite being well known, this app has many interesting options rarely used.
How does the Google Translator app work?
Google Translator is available as an iOS and Android app.
Its operation is very simple, and very similar to the web version just reviewed.
By default, you must enter the text you want to translate. Just above you can choose the original language, and to which you want to translate:
At the bottom, there are several icons that activate new ways of translating.
Camera: point the camera at a poster or text, and translate it in real-time
Handwriting: Touch to write a text by hand, and translate it
Conversation: very useful if you have to speak with a person who speaks another language. With the mobile microphone, it will translate the conversation in both directions (but you don't have to talk at the same time!)
Voice: you can dictate the text you want to translate
The 5 weirdest Google Translate searches you can do
You may be interested:
Google Allo Google WhatsApp
PhotoScan an old Google photo editor
In general, it can be said openly that Google Translator is a free multilanguage service provided by Google itself. It gives us great utility as far as text translation is concerned, but it is not only limited in this area. And it can also translate voice, images and even video in real-time.
Google Translate Versatility
Versatility … that is the word and is that Google Translate is available in numerous areas ranging from its official website, moving to mobile applications of different platforms ( Android and IOS ) and even gives us the possibility to implement an API for developers They can build extensions on different Software platforms.
More than 100 languages available
With Google Translate you will have the option in both the mobile and PC versions to translate more than 100 languages, specifically, it supports 103 languages that support more than 200 million people daily. Even with languages and dialects from different regions such as Catalan, Galician or Basque.
Google Translate Artificial Intelligence
The Artificial Intelligence Google Talk is making strides and that in 2016 the company added a system of neuronal automatic translation. This can basically sound like another language (never better), it is nothing more than a system that analyzes the way we write and applies an artificial intelligence algorithm depending on the context of the conversation.
This is great because it allows you to learn AI, provoking a more accurate response to user questions so the quality of Google Translate improves exponentially.
The languages to which this technology currently has access are the following:
English.
Hindi
French.
Turkish.
Spanish.
German.
Portuguese.
Japanese.
Chinese.
Google Translate
Google translations are written or by audio
You can translate any phrase either by using a keyboard or dictating it by voice by using Google's voice translator. It should be noted that since the end of 2016 the free text translation provided by the Google translator is limited to 5,000 characters. This kind of moment does not run the translation of websites since it does not seem to have an extension limit.
Translation of photos, yes of photos
As you can see, the Google translator is recommended in almost any situation. If we travel abroad we can identify posters in another language with the Google Translate camera function for Android.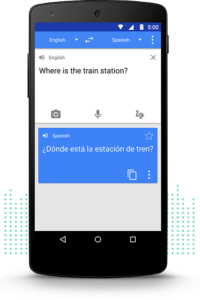 Google Translate English – Hindi (or more languages) on websites
This is one of the most used functions of this great application. With it, you basically add this feature with an extension in the Google Chrome or Firefox browser.
Google took advantage of its translator thanks to the purchase of Word Lens. And it is that thanks to this incorporation we can use instant translation thanks to augmented reality.
And this function of Google Translate is as easy to use as focusing a text using the camera. In this way, the Google translator translates in real-time what the camera focuses. This is not a novelty, except that a few weeks ago we have the function of using the translator from Japanese to Spanish.
It also allows us to translate offline, as long as we install the language packs. As if that were not enough, this offline translation can be applied to instant translation through the use of augmented reality. This is very useful if we travel abroad and do not have a data rate and we have to translate posters or any type of text.
The Google Translator APP Can Now Be Used As A Dictionary
Another of the new features recently added to Google Translate that makes it much more useful is its dictionary function. And the novelty is that using the Google translator as a dictionary was already present in its web version but not in its mobile application.
Google Translate Dictionary
This means that from now on every time we write in the google translator a word will also show us a text with its definition as a dictionary.
When we refer to "a word", it is that for now the Google translator dictionary only shows us the meaning of a word and not a phrase or text.
One very important thing to note is that the definition given by the dictionary will be in the language in which we are translating. For example, if we use the English to Spanish translator, the definition will come in English.
Google Translate Download For PC Or Android Mobile
You can download this Android application from the download link below: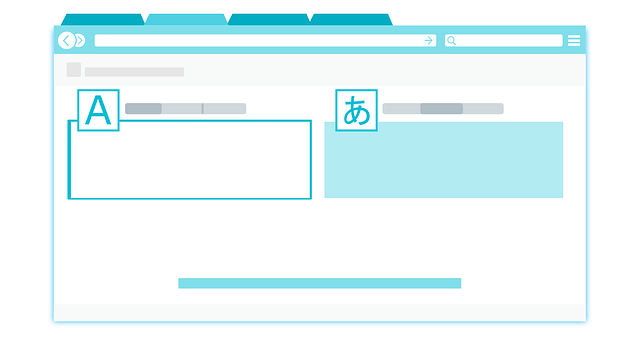 If you want more information about this useful app you can visit this complete post about Google Translator.
Can you translate directly in the browser?
The truth is that yes, you do not need to enter the Translator website to translate. You can do it directly from the browser bar.
For example, if you want to translate the word cooking into English, simply type in the Chrome bar or another browser that uses Google's search engine: how do you spell cooking in English, and you will get the translation:
Another option is to type the word translator in the Google search engine. The window shown in the previous image will open, and you can write the phrase you want to write.