We can find many small businesses that merge the management of private income and business profit. This setup creates confusion as it can be difficult to distinguish personal and business assets.
A business bank account differs from a personal account since it has a higher interest rate and the money that can be transferred is also higher. A business account may have unique requirements like a large initial deposit and a large minimum monthly deposit.
Listed below are a couple of useful considerations when choosing your first business account in a bank.
Critical Considerations for Choosing Your First Business Account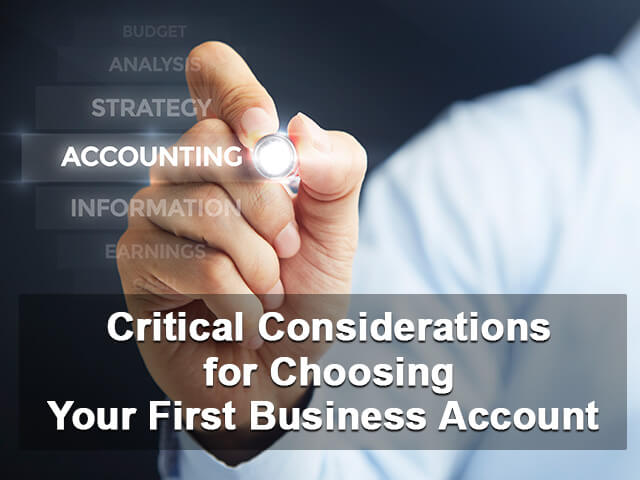 Check their reputation
A bank's reputation is crucial; therefore, finding the best bank account for your business from the right lender. You don't want to apply to a bank with a sore reputation and history.
Check publicly available information such as their capital; how about their profit? When an economic recession occurs, the bank can remain strong. How has the bank developed in recent years? Do they have a good listing on the stock exchange? Only do business with a bank you trust.
Evaluate their network
See if the bank integrates with other banks within and outside the country. Integrated banks allow you to easily make transactions with other business owners and not have issues with remittances. Seek out how many branches the bank has all over the country and their presence in other countries. Is doing transactions locally and overseas easy? This is vital as you will potentially collaborate with overseas companies in the future.
See services offered
After you find the best business bank account from a local bank, the next consideration is their line of services. This will include in-branch, internet banking, ATM, and other services. Pay attention to how the services are delivered. Are the consultants/tellers proactive in providing solutions? Do they provide 24-hour support?
Different types of banks offer varying features for their services. For example, you might get more customized service at a small, local bank or credit union. However, you might get better features of convenience with nationwide chains. Large, nationwide banks generally offer more products, perks, and lower fees, plus there's the convenience of a big branch and network.
Consider interest rates
While bank interest is no longer the main consideration when looking for the best business bank account, it's still worth checking their interest rates and fees while weighing it against their services and track record. The cheapest rate doesn't mean more savings and a higher one doesn't always mean better service.
You will notice that some banks offer similar services. The difference is their expertise within the scope of services, the fund they manage, assets, and track record. If you have a growing business, finding the best bank account is essential to meet your growing requirements. With a good bank account, you can manage your profit, assets, liabilities, and cash flow and monitor your business's financial health and growth.
Sometimes, you'll find the right provider via a fellow business owner. Consult with a business owner you trust operating a business of roughly the same size in the same location and the same industry. If they recommend their bank, it's worth checking out.