Just a few years ago, there was no demand for the function called video marketing today. But see today, Video marketing has become the primary attribute for digital marketing values.
Video marketing is in raze today; you believe it or not. It has created great vibes in the epitome of digital marketing. And tell you to want, this is not a vague idea of doing marketing, this is pretty successful, and your prospects are loving it.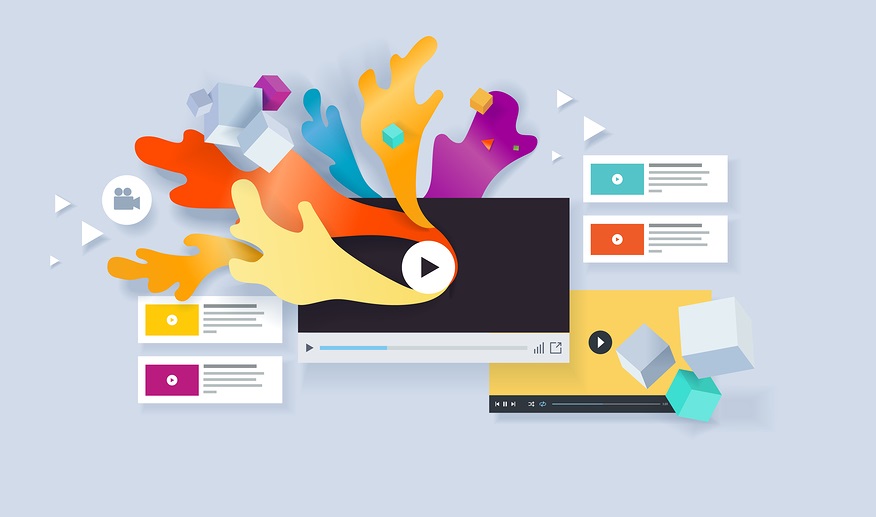 Why is Video Marketing becoming so Popular and loving?
Marketers have always tried to do things that can gain results and give business outcomes. The story of video marketing was also introduced that way. It has been seen that companies doing video marketing at a relative phase are gaining better call to action from their potential customers over those who are still with traditional marketing.
Video marketing has evolved because we liked it. As marketing, promotion of informative content, videos have played a significant role. To reiterate a few reasons here, we must say –
Videos are friendly to understand.

It has visuals so people can relate fast and quick.

When the relation between the advertising campaign and your customer is quick, you also get that converted quickly.

Videos can be played with an enormous number of graphics, so there is no limit.

Videos are stock products. There are two differentiations in terms of contents. One is stock content; another one is flow content. In terms of the variety of materials, we get to see those frequently need up-gradation. Otherwise, the freshness of the content expires. And it becomes outdated. But when you create videos for your marketing campaign, you create stock content videos. It even keeps fresh after years that a customer can enjoy it.

Doing campaigning with videos makes your way easy to convince people. As an example, we can say, whiteboard videos, also known as explainer videos, are very eco-friendly for the company. 

It takes the least cost and gains excellent attention

.

Today everywhere the video widgets are available. So the capacity of the digital media has enhanced drastically. Hence it's accessible to market videos. You have got the right infrastructure for it.
Fun Fact
After explaining all the above advantages, we would also like to let you know certain things, that is why a business should opt for a video marketing campaign.
Videos created for campaigning are not long duration videos. The maximum of such videos winds up under 90 seconds or 120 seconds. The point we are trying to make it, such kind of content is exact and help your customers complete the video soon. As we know, no one likes to get stuck with high content for much time.
Being less in duration, these are very cost-effective and flexible. The majority of the video marketing agencies out there, charge in terms of the second basis. So suppose for each second if they charge 500 INR, i.e. $7, and you plan to make five videos of 1 min each, so your investment is pretty affordable. But the result you gain out of it is beneficial.
Videos improve your CTA, i.e. the Call To Action. Recently, the most popular company HubSpot team has found out 60 percent of marketers are boosting over the video marketing niche, and this is gaining more than 30% of profit for them.
Also, if you see, the use of such small videos is straightforward and quick. You can use them in social media, in your email campaign, WhatsApp campaign, and even with standard SMS.
How should you approach doing video marketing?
Well, after so much of a boom in the video marketing domain, every other business in the market, especially the startup companies are willing to do video marketing. But very evidently, one question occurs, which is "how you start this activity".
Video marketing is not rocket science. Many agencies take care of your video marketing needs, and they charge for this — the charges of video marketing differs from agency to agency. Some professionals take care of your complete start to end video marketing project, and at the same time, some freelancers handle your plans on a gig basis.
Remember, always you 'don't need to approach video marketing agencies. If you have a marketing team, but you don't have technical support to create the video, then you can hire someone for that. They will understand your business goals and give you the right video in the place.
How many videos you want to create, and what kind of message you want to provide is all on you. Also, there are different types of video marketing content.  
There are whiteboard video marketing contents which are flat and straightforward videos. Such videos focus on explaining something and get along with a voice-over. Such videos are not attractive, These are very simple and justifies your need for video marketing for your customers.

Another one is that what comes with good looking animation and cartoons. In such kind of videos, the creator gives you charming and attractive content with funky pictures. Such material is more engaging, and the customer loves seeing this. It is costlier than the whiteboard video content. Also, the traffic you get here is so high, and the bounce rate is very less.

The next that comes in with the people of the organization. There are companies they 'don't take a back foot while creating video content for their marketing while they featured in the video. Here such videos have a theme or script, a set of people of the company they speak over the video covering a context and giving a message to their customers. This kind of video also does good engagement.
The moral of the story here is, what kind of video content you are creating is an essential aspect here. It also depends on what kind of business you are in and what suits it best. Your marketing content has to have the right suitability to attract your customers. If not, then you will surely miss out on a good chunk of customer attention after investing so much in your campaign.
If you are new to this content, then you should check out some of the best video marketing examples. These examples will blow your mind and motivate you to take up this action.
Take note that we are not justifying that there is no failure rate in a video marketing campaign. But there is a good potential for success.

We are catering to this domain for a long, and have created endless blogs to help you if you still 'haven't visited then do check. Comment and subscribe to get more updates, and we will answer your queries.
—-Author Bio—-
Chehak Wadhwa is a Creative Head at Web dew and has an intensive 10+ Years of Experience in Designing & Animation. She has produced 500+ Videos with her team including some of the well-known brands in the market like UBER, Microsoft, T-Mobile, Calendar, etc.