If you are working in a creative space/office, you have surely heard about the machine that's called a vinyl cutter. These are becoming more popular as people realize the power of being able to print out your own designs in a matter of a few minutes. Yes, the 3D printer may allow even greater performance, but it is more complicated to use, requires time, and experience. Oh yes, and it is much more expensive than your average vinyl cutter.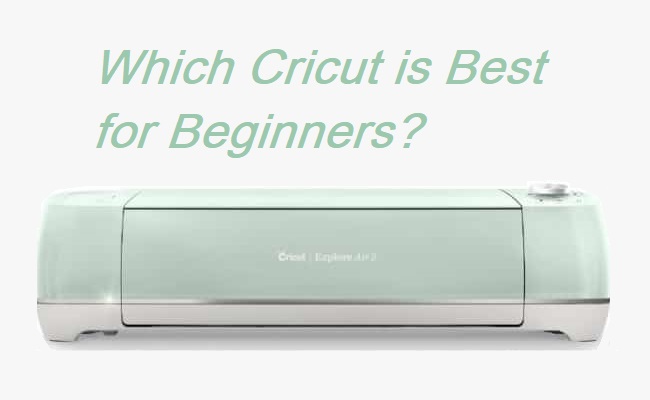 Given the high popularity of these machines, there have been few big names that have come out with their own twist on the product. Amongst all, it seems the Cricut vinyl cutters provide the best performance for an affordable price. The Cricut guide is awesome and really helpful if you want to get a better insight into what these machines are and what they are capable of.  
We, on the other hand, will do our best to simplify matters and give you an answer as to which Cricut is best for beginners, comparing the pros and cons, and simplicity of use. Without further ado, let's go ahead and find out the answer. 
Cricut – The Best Beginner's Choice
As we mentioned above, there are more than a few great models on the market, with the Silhouette Cameo 3 and Cricut Explore AIR 2 offering the best performance for your money. The Cricut brand has three vinyl cutters in their series of products, including the Explore AIR 2, as well as the Cricut One and Cricut Explore which were earlier releases. While these two offer exquisite performance and are highlighted by handy software and efficient cutting, it is the Explore AIR 2 that takes all the glory. 
As the newest product in the series of Cricut vinyl cutters, this one is somewhat pricier but does make up for it with an array of innovative features. First, it has a great capacity so you can cut and print out designs up to 12 inches in width and length.  
All this is to be done using the sticky mat as well as the premium blade German that ensures fast and simple cutting. Fast, easy to use, and featuring over 100 materials, the Cricut Explore AIR 2 also offers an online library that includes hundreds of pre-made designs, perfect for beginners that don't yet understand how to draw their own. 
The two highlighted features that are important if you are just starting off, are the Smart Dial and dual tool holder. The Smart Dial ensures that the vinyl cutter remembers the depth and pressure you were using to cut a certain material, and uses the same settings each time you do so again. This will save you time, and reduce the risk of errors. Also, the dual tool holder will allow you to draw and cut at the same time, making the whole printing process complete in a few simple steps.  
Overall, a great choice for both beginners and those who have more experience with vinyl cutters. 
Cricut Beginner's FAQ 
Now that you know which Cricut is best for beginners, it is time to go ahead and cover a few of the more frequently asked questions related to what is this machine and how to use it.  
What is a Cricut Explore Air 2?  
It is a vinyl cutter that will allow you to create unique designs printed out on a variety of materials including vinyl, paper, foam, cardboard, fabric, and even wood! Whether you are looking to create your own apparel, decorate your house with wooden signs, or print out specific patterns on mugs, the Cricut Explore Air 2 has you covered. 
Can you upload images? 
Yes, you can! The Cricut machine features a free SVG library, through which you can upload files that are compatible with the Cricut Design Space.  
What materials can you use? 
As we mentioned above, there are over 100 different materials you can efficiently use when creating exquisite prints and designs. Fabric, glitter vinyl, wood, denim, balsa wood, copper foil, and leather are all compatible and ready to be modified. 
What supplies should you have? 
A simple question with a complicated answer. This all depends on what machine you are getting and what you want to create with it. Our recommendation is to check out the many Cricut bundles offers as these cover all the items you will need to get you started. 
Conclusion 
The Cricut Explore AIR 2 is a vinyl cutter of superb power (410g). It includes innovations like the Smart Dial and dual holder that make the printing process a lot easier (compared to the previous models). It is a great long-term investment and a choice that you will not regret, no matter whether you are a beginner or someone with more experience.