In simple terms, a software or IT consulting company is a business that provides professional advice on information technology to individuals or organizations and charges a fee for that.
Such IT consulting companies hire IT specialists and subject matter experts who do consulting jobs on behalf of the organization.
IT consulting companies study the workflow of the clients, identify the loopholes and weak areas, and recommend software and system solutions to streamline the whole process.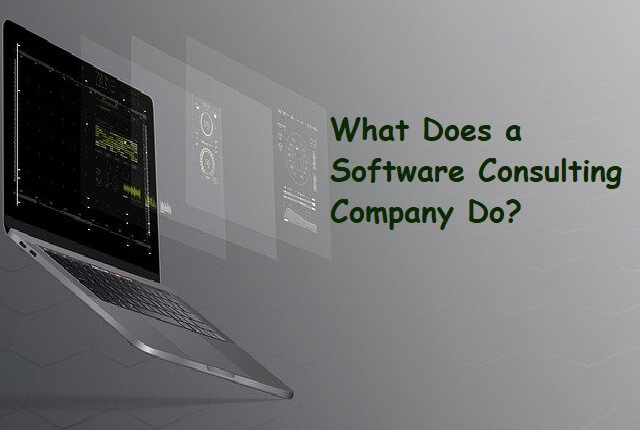 Types of Work that Software Consulting Companies Do
Software consulting companies provide professional guidance and recommendations on all kinds of IT problems and projects. Their scope of work includes network operations, cloud services, cyber-security, etc.
They advise their clients on software application features and help them set project road-map and cost estimation. For IT goals that are not feasible or possible to achieve, IT software consulting companies help their clients in finding solutions.
Such firms also help their clients in IT hardware implementation and modification to raise their operational efficiency.
Usually, software consulting companies also offer the service of software and application development for their clients though not all such companies engage in all kinds of application development.
Another type of job that IT consulting companies do is the daily maintenance of the client's system.
Engagement Models for Hiring IT Consulting Companies
There are different models of engagement that businesses resort to when hiring an IT consulting company. The most popular ones are listed below.
Project-Based Pricing/ Fixed Cost model – Best when the project requirements are clear-cut
Time and Material model – Best when the scope of work varies as the project progresses
Offshore Development Center – An extension of the client's team at a different location
Benefits of Hiring the Services of IT Consulting Companies
Professional expertise: IT consulting companies employ professionals who specialize in carrying out all kinds of simple and complex IT jobs and possess deep domain knowledge.
When a business hires an IT consulting company, it gets access to the service of a seasoned team of experts who can carry out the IT jobs better than the client's in-house team.
IT experts ensure that problems like system or network downtime are fixed quickly to minimize productivity loss.
Financial savings: Hiring an IT consulting company as opposed to having an in-house IT team helps businesses save huge operating costs. Because the consulting firms are paid based on a man-hour or project basis, the burden of having full-time employees can be eliminated altogether.
Round the clock availability: This is perhaps one of the most convincing reasons why businesses go for specialized IT consulting firms to carry out and maintain their IT tasks.
Because jobs like cyber-security and other critical functions need to be running 24/7, IT consulting companies take this burden by deploying specialists on behalf of their clients.
Better focus: When a consulting service firm takes care of the IT problems, the client can focus on the primary areas of business and work for higher growth in the future.
Also, because IT consulting companies advise businesses on the latest technology and upgrades to improve efficiency, it proves very helpful for the client to make the right decisions.
The strategic advantages of hiring IT consulting companies make it a lucrative option for businesses across multiple domains to improve productivity and save costs.
In today's competitive times, a business that chooses not to leverage the advantages of outsourcing specific tasks in IT is constantly losing traction to its competitors who leverage these services.