Due to today's ongoing COVID-19 health crisis, more and more businesses are being forced to conduct work over the phone. If you are responsible for hosting these conference calls, you are going to want to ensure that you are ready to take on this challenge with confidence.
Here are 10 ways that you can project confidence in front of an audience.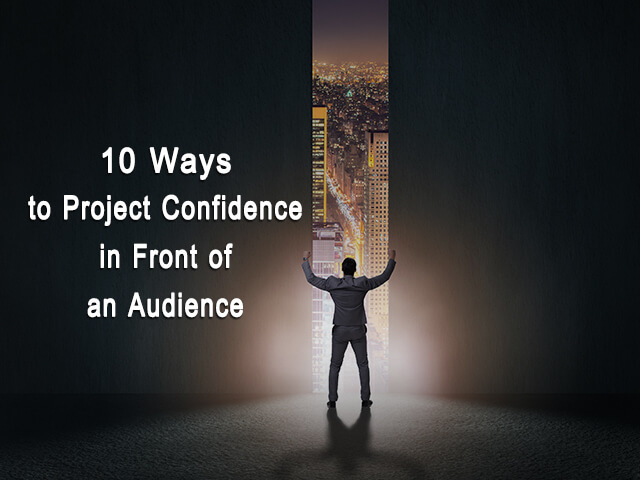 Make an Agenda
Nobody likes to be an attendee on a conference call that rambles on without any structure. You can make a big impact as a leader by providing a detailed agenda and following through with that plan. If you are leading the call, be sure to plan ahead what you want to say so that you are able to deliver the most pertinent points in the allotted amount of time.
Start and Finish on Time
You will gain the respect of your peers if you are able to start and finish the call on time. Setting the tone of professionalism will help you to stay on course. Attention to punctuality and time sensitivity is one of the best conference call tips.
Practice Your Delivery
If you are being charged with presenting information or giving an important speech over the call, it is a good idea to practice your remarks ahead of time. This rehearsal will ensure that you deliver a smooth speech with the right emphasis on your tone and voice reflection. Practicing will also give you the needed confidence to knock it out of the park.
Lean on the Conference Call Tools
Depending on the platform that you are using for your call, you are likely to see a variety of tools to help you to conduct the meeting in a professional manner. Savvy leaders lean on these tools to help them to get the most out of their meeting time. Regardless of if this is using the whiteboard option, the mute button, or the private chats, learning how to use these tools can boost your meeting experience.
Be Careful Not to Interrupt
One of the biggest challenges of a conference call is not being able to read the participants' nonverbal cues as easily. It is also more difficult to keep interruptions at bay. You can do your part by being careful not to interrupt others and by taking steps to ensure that every participant has equal time to voice their thoughts.
Assign a Participant to Take Notes
It is easy to get overwhelmed during a conference call when the information is flying at warp speed. Assigning someone to take notes will guarantee that no important information is lost in the delivery. Be sure that the note-taker disseminates the information in a timely manner so that everyone can review what was discussed and engage in the necessary follow-up conversations.
Anticipate Questions
You will be able to handle the meeting with ease if you can anticipate the questions that may be asked. Spending some time contemplating this will help you to prepare so that you have the answers ready to go. There is no shame in having some notes ready to go that you can refer to when responding to questions and concerns.
Identify Yourself Before You Speak
Before you get started with the call, it is recommended to introduce everyone and their roles. This is particularly important if this is not a regularly scheduled meeting. It is also a good idea to get into the habit of identifying yourself before you speak, especially if the call does not include a video component. Failing to identify yourself can make it confusing for everyone on the call to know who is speaking.
Dress the Part
Even if you are not on video, dressing the part will help you to ooze confidence while on your conference call. You will project an air of professionalism if you are dressed your best.
Smile!
There is no overstating the difference that a simple smile can make. Even if the participants cannot see you, they will likely be able to feel the smile through the call. This can make a world of difference in the tone and tenor of the meeting. Your smile is sure to come through, making everyone feel at ease and comfortable in speaking up.
With the right approach and planning, you will feel much better about your skills as an effective conference call facilitator. This confidence will pay big dividends as you navigate this unchartered territory.