Keys to a successful business
As a small business owner, you are likely always looking for new ways to succeed with your company and drive future business growth. Business success doesn't just happen; it's the result of making the right decisions, using the right strategies, and getting the right people on board to help.
Even if you have a wealth of business experience from your past career, every organization is different and business owners need to figure out what works and what doesn't very quickly. You might find that a strategy that was fool-proof when working for another company in the past just doesn't work as well for your current business.
The good news is that there are several straightforward things that you can do to improve company prospects and make sure that you are on the road to success, whatever the industry, size or age of your business. And while knowledge and talent are important for getting your business going in the direction that you want, you also need to have the right amount of motivation and know exactly where and how to apply what you know to get the best results.
Too often, smart people with lots of ambition limit their business success by making simple, avoidable mistakes. We've put together some steps that are worth taking to help you get on your way to business success.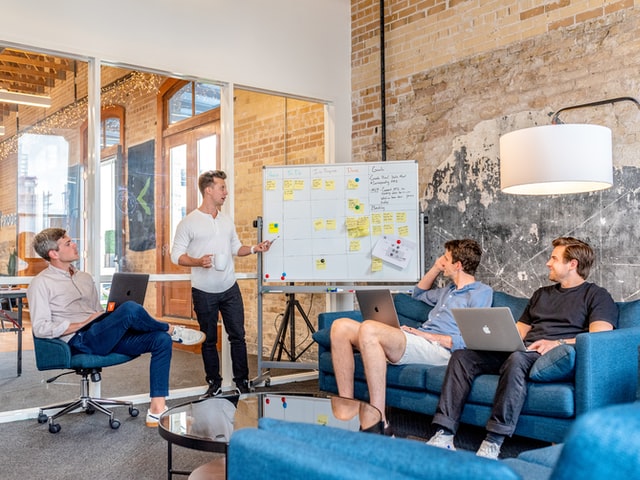 Improve Your Own Knowledge and Skills:
The first step in the process is digging deep within yourself and figuring out if there is any room for improvement. Chances are, there will be areas that you're not so good at that you could work on in order to get better results for your business; nobody knows everything or is good at everything that running a business entails.
If you're serious about improving your business knowledge and learning as much as you can to bring to the table and improve your small business prospects, you might want to consider enrolling in a relevant degree program.
There are several options to choose from and the option that you pick will depend on a range of factors, such as your previous education and experience. You might want to start small with a bachelor's degree in business administration or similar, or if you feel up to the challenge, consider an MBA.
If you have extensive professional experience, many universities will weigh this the same as an undergraduate degree, making it possible for an experienced business owner to get an MBA with no previous business qualifications. Already got an MBA? Why not take it even further with a doctor of business administration qualification, designed for top-level professionals?
People Come First:
The key to business success is often found in strong personal relationships. For many business owners who attend university to get a business degree or MBA, the most valuable aspect of learning isn't the training or the information, but rather the people that they can connect with during that time.
Forming meaningful relationships with others should always be on the top of your agenda; spend time with your colleagues and get to know them – the sooner you work on forming these relationships, the more they will be able to grow.
Strong professional relationships will support you during downtimes and can also often lead to opportunities that spell the difference between average business performance and unbridled success. And, don't think that you have to be strictly professional; make friends! The world runs on personal and emotional connections and much professional success can come from the bonds that you have with others.
Invest in Marketing:
Many new businesses make the mistake of using core staff to market the brand, even when these individuals do not specialise in marketing.
Small business owners often take on the mammoth task of marketing the business themselves without considering outsourcing the job to a professional. But this can be a costly mistake; amateur marketing mistakes are easier to make than you may realise and doing it yourself now to save money could end up being more expensive than you realise in the future when you need to bring in a professional to fix things.
So, bring in somebody who knows what they are doing as soon as you can and dedicate a percentage of what you make to professional marketing strategies. Keep on top of your business' marketing campaigns by interviewing more than one marketing company a year to verify best practices and ensure that you are getting good value and the best return on investment. Allowing non-specialists to handle one of the most important aspects of growing your business is limiting your success.
Be Persistent and Tenacious:
Building a successful business requires sustained effort over time and an unwavering belief in the value of what you are offering. The most successful entrepreneurs work hard to ensure that they find any ways possible to get around and through any obstacles that they find in their path, and there are always going to be obstacles. Look at how you can turn failures and setbacks into success by figuring out what went wrong and what can be done differently in the future to avoid the same thing happening again.
When you are successful, don't stop there – examine the steps that were taken to reach that outcome, and figure out what can be done to turn successes into even greater ones. The truth is that when running any business, there are always going to be both up and down days. It's important to be ready for the roller coaster, so be prepared to keep on going and never give up.
Seek Out Advice and Support:
No business owner knows everything. Being in tune with your own strengths and weaknesses is a huge advantage when running a business, as it can help steer you in the right direction when it comes to improving your knowledge and making the right decisions for your business.
Actively seeking out advice is crucial for improving your knowledge and getting the guidance and inspiration that you need when it comes to making decisions that you may not be as knowledgeable about compared to others.
Don't waste time with business people who keep everything under lock and key; seasoned professionals are often willing to help if you ask them for guidance, and there are many people in senior positions who are in a good place to pass down the lessons that they have learned along the way to anybody who is eager to listen. And, look outside of the usual circles for people who can help.
Your friends might include people with significant business experience who are willing to lend a hand or asking your family members could end up with you being put in touch with a professional with advice to give.
Motivate Your Team:
Any good business owner knows that their company isn't going to get very far without the right people behind it. But many business owners are so caught up with trying to get their company off the ground and reach success that they forget that their team members might not feel the same way.
While it's always important to find people who are naturally motivated to succeed and willing to put the work in for your company, the truth is that nobody is going to be as committed to the success of the business as you, the owner.
That's why it's crucial to spend time with your team and make sure that they are as motivated as you are. People tend to follow the examples set to them by those in charge and being a good leader means motivating your team by the example that you set, rather than making the mistake of forcing them to feel a sense of dedication that doesn't come naturally.
Provide incentives, keep your team in the loop, speak excitedly about what the future could hold for all of you and remember that you can't buy commitment with wages and bonuses.
Tend to All Aspects of the Business:
Many small business owners make the mistake of putting more effort into the aspects of running a business that they are experienced in. And while there's nothing wrong with focusing on what you are good at in order to get the best results, be sure to delegate other aspects to experienced employees or specialised companies to make sure that everything is covered. Keep this list in mind:
Content: Whether it's a product or service that you are selling, make sure that the content surrounding what you sell is clear, useful, relevant and inspiring to your audience.
Yourself: You are the face of your business, so it's important to invest in yourself too. Practice self-care and self-reflection to ensure that you are best equipped to steer your company towards success. Remember that in professional circles, you are a walking billboard for your business.
Your audience: There's no point in having a great product or service if nobody is aware of its existence. Spend time building your audience and getting to know them.
Branding: Your brand is huge, and there's much more to it than your logo. Success is much harder, if not impossible to reach if you don't have a consistent, professional brand. Your brand should be memorable and easy to understand; don't complicate things with too many names for what you do and keep your business mission at the forefront of everything that you do.
Technology: In order to be successful, you need to have an effective online presence, from your website to social media profiles and everything in between. Consider using technological tools for information capturing, data analysis, automating processes and more to help you achieve business success.
Legalities: Don't ignore the legal side of running your business. Keep everything in order and consult with a business law expert to ensure that nothing is left out.
Finances: You need a good accountant to help you keep business finances in order and up to date.
Your team: Invest in the people who make your business what it is. Don't stop with attracting quality professional talent; find a way to keep them loyal to and engaged with your company.
Leverage Any Opportunities:
The best way to secure business success is to be constantly seeking out new opportunities and leveraging any opportunities that come your way. And whenever you do get an opportunity, whether it's speaking to an influential professional or getting a foot in the door of something that could help your business, don't just see it as one opportunity but rather, consider how you can use it to create even more opportunities for yourself and your company.
Parlaying one success into another is a skill and learning how to do this will help you to set yourself and your business apart from those who don't know how to turn smaller opportunities into part of a larger strategy.
Make Use of Any Free Resources:
Keeping costs low while investing in the right things is a crucial step in ensuring business success. And the good news is that as a business owner, there are many free resources available for you to use on your journey of running a successful business.
Non-profit companies that support small businesses may become a useful resource for you, or consider your local Chamber of Commerce, which may offer networking opportunities that can lead to free guidance and advice.
Universities often have departments designed to support entrepreneurs, and there are countless conferences and meet-ups that you can attend in order to meet people who can provide you with the support that you need.
Spend time seeking out organization's designed to help you and building your professional network to take advantage of any free resources that you may stumble upon within it.
LinkedIn is an excellent, free resource for business owners that not only allows you to network and learn from other professionals online, but also gain access to helpful content that may provide you with guidance and answers.
The path to running a successful business isn't often easy, but it's definitely worth it.