One of the most tried and trusted formulas of success is "Never Stop Learning". Simply put, you cease to grow when you cease to learn. Whether you have been into an e-commerce business for years or a newbie in your e-commerce journey, you should always look to acquire more knowledge regardless of your experience.
Trends and public interests become outdated in the online world at a swift pace. So, being a part of the e-commerce industry, it is critical for you to keep updating and enhancing your information by reading new books.
If your growth seems to be stagnant, well, it is high time you should turn to the following list of top ten e-commerce books, which are also available in electronic versions.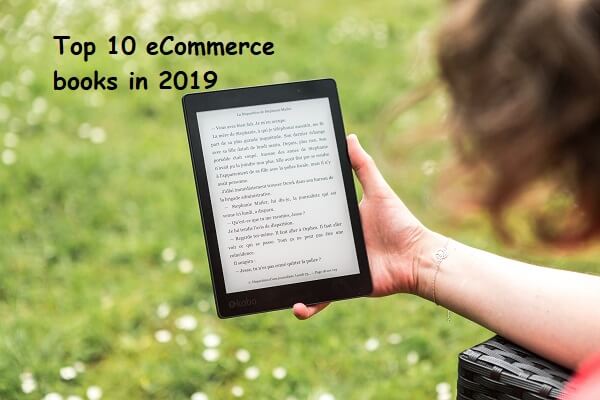 Top 10 eCommerce books in 2019
The Best Service is No Service
Often, we have seen brands going out of their way to provide the best possible customer service. Even small companies try to meet high standards and crumble rather sooner than later. In this book, the authors have disregarded the traditional idea of extravagant customer service.
Bill Prince and David Jaffe argue that customer service is only required when customers identify your mistakes. Therefore, instead of improving the quality of customer service, the book emphasizes that companies must find ways to rectify their mistakes. The book outlines seven principles which will help you to follow the said process.
SEO 2019
It does not take an entrepreneur to know the importance of Search Engine Optimization. It is considered as the oxygen for e-commerce business. You can never be on top of your sales unless target customers see your e-commerce website right on top of their Google searches.
However, Google keeps upgrading its algorithm every now and then, which creates an air of confusion among the people. Adam Clarke's SEO 2019 has been written keeping Google's most recent updates in mind.
For example, you can't learn how to write an e-book for Amazon without reading its rules. Similarly, you can't implement SEO tricks without knowing how its algorithm actually works. That's where this book is handy.
Not only major updates have been comprehensively addressed in this book but Adam Clarke also shows us a pathway through which we can use them to the maximum effect.
Launch
You can call this book the Bible of the e-Commerce Business. Whether you are just stepping into the e-commerce industry or an already established figure in this field, this book has something to offer you.
The author, Jeff Walker, paints a clear picture of what really lifts or breaks the product launch. Moreover, the veteran also comes up with examples from big and small businesses to justify his claims.
The standout feature of this book is that it gives a roadmap to your business without taking into account the scarcity of your budget. To sum up, Jeff Walker's Launch is an A-to-Z guide your e-commerce business needs today.
Building a Story Brand
Are you able to convey your brand's values to the customers? Do the customers connect with your brand's message and philosophy? If not then you should not delay reading this book.
Make no mistake, shopping is less about the product and more about your relation with a particular brand. Donald Miller unveils in his masterpiece the most engaging techniques to consolidate ties with the customers. He takes us through seven captivating ways which humans can't resist responding.
What's more, all his methods are equally applicable on small as well as big tycoons of the e-commerce industry.
The Startup Owners' Manual
As the name signifies, this book is hands down the best option for people not having any exposure in the e-commerce business. Along with so many other important aspects, Steve Blank and Bob Dorf focus on the mistakes committed by the beginners at the upfront. That's why this book is credited to have inspired thousands of new entrepreneurs.
The book comprises of 600 pages. However, the length must not frighten you since most of the pages contain infographics.
Top eCommerce books
Shoe Dog
This book has been highly-rated by Bill Gates. Shoe Dog gives us a candid insight into Nike. If you are wondering why Nike stayed on top despite so many challenges, you should read this book right away. You can take Shoe Dog as a case study of one of the world's most leading brands – Nike – and learn some lifelong lessons.
Crushing It
Some people might think that physical stores take more to charm their customers than online stores. This perception has been completely declined by Gary Vaynerchuk in Crushing It.
He says that some of the principles are beyond time and quotes old examples to prove his claims. Furthermore, he also shares essential tips to get the most out of your social media channels, be it Twitter, Facebook, Pinterest, etc.
The Ultimate Marketing Plan
Well, marketing is the backbone of any business. E-commerce business is no different. With every passing day, the optics of modern-day marketing are evolving. The online business community is in a dilemma about which marketing tactic they should follow.
Luckily, Dan Kennedy comes to our rescue. He has come up with a timeless marketing strategy. The book is written with the smallest of details and surely is one of its kind.
Get Rich Click
Frankly, the single most dominating reason for people showing interest in e-commerce is "money". And there is nothing wrong with that. This book needs to catch your eyeballs because it talks about what lies at the core, namely money.
Mark Ostrofsky unfolds so many ways which can ease up the process of earning. The book subtly puts across the message that "making a decent fortune online is not as difficult as you might be assuming".
Email Marketing Rules
It could look backward-minded to talk about email marketing in the era of social media marketing. But trust me all your doubts regarding the efficiency of email marketing will be addressed in this book. The author, Chad S. white, reveals that email marketing has still kept its luster intact and it has much to offer especially to the small businesses with undersized budgets.
Conclusion
True education never ends. This is especially true if you belong to the e-commerce industry. If it was not so, Bill Gates would not be reading 50 books a year. Are you having a hard time to deal with a challenge? Or you can't figure out how to get on with the startup? The above books will give you a much-needed roadmap.