Tips for Avoiding Inefficient and Outdated Business Practices
As the technology serving our businesses keeps progressing and improving, the human aspect of business operation and management should be evolving as well. People are the guiding force behind all business practices and—despite the changes that we see all around us in the public and professional spheres—we are too often unwilling to fix what doesn't seem broken.
The best means of keeping your business on top of new trends and streamline its function is to make a few far-sighted changes. Below are some recommended practices for guiding your business forward with people, technology, and information-oriented changes.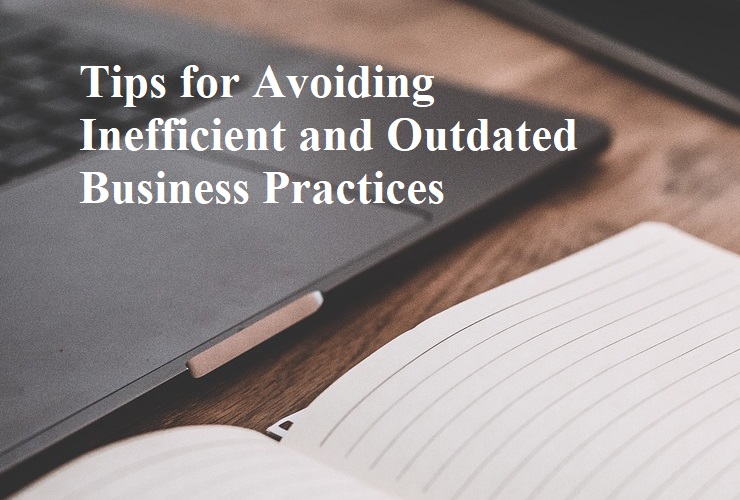 Build a Team of Adaptable Employees
The first place to focus when hoping to refresh your business's outlook is on the people who populate the branches of your company. From the workers who interact directly with your client base to those who manage broader sections, you should strive to hire motivated individuals and keep existing employees engaged.
The best company atmosphere for progress is one that celebrates, rewards, and encourages opportunities to learn and grow. Preventing stagnation and complacency will allow your employees to step into any new situations—whether they be necessary changes or ambitious innovations—with the confidence and determination to serve your business's mission.
Lean Into Tech & Software Developments
In a society that is constantly moving in the direction of digital interaction and data collection, understanding and utilizing the technology and programs available to serve your business is essential. From customer information resources to secure business management processes, business technology has integrated all of the necessary features of running a successful and competitive business into streamlined software.
This software is called ERP, or enterprise resource planning. A business can use ERP programs to store, organize, and interpret data from all areas of its activity. In the era of constant connectivity, having all of your business's resources filed within an accessible system is the perfect way to promote productivity and keep employees on all levels engaged with the business's action.
While implementing a new system for your business activities might seem overwhelming, these programs exist to benefit you. An ERP helps with managing your employees' time, making connections between customer information and available services, and organizing your business's data in ways that are easy to understand and report. With proper use, programs like this can revamp your entire business.
Train and Educate Your Team
Part of encouraging progress and adaptability is preparing for new situations proactively! If you want your business to thrive in a competitive market, you should help your employees stay sharp on industry skills and become fluent in leading concepts and new programs. Prioritizing training and education will provide employees with the tools to succeed in their field while providing you with more skilled workers, a higher employee retention rate, and a better chance at successfully implementing changes in the future.
Training and education are essential when implementing new programs and becoming proficient in emerging industry standards. To ensure that your business is getting the most out of your software investments, seek JDE consulting to get the most out of your ERP software and clearly communicate your business's goals in relation to boosting efficiency. The best way to improve performance is to provide proper tools and direction.
Stay Motivated & Keep Improving
Finally, when seeking to update your business outlook, never stop searching for new ways to make your existing systems work better and integrate new programs. The business world is constantly changing and you should change with it. Rather than resist new changes that seem too challenging to implement or too risky to invest in, recognize that innovation is what keeps businesses moving forward in a crowded and competitive market. Educating your employees and utilizing new software and strategies will help you do what you do best—you just have to make the moves to change and keep your business climbing!