Summer is here and for many people that means sleeping with your fan on, swamp coolers running, and windows open. Trying to sleep well when you are hot, and sweating can be extremely difficult, and actually, it can be one of the top reasons for poor quality sleep and may leave you feeling tired the next day.
Purchasing something that will help you stay comfortable and sleep better is an investment in your health, so here are a few gadgets to consider.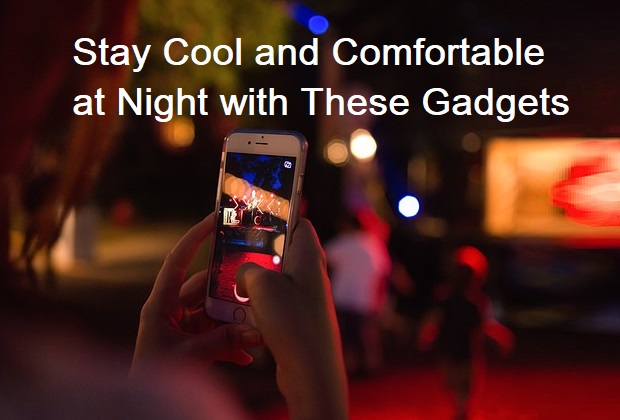 1. Dyson Cool™ Tower Fan
With the Dyson Cool™ Tower Fan, you can enjoy airflow that moves directly and evenly throughout the room due to the one-touch oscillation. With blades that don't spin fast, you can rest assured that it is also safe, so you don't have to worry if you have small children or pets.
The Air Multiplier™ Technology means you won't have to deal with choppy air; instead, you will have a lovely stream of smooth and uninterrupted airflow.
Choose when you would like the fan to turn off, between 15 minutes and 9 hours. The sleep timer is a great feature, so you don't have to manually turn the fan off, or wake up to turn it off when you don't want it to run anymore. It's easy to clean and even comes with remote control. The Dyson Cool™ Tower Fan is also energy efficient.
2. Bedjet Cooling and Heating System
More than half of couples will disagree about the sleeping temperature, which can make it hard for some people to sleep together. With Bedjet you can have your perfect temperature while your partner chooses theirs.
It takes only minutes to install Bedjet, it can be used with any kind of mattress, and it's comfortable without any tubes, wires, pads, or toppers to worry about.
Bedjet offers you instant heating or cooling when you want it with a quiet digital DC motor. Personalize the settings for every hour of the night. Bedjet even has a temperature wake-up trigger, so you don't need an alarm clock.
Although pricey, Bedjet is the most techy and advanced bed cooling & heating system in the market. If you struggle from night sweats or hot flashes, we would definitely recommend this bed temperature control system.
3. bFan
Trying to keep a cool home at night can be expensive and difficult for some people, especially if you are using air conditioning. bFan is one great solution. If you suffer night sweats from menopause, have a medical condition that causes you to get hot at night, or if it's just summer or hot where you live, then bFan could provide you with much-needed relief.
Bfan works by removing the heat that seeps into the bed from your body as you sleep. It is low wattage and easy to install. bFan is also discreet and straightforward, and has a small controller that won't add clutter to your room.
The base can be put in a variety of locations. It can be placed at the foot or top of the bed or at the side. It can also be positioned outward from the bed or underneath the bed, whichever is easier. The base is 7" deep, 6.25" tall, and 12" wide. The air duct is only 3/4" deep and 12" wide. The top can go from 19" tall and can be extended to 37."
4. Sheet Sets
Although not as high tech as the other products listed here, Sheet Sets utilize unique performance fabrics to keep you cool at night. They have a moisture-wicking design, thermoregulation, and advanced breathability to make sure you are dry and not too hot. No more waking up at night in an awful sweat.
They are also made to be incredibly soft and comfortable so that you get the best sleep possible and wake up in the morning feeling rested and restored. You will get a flat sheet, fitted sheet, and two pillowcases to give you the ideal conditions for a deep and comfortable sleep.