Starting a Car Detailing Business
If you enjoy working with and enhancing vehicles— and have an entrepreneurial flair to boot—starting a car detailing business could be a great way to combine those talents.
The great thing about starting a car detailing business is that you don't need a large upfront investment or extensive and pricey training. Of course, the basics should all be taken into consideration here, such as starting an LLC and getting your business legally accredited.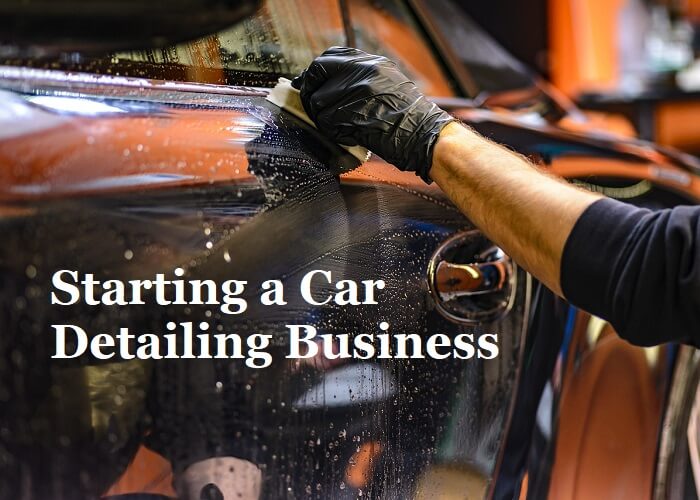 It's also worth noting that you do have to shift your mindset a bit when you go from being a car detailing hobbyist to a businessman.
While it's fun to be an artist, once you start a business, you'll have to learn to put the business needs before your creative needs. With that in mind, here's what you need to know about starting a car detailing business:
Educate Yourself
While you don't need any special certifications or a four-year degree to run your own car detailing business, you do need to know what you're doing and quite literally have an eye for detail.
You'll need to train yourself on the various detailing processes, especially when you're working with modern cars that cost quite a bit of money.
Get Firsthand Experience
It helps to work at local retail shops or seek a mentor who knows what they're doing. Not only can they offer you hands-on experience, but they can help you perfect your methods of cleaning until you really get the hang of it.
If it helps, start out offering your services for free pre-business, which allows you to collect feedback and learn more about what makes future customers happy.
Invest in Equipment
While startup costs are relatively low, you do need to invest in quality equipment.
If you have a mobile business, expect to spend up to $10,000 for your essentials, which will include quality sponges, a pressure washer, hot water extractor, towels, a buffer, and various other items.
Depending on how much you can invest upfront, it may be fiscally smarter to rent larger pieces of equipment, like wet media blasters, for auto restoration. "Crushed glass can replace many hard abrasives that harmful to the environment, like silica sand and coal slag," says Red-D-Arc, a company that offers dustless blasting rental in Houston as an effective alternative to sandblasting. With Eco-friendly features, you'll have another way to market your business as well.
Learn to Sell Yourself
If you don't learn to sell yourself, you'll never make the money you need to succeed. The age-old mantra, "if you build it, they will come," doesn't apply here.
Not only do you have to learn to sell yourself, but you also have to know how to market your business. You can market your car detailing business through car partnerships, events, local car meets, influencer marketing, and much more.
There are plenty of ways you can spearhead your marketing efforts early on. For example, host a free or discounted car wash to promote your new business, and hand out flyers or business cards in the process.
Additionally, once you've got your customers in front of you, work on cross-selling and upselling.
Cross-selling is the act of offering complementary products, while upselling is the act of encouraging the customer to pay for a premium service.
Wait to Grow
When you start getting jobs and regular customers, it might feel tempting to explore new growth opportunities, but it's important to wait for the right moment to explore that growth. One of the biggest reasons many startups fail is because they attempt to grow quickly and mismanage cash.
It's natural to want to expand your options, but you've got to keep your overhead in mind. For instance, perhaps you started a mobile business first, but want a secured location to capitalize on passing traffic. But there are many costs associated with owning a physical location, and you should always account for unforeseen costs up to 30% of your monthly revenue.