3 Ways to Recover Deleted Photo from Computer Easily
Are you shocked at the accidental deletion of your photos and want to recover them from any of the devices or operating systems? No need to fret out there. There are multiple options available that you can find on how to recover permanently deleted photos. Let us check out the prime options for the best image recovery tools that you would find quite impressive.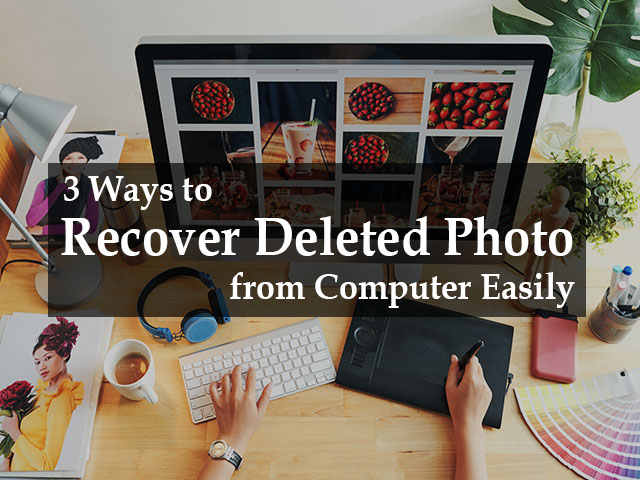 Is there a way to recover deleted photos/videos?
Irrespective of which operating system you may be on, you can find an option to recover deleted photos and videos. The exact method to recover photos can depend on the operating system or device you are on and the nature of photo deletion.
If the files have been accidentally deleted, they would ideally land up in the recycle bin or trash. You can easily restore your files from there and do not need any special tool or software. In case you are checking out the options for how to recover permanently deleted photos, you can use a professional tool, such as Recoverit Photo Recovery for the purpose.
How to recover deleted photos from Windows without the software?
1. From Recycle Bin
When you delete a photo from your device, it is not deleted completely (if you did not permanently delete it). It will go into the Recycle Bin if you are on a Windows system and into Trash if you are on Mac. Before you can apply any other additional tools for recovering the photos that have been deleted, it is advisable to check out Recycle Bin or Trash to recover photos.
On a Windows system, you can follow the steps here below –
Go to your Windows Desktop and click on Recycle Bin
Locate the photo that you want to recover.
Right-click on it and click on Restore
That would do it, and your photo will be restored to its original location.
In the case of a Mac device, you may follow the steps here below –
You should find Trash on your Dock. Click on it to launch it.
Locate the photo that you want to recover.
Right-click on the file and click on Put back to restore your file
2. Check File History/Backup
If you are on Windows, one of the best options to recover photos can include using File History and Backup solutions. The feature should work only if you have enabled the Backup option on your computer. It can be one of the excellent options to help you how to recover photos.
Here are the steps that can help you recover photos using File History or Backup –
Go to Settings > Backup or Control Panel > Backup & Restore
Scroll down to the bottom at the left pane and click on File History
You can now restore your old files.
The Easiest way to recover deleted videos/pictures
If you cannot get back the deleted photos via the built-in solutions, it would be advisable to make use of professional photo recovery tools. Wondershare Recoverit is one of the promising and best solutions you can use to recover permanently deleted photos with ease.
Here are the steps that you can follow if you want to recover deleted photos –
Step 1. Select the drive that you want to recover the photos from
Assuming that you have downloaded and installed Recoverit on your PC and Mac, launch it. Select the drive that you want to scan for the deleted photos.
Step 2. Wait till the scan is complete
As soon as you select a drive, the software will begin scanning it for the deleted photos. You can wait till the scan is complete. The time taken to scan can depend on several factors.
Step 3. Preview and recover your file
Once the software scans the drive you chose, you can narrow it down to the file you want to recover and click on it. This will open a preview of the file so that you can verify that it is the same file that you want to recover. Click on Recover to restore the photo.

Why should you use Recoverit?
Recoverit has been one of the most powerful and extensive tools you would find extremely unique in multiple ways. The prime feature that makes it excel as a powerful photo recovery tool is the ability to recover photos in a high range of data loss scenarios. It also comes with a wide range of outstanding features.
You can retrieve lost data from as many as 2000 different storage devices. This includes laptops, computers, smartphones, digital cameras, and other storage devices. You can also find it offering support for multiple data loss situations such as formatted drives, accidental deletions, crashed system recovery, damaged hard drive recovery, and many more. You will also find it a prime feature that the photo recovery tool supports a huge range of file formats, like audio, video, and image files, etc.
How to avoid the Loss of Photos on your Storage devices?
Losing your valuable photos can indeed be something that you are never happy about. It can definitely be quite a devastating experience. However, there are a few tips that you would find extremely helpful in avoiding the loss of photos and other data.
Some of the tips that can come in handy in helping you keep your photos safe can include
Remember to back up your storage media frequently. This will help you restore or recover your photos whenever you lose them in the original location. You can back them up on the physical media or the cloud storage
Never stop or shut down the device when the data transfer is underway
Make sure that you have saved the photos in a separate partition
Ensure that you have safely removed the SD cards, USB drives, hard disks, and other storage drives from Windows or other operating systems.
The Closing Thoughts
Having to lose your photos can definitely prove to be a tough choice. It can be quite annoying and frustrating at times. However, there are a few great and trustworthy options that can prove handy in recovering your lost data. In our view, Recoverit photo recovery should indeed be one of the most unique options we found quite excellent in every way possible.
FAQ on 3 ways to recover deleted photos from a computer easily
Q: Can we recover permanently deleted photos?
Ans: It is not impossible to recover deleted photos or videos. There are some ways we can recover the photos and videos, and also there is certain software that can help the recovery.
Q: Where do the files go after deleting them in windows?
Ans: After we delete the files, the files are moved to the recycle bin(if not permanently deleted). So, if the files are not permanently deleted, they can be recovered from the recycle bin.
Q: What after some file is permanently deleted?
Ans: If some file is permanently deleted, or the recycle bin is emptied, it removes the reference to the file on the hard drive. The file is no longer readable by the computer.
Q: How long do the deleted files stay in the recycle bin in windows?
Ans: We are not sure when the files would be overwritten, so there is no fixed answer to this particular question
Q: How to recover deleted files without using the software?
Ans: When you delete some files, it is moved to recycle bin (if not deleted permanently). So, you can restore the file from the recycle bin.