Did you know an average person spends about 4.7 hours a day looking at the phone? This means that people spend almost 5 hours of their day looking down. And they are not just looking at their phones. They are looking at their phones while doing almost everything: walking, driving, commuting, talking, you name it.
As a smart marketer, the fact that people are spending a huge chunk of their active daytime with their heads tilted downward, you have an opportunity to get their attention and pass a message about your company or product from the floor.
One of the most effective ways to do it is to use floor graphics and associated decals. If you are wondering what these are, they are non-slip vinyl stickers that adhere to the floor.
The stickers can be printed with anything. It can be your product, your logo, your slogan, or a warning sign.
What are the benefits of using floor decals in marketing?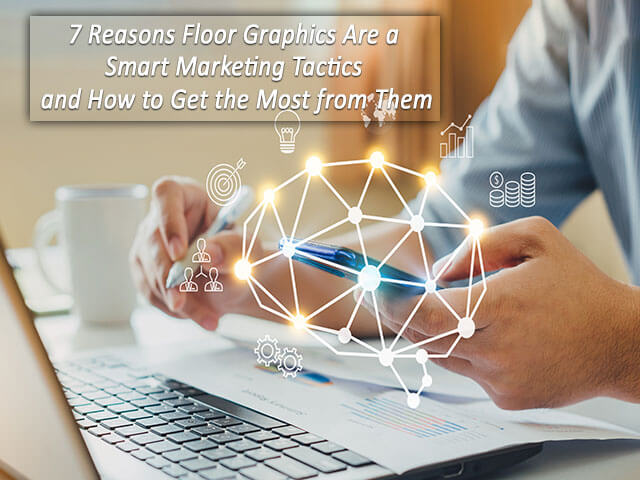 They are versatile
You can cut the graphics into any of your desired shapes and sizes. You can also use them both indoors and outdoors, where you can install them on any floor surface, including tile, concrete, and laminated. It's all about you choosing the areas where you will get the most value.
They are affordable
You don't need to purchase any appliances to print the graphics. To get them you need to visit a company specializing in designing and printing the decals and place an order.
After getting the decals, install them on your desired floor. The beauty is you can install the graphics by yourself—you don't need to hire a professional so you save money. The decals don't need any maintenance, so you don't need a budget for that.
You don't obstruct food traffic.
Since the graphics are simply vinyl adhesives, you don't obstruct foot traffic. In fact, people can't tell they are there unless they are looking at them.
They are safe
Again, the graphics are made from vinyl, so you don't have to worry about people tripping on them. They also have a non-slip layer, so you don't worry about people slipping, falling, and suing you.
They are easy to install
As mentioned above, you don't need specialized skills to install the vinyl adhesives. And you can easily install them both on textured and smooth surfaces. When they wear out, or you no longer want them, they are equally easy to remove causing no damage to the surface.
They are durable
Although they are vinyl adhesives, they are tough, and they can withstand foot traffic for extended periods.
They save space
With traditional marketing, the posters and signs take a lot of your valuable wall space and have limited placement options. The stands and promotional displays, on the other hand, get in the way.
Luckily, this isn't the case with floor graphics. The graphics make use of the unused space, saving you the walls and other prime areas for other activities.
Where can you use floor graphics?
You can use graphics in almost any type of business. Some of the businesses that can benefit the most from the graphics include:
Retail
If you own a retail business, you can use floor graphics as a visual merchandizing tool where you use the decals to direct the customers to the products you feel they will love. If you are running a promotion, you can put the information in the floor graphics showing the customers the amount of money they will save.
You can also use the floor decals to launch a product. Here you showcase the product in the vinyl adhesive and direct customers to it.
Event venues
Do you own a concert venue, convention center, or any event facility? You can use floor decals to promote any upcoming events and encourage people to attend. Place the graphics both in and outside your venue. You can also lay the graphics in the nearby car parks and, with the relevant authorization, on the pavements around your venue.
Corporate offices
When people visit your office, chances are they will be on the phone or looking down. This means that the chances are high that your office visitors will see your graphic. One of the best graphics to use in the office is your business logo. Elegantly display it to represent your brand and give a good first impression to your guests.
A well-done logo also comes in handy at strengthening the identity of your company.
Casinos
Do you have a large casino? It's easy for people to get lost. You can make life easy for your customers by placing directional floor graphics in strategic areas of the casino. While at it, use bright and bold floor graphics to advertise special events and promotions in the casino.
Restaurants and bars
During epidemics such as Covid 19, you can use floor decals to ask your customers to observe the social distance. You can also use the decals to promote food and drink specials. To reinforce your brand identity and make your business memorable, have the floor decals with your name and logo in strategic areas of the restaurant.
Types of floor graphics
There are many types of floor graphics you can go for. The most common ones being:
Carpet graphics
As you can tell, these are graphics you place on the carpet or rug. These decals last between 3 and 6 months, with the lifespan being influenced by the quality of installation, nature of the rug, foot traffic, UV light, and other factors.
For the graphic to last for a long time, you need to install it properly. Begin with confirming whether the rug is compatible with your vinyl sticker. If it is, vacuum it so it's free of dust, oils, dirt, and other materials. You should then gently place the sticker on the rug and then gently press and squeegee the sticker.
To prevent people from tripping on the decal, ensure all corners are rounded.
Custom shape floor decals
These are unique decals with eye-catching patterns and shapes. You should make your graphic stylish or futuristic using geometric patterns. For a memorable appeal, include the shapes matching the products that you sell. For example, you can have a bone shape if you run a pet supplies store.
Outdoor & Sidewalk Floor Graphics
These graphics are tough and durable as they are designed to withstand heavy foot traffic, rainfall, and other elements. Two of the most popular outdoor graphics are concrete and asphalt.
To get the most from the graphics, ensure the surface you are installing them on is clean. The surface should also be free of major cracks, bumps, or unevenness.
Indoor floor graphics
These are the graphics you place inside an office, warehouse, mall, and other indoor areas. The decals are designed to adhere to different types of flooring, so you can easily install them almost anywhere.
Exact cut floor decals
They are unique in that they are cut to look like they are part of the floor. They are often large hence capture the people's attention from a distance. Like the other decals, you need to ensure the surface you are installing the graphics is clean, dry, and free of any treatments.
You can continue cleaning the floors even after installing the decals but refrain from using harsh treatments.
Best floor graphic practices
To get the most from the floor decals, you need to observe a set of tips that include:
Have your floor graphics designed at a reputable place such as https://www.craftsmenind.com/floor-graphics. This way, you are sure the graphics will be professional-looking and durable.
When you are buying the decays, pay close attention to the laminate as without the right laminate, the vinyl can create a slick surface, which is dangerous. Safe floor graphics should have a non-slip, skid resistant laminate layer. You will even be better off going for graphics with a matte layer that is tough and slip proof.
When it comes to placing the decals, be cautious about how you place them. Although, the graphics aren't supposed to be a tripping hazard, they can be if you install them improperly. As a rule of thumb, ensure the ends are rounded.
To have an easy time, use the right tools. One of the essential tools you need for the work is a squeegee. Use the squeegee to press down the graphic to drive out as much air as possible. Don't use your hands or an improvised tool, as you will trap air bubbles in the graphic, increasing the chances of the decal getting damaged.
When installing an indoor decal, give your graphic time to set before allowing people to walk on it or clean the floor. A good way to go about it is to install the decal at night. This way, the graphic will have at least 8 hours to set before morning comes and people start walking on it. If placing the decal in the office, you can install it during the weekends, so it has enough time to set completely.
When installing outdoor and sidewalk floor graphics, pay attention to the relief channels meant to prevent the surfaces from cracking. Don't place your decals in these channels as you will cause an obstruction hence cause the surfaces to crack or move.