Managing documents for efficient filing of taxes can be a difficult task for small businesses. Without the help of proper online tax software, you can spend a considerable amount of time putting everything in order. This is a time that could be devoted to other income-generating functions such as marketing and sales.
There is no doubt that a modern business needs to integrate the functions of reliable online tax software but how do you choose the right tax system for your particular business? With so many options available, the problem arises of how to choose one that's best suited to your business type and model.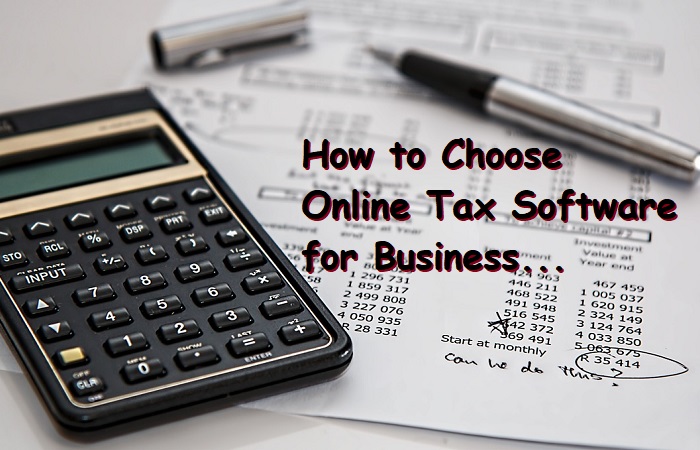 Online Tax Software for Business
Let's have a look at how to choose professional tax software for your business as well as see what the critical factors to consider are. First, let's see why it's important to have online tax software at all.
The importance of online tax software
Online tax software is important because it comes with multiple functions all of which are designed to make your tax filing simple. For one, it offers document management and storage which helps to keep the whole organization streamlined and running efficiently. Your clients' financial data will be well protected too.
Search for an intuitive online tax software
Online tax software can help organize the company documents in many ways. It can be integrated into a DMS that features a structured layout for organizing files. This is something like a cabinet with drawers as well as folders that is simple and intuitive such that anyone can use.
The bottom line is that saving the documents and retrieving them should be quick and easy. With a few clicks of the mouse, the user should be able to access the documents and files that they need.
The layout is one thing, but how the documents are stored is another equally important consideration. Many DMS will feature a database. However, there are problems that come with a database system. One of them is that there are restrictions for accessing the database. This will restrict the business DMS from accessing the information. If for example, the company decided to switch to an alternative DMS, it would be difficult to access the previous DMS information.
That said, the best DMS will feature windows that you can use to access the information. You should then be able to always access the files even if you switch to different online tax software.
The platform
Keep in mind that most tax programs have mobile apps or are web-based. This will allow you to do your taxes from any location. However, some programs may not be compatible with certain web platforms. Make sure that the software works with the OS that you are using whether it's Mac, Windows, or PC. Also, check whether it will work on both Android and IOS. The best systems should be flexible and compatible with the most popular platforms.
Filing options
The type of forms that the online tax software can file is an important thing to look at. Always make sure that the forms you need are supported by the system. The good thing is that many top online tax software systems can support different forms so you can always find the form you will need.
The next thing that you will need to consider is whether it can cope with state taxes and not only federal taxes. Ensure that the software provides you with all the state forms that you will require.
Disbursement
Consider how you will receive your money if the business is owed a federal return. Some online tax software simplifies the whole process by allowing for direct transfers and PayPal deposits. Some, however, will only support specific methods of delivery such as pre-filled debit cards and gift cards. Ensure that the software supports the method that's most convenient for you and your business. Learn how to become convenient for customers from Entrepreneur.
Tax deductions and credits
The best online tax software will feature a database that contains numerous tax deductions and credits. It is important to ensure that you understand how the deductions are built into the company system so that you pick a system that can reduce your tax.
Talk to the company and business representatives at length about how the software can handle credits and deductions as well as how accurate the software is.
Tax preparers
Note that something will go wrong at some point even with the best online tax software. When such situations arise, it is always a good idea to have a tax preparer readily available. If you suspect that you will require the services of one, make sure that you can contact them quickly.
The scanning efficiency
One of the main tasks that consume a considerable amount of time in the office is scanning. When the online tax system is integrated into a DMS, the process becomes highly efficient.
The best DMS for integration into the tax system should prioritize scanning efficiency. The software should be able to work together with the popular scanner models out there. It also needs to come with many different features to make the whole scanning process really simple. Some of the features that you should look for are automatic document naming using text from the file body, document separation, and saving all files via searchable pdf files.
PDF support
Probably the most important file format in the modern business environment is the PDF file. Many businesses prefer this format for sharing and storing documents as well as for making official filings such as tax.
The DMS for integrating into the tax system, therefore, needs to be able to extract, combine, create, and manipulate PDF files. A great feature to look out for is the ability to drag and drop PDF files.
Another useful feature is the ability to check for PDF file previews without needing to open them first. Files in other formats should be able to be easily converted to PDF with a simple click of a button.
Once you've found the best online tax software for your business, managing your tax returns should become a whole lot easier. Most programs can cope with the necessary forms for filing small business taxes.
This is usually cheaper than hiring a tax professional to do the job. If you choose carefully, you can be confident that your chosen tax software provider will make tax season a whole lot less stressful. You may even get some money back that you didn't know you were owed!