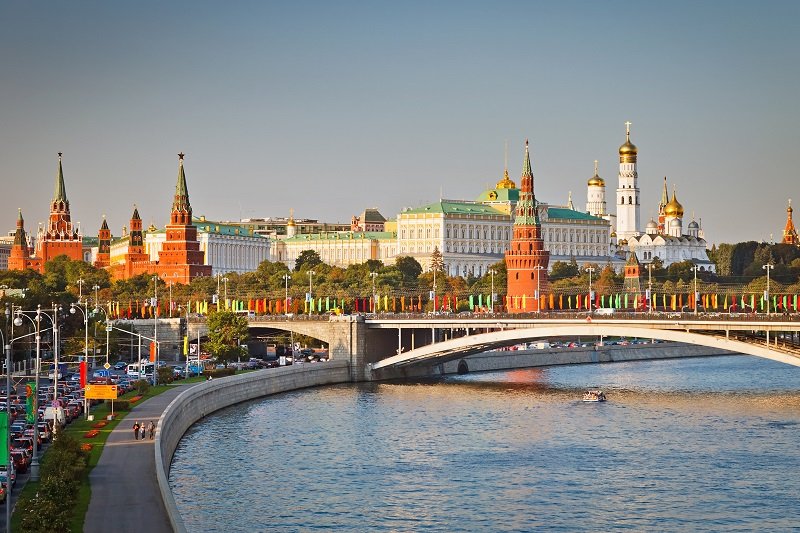 How to spend an unforgettable romantic day with your best half? It all depends on preferences. In this review, we tried to cover different types of recreation.
1. Padlock Trees of Love
The place is located on Luzhkov Bridge, not far from Bolotnaya Square in Moscow. The second name of this bridge is "the bridge of kisses." To secure their feelings, lovers hang locks on special metal trees. As a rule, this tradition is not to the liking of the city authorities, and locks are usually cut down. But the "bridge of kisses" is an exception.
As soon as there is no free space on the branches of the tree, it is transferred to another place, and a new one is installed. You shouldn't worry about the safety of "symbols of love and loyalty."
For the couples that have reached the bridge and have already quarreled, a "bench of reconciliation" has been established near the trees. It has a semicircular shape, so it is impossible to sit on it on the opposite side.
There is nowhere to go: you have to sit down with your second half in the center of the bench and make peace with each other.
If the weather is not conducive to romantic walks, spend time in the nearby Tretyakov Gallery.
2. Alley of love in the museum-reserve Kolomenskoye
Back in the 17th century, lovers had a date here, meeting under a mighty, old oak tree. According to a legend, the wish made by this tree will surely come true.
Today, an ornamental heart has been installed in the alley where you can often see newlyweds taking pictures. By the way, the wedding ceremony can be held here officially, exchanging solemn vows against the backdrop of a picturesque decorative pond and colorful flower beds.
3. Gorky Park
The doors of the central park of the capital are open around the clock for everyone. On its vast territory, it is difficult to get lost, but it is extremely easy to find entertainment for every taste.
On this vast territory are playgrounds, sports facilities, an observatory, numerous cafes, the Garage Museum of Contemporary Art, and other objects attractive to children and adults.
In the warm season, a summer cinema opens, and festivals and concerts of music bands are held on the stage of the Green Theater. You can walk along the Crimean Embankment, rent a bicycle, have a rest by the Andreevsky or Golitsynsky pond, visit the blooming greenhouse, and the rose garden with a fountain.
4. Sparrow Hills
Sparrow Hills is the main viewing point of Moscow. In fact, this is not the mountains but the river bank, rugged by cliffs and landslides. Here, springs make their way out of the ground. This place is 150 million years old. Previously, there was a sea, and then one of the oldest human settlements.
5. Skating rink on Red Square
It can be called an analog of the rink at Rockefeller Center in New York which is a favorite place for couples in love.
If you believe American cinema, a romantic hero often makes a marriage proposal to his loved one. Now, the Moscow public can arrange a date in the style of a rom-com and invite their special someone to the rink on Red Square which is not inferior to the overseas atmosphere.
What could be more beautiful than to slide on the ice, holding hands! A lot of impressions are provided even for those couples who are not strong in figure skating. And if you get tired of such an active holiday, you can go here to the coffee shop for a cup of hot chocolate and some great mood.
6. Patriarch Ponds
This is a place for walking with the history and atmosphere of a European city where there are a lot of cafes with cakes and delicious coffee.
Here, on the corner is a cafe with amazing delicate desserts and excellent breakfasts. In this area, you can go at any time of the year and always have a great time. Old Moscow keeps many curious winding streets, and the Patriarch Ponds are its pearl.
7. Moscow Planetarium
A trip to the Moscow Planetarium can be an excellent opportunity to admire the stars with your loved one. The exposition of this museum is very diverse and constantly updated.
Such a visit will be an unusual gift for the next date of your acquaintance or an unusual continuation of a relationship that has just begun. Under the starry sky of Planetarium, beautiful love stories, great music, subtle poetry, and beautiful painting are waiting for you. There is no doubt that this evening will be remembered for a long time and become a symbol of your eternal love!
8. Illusion cinema
This is a real legend of Moscow. This is a cinema that showed a large number of high-profile premieres. Modern equipment allows for showing films of various formats including 3D.
In addition, a special theatrical lighting system is installed in the hall. The repertoire of the cinema includes films of many trends and genres: musicals, comedies, silent films, film adaptations, and films that won an Oscar.
Often, films are shown at the request of viewers. In the film library of Illusion, there is a German film collection of the 30s-40s, pictures forbidden by the Soviet censorship, and other rarities.
9. St. Petersburg
Start with a visit to the Garson French confectionery. It is conveniently located near the Moscow railway station. Drink tea with a chocolate-pear cake. Having a snack, go to absorb the St. Petersburg atmosphere. Come into the arches and look into the courtyards.
10. The Elton Lake
When you see Lake Elton for the first time, you want to close the eyes and see if the mirage will dissipate. The giant mirror reflects fast-moving clouds. Elton is fed by salty rivers and mineral springs, but it does not have a flow; therefore, there is brine instead of water.
To get to the lake is best by train to Elton station and by car or shuttle bus from Volgograd. In the village of Elton, you can rent a room or house or stay at a sanatorium.