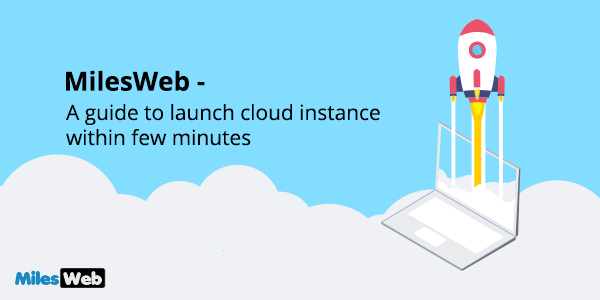 Cloud hosting is also known as clustered hosting. This type of hosting service is delivered from a network of multiple and physically connected servers.
Amongst the various types of hosting available, cloud hosting is a new and trending form of hosting. Cloud hosting enables the clients to host their websites in a powerful, reliable, and scalable way.
The cloud hosting has the limitless processing power and users have the ability to scale up and can add new servers easily. Cloud hosting is mainly beneficial to overcome problems like network fluctuations, traffic overload, server drop down, server crashes, etc. With the addition of multiple servers, it increases the processing power of the website rather than depending upon a single server.
Cloud hosting is extremely useful because it does not restrict people to the limit of any application and hardware. From the above-mentioned points, the major advantage of cloud web hosting is the reliability that comes from the use of a group of servers rather than just relying on one. In the traditional hosting system the space that you get is limited and that will slow down your website.
On the other hand, you will not face any of these problems with cloud hosting because the end users will get extra power and resources and with this, you can successfully run your business over the internet and enjoy non-stop connectivity. Cloud hosting is ideally best suitable for small businesses, growing businesses and mid enterprises.
The best cloud hosting features are:
    • Data redundancy:
    The hosting provider saves your data on multiple machines at the same time.
In cloud hosting, even if a single machine gets crash or is unable to respond then you will easily be able to recall all your data from other machines without losing anything.
The cloud storage will keep your data secure so that you get all your data at any moment you want.
    • Cost effective:
    Cloud hosting is the economical way of hosting and compatible for high performance when you need more resources for your website.
    • Technological compatibility:
    Basically, cloud hosting provides three types of platforms namely,  Iaas (Infrastructure as a service), PaaS (Platform as a service ) and SaaS (Software as a service).
In IaaS, the vendor provides users access to computing resources such as servers, storage and networking. PaaS mainly provides a framework for developers that they can build upon and use to create customized applications. SaaS is also known as cloud application service that represents the most commonly utilized option for businesses in the cloud market.
It also utilizes the internet to deliver applications to its users, which are managed by a third-party vendor.
The major advantage of the SaaS platform is that they are run directly through the web browser and do not require any downloads or installations on the client side.
In the case of disaster management and data retrieval, cloud hosting can be used as it is capable enough of mending it. You can easily take backup of all your data on cloud within few clicks.
Cloud hosting is one of the best solutions to store data as it provides high quality services to the clients.
It also helps to increase the website traffic. There are various hosting companies available in an online market from which you can choose any one according to your business niche or website requirements.
MilesWeb is one of the finest web hosting providers that offers various hosting solutions such as cloud hosting, VPS hosting, dedicated hosting, shared hosting, WordPress hosting, etc. at an affordable price point.
By hiring the cloud hosting from India's best cloud hosting provider you can easily launch your instance within minutes. MilesWeb provides three different cloud platforms namely managed DigitalOcean cloud, managed aws cloud and managed Jelastic PaaS cloud platform for developers with built-in DevOps tools that easily deploy, scale and manage your data.
The leading web hosting company's next generation cloud hosting service can automatically scale any web application in real-time, to meet the needs of your project. MilesWeb claim's that their cloud hosting platform is 100% scalable and cost effective, ensures that you pay only for what you use.
 The prominent features of cloud hosting are as follows:
Automatic vertical / horizontal scaling
Docker containers support
Smart orchestration of resources
Pay for actual usage
Self-provisioning access
DevOps automation
Intuitive and user-friendly UI
Simplicity
Affordability
Scalability
Reliability
Customization
Security
Suitable For Every Business
Easy App Deployment
MilesWeb is the ultimate solution to launch your cloud instance within minutes in more secure and safest way.